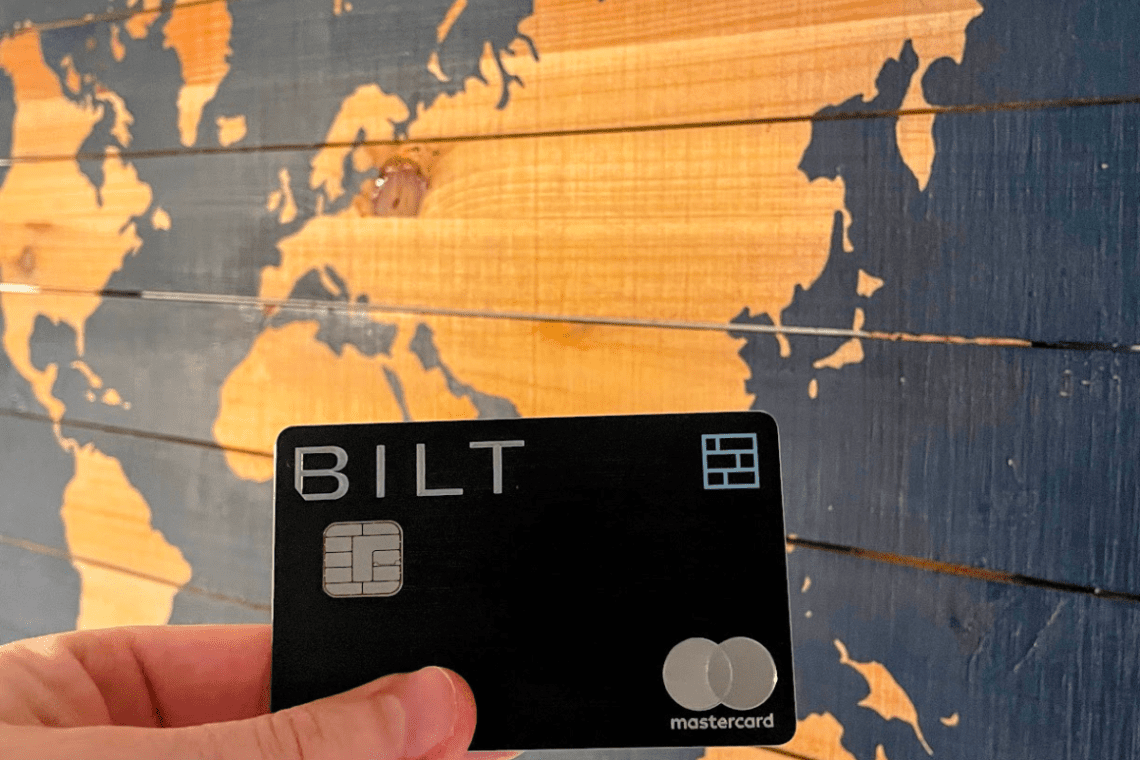 How to Earn Points for Paying Rent & Avoid Card Fees: Bilt Review
Living in New York City has amazing perks, but it also has some massive drawbacks.
One of the biggest drawbacks is the cost of rent… Manhattan's median rent is now $4,400 as of August 2023. 👎
So with steep rent, finding ways to earn something back is paramount.
Enter: Bilt Rewards.
Disclaimer: I am not a financial advisor or anything of that sort. Just someone who gets free points for paying rent.
You can earn travel points for paying rent no matter where you live, even if you pay by check.
Learn all about Bilt Rewards and how to travel for "free" below.
How Bilt Rewards Works for Paying Rent
The challenge with paying rent is that most landlords only accept 2 forms of payment; a check or an ACH withdrawal with your bank. Or, a credit card payment that tacks on a 3% fee.
Bilt's app & card allows you to bypass the typical 3% credit card processing fee that your landlord likely charges to use a credit card.
Essentially, they set up a "mock" checking account that you can input into your landlord's payment portal. Your landlord only sees it as an ACH withdrawal, but it processes within Bilt as a credit card transaction on your end.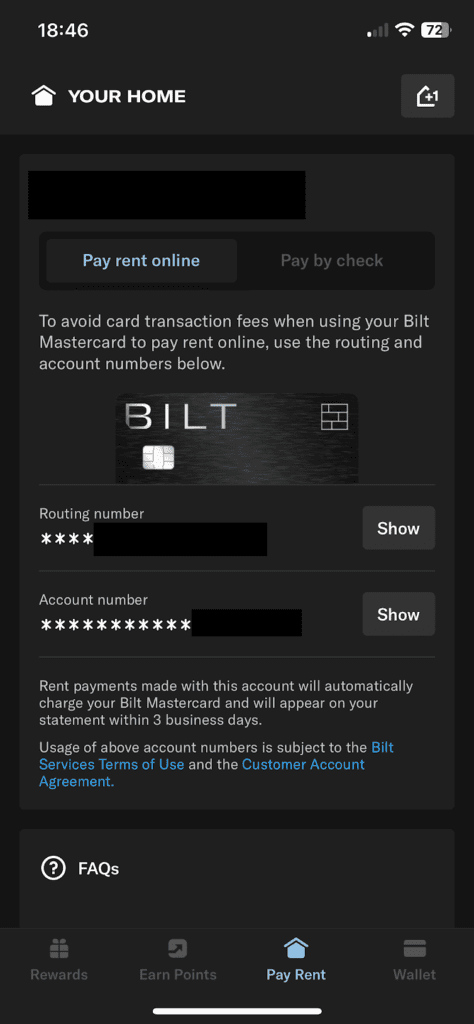 Earning Points & Delayed Payment Buffer with Bilt
This process provides 2 major advantages.
#1- You earn points for paying rent
#2- You have the ability to delay rent payments instead of it being withdrawn on rent day
Bilt Points & Transfer Partners
The biggest advantage of the Bilt Card is earning points on your rent payments!
While I wouldn't say the points are as good as Amex or Chase Ultimate Rewards, they are still valuable.
Bilt points can also be used for booking travel directly with Bilt and for other perks, including:
Paying for fitness classes like SoulCycle
Using points to shop on Amazon
Redeeming points for ride shares with Lyft
Unique shopping experiences and more

Bilt Points Transfer Travel Partners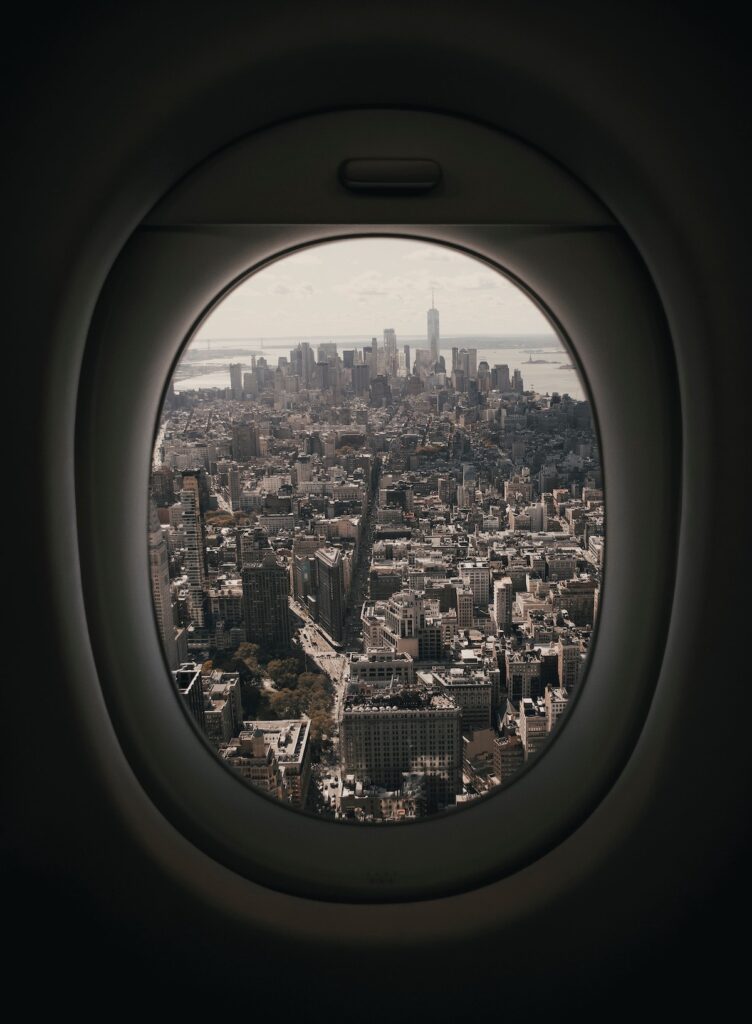 Bilt also allows you to transfer points 1:1 to multiple travel partners! This can often be the best route for maximizing your points.
Here are the Bilt Points Transfer Partners (all 1:1 point value transfers):
Aer Lingus AerClub
Air Canada Aeroplan
Air France-KLM Flying Blue
American Airlines AAdvantage
British Airways Executive Club
Cathay Pacific Asia Miles
Emirates Skywards
Hawaiian Airlines HawaiianMiles
Iberia Plus
IHG One Rewards
Turkish Airlines Miles&Smiles
United Airlines MileagePlus
Virgin Atlantic Flying Club
World of Hyatt
For most people, transferring Bilt Points to other travel partners is the best bang for your buck.
And at the end of the day, to potentially get some free travel just by paying your rent is a no-brainer. Truly!
We just booked a 2-day car rental with our Bilt points for a trip to the Catskills!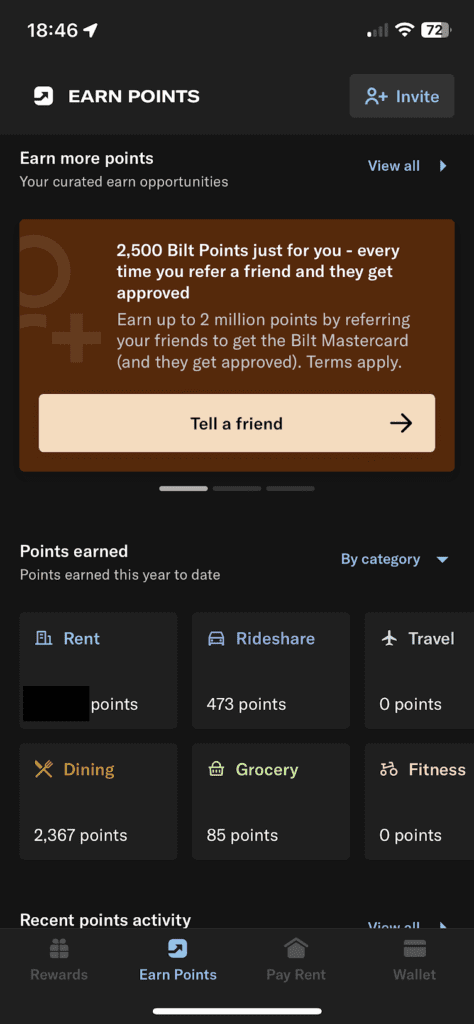 Delayed Payments via Credit Card
One important note, you should always always ALWAYS avoid carrying a balance on any credit card. It is dreadful in every way.
But, by paying rent with your Bilt Card you actually get a good ~30 day buffer for when you actually have to "pay" rent.
For example, if you pay rent on August 1 with your Bilt Card the transaction will post around the 3-5th. Depending on when your billing cycle ends, that payment may not actually be due for another 15-45 days!
Again, this shouldn't be something to rely on… but having a buffer can be nice in case of a gap in paydays, a financial emergency, etc.!
Bilt Card Review & Personal Experience
The Bilt application process and setup are relatively quick and simple.
The Good
We've personally been using Bilt to pay our rent for about 9 months now.
The application process was relatively quick and painless. You actually receive a "digital card" as soon as you're approved that you can link for rent payments.
Once you're approved you go into your landlord's payment portal and update the ACH transfer information with the new "fake" account information that Bilt provides.
It was easy and I had zero issues with payment being processed.
You can also easily set up autopay through your bank account for the Bilt transactions.
Note: One thing I didn't realize initially was that you need to process 5 transactions during a statement period to earn points. Not a huge deal, just something to be aware of!
Rent Day
Another perk is that on the 1st of every month, you can earn extra points on purchases.
It will be different per category, but some categories (like dining) are up to 6x points!
Linking Cards with Bilt
Another awesome perk for bonus points is through linking other credit cards to the Bilt system. I linked our Chase Sapphire Reserve to Bilt and now receive Bilt points on top of my Chase points for certain restaurants. Win-win-win!
I also earn double points (through Chase & Bilt) for every Lyft ride I take. Amazing!
Bilt App Review
I love apps. And I love apps with a good user experience even more.
The Bilt app is nearly flawless. It makes the whole experience SO much better!
The Bad
The only drawback was some initial Issues with the Wells Fargo online portal. That probably wasn't Bilt's fault and had more to do with me having an old Wells Fargo account linked to my name that caused issues.
It took me a bit of work talking with Wells Fargo customer support to figure it out, but not a huge deal.
How to Earn Points for Paying Rent with Bilt Recap
Rent ain't cheap, and that's especially true in New York City!
It's a literal no-brainer to sign up for Bilt and start earning points for all your rent payments. If you pay it off immediately and don't carry a balance there is literally zero downside.
Yes, we earn points when you sign up through our link.
Have questions about the Bilt card? Leave a comment and I'll try to help out.
Note: This article was written by a real live human being, not artificial intelligence. 🥸
*This post may contain affiliate links, so we may earn a small commission when you make a purchase through links on our site at no additional cost to you.