5 Places to Eat in Times Square That Are Actually Worth It +1 to Avoid
When it comes to experiencing the vibrant allure of Times Square, there's more to discover than just the captivating lights, pulsating energy, and general crowds. 😉
This iconic New York City neighborhood also has some fantastic food options.
While Times Square boasts a multitude of restaurants, we've narrowed down the list to five places you won't want to miss… and are actually worth your money.
From savoring authentic Cuban cuisine at Margon to a mouthwatering slice at Joe's Pizza, these are 5 places you'll want to try in Times Square:
(links above open Google Maps listings)
Let's look at each one below. 👇
5 Places to Eat in Times Square Podcast
Want to hear more podcasts like this? Head here.
1- Margon
Margon is a great place to quickly snag a meal in Times Square.
It's authentic counter-style Cuban cuisine served in a small spot with friendly staff! Plus, prices & portions are pretty fair.
What to Eat at Margon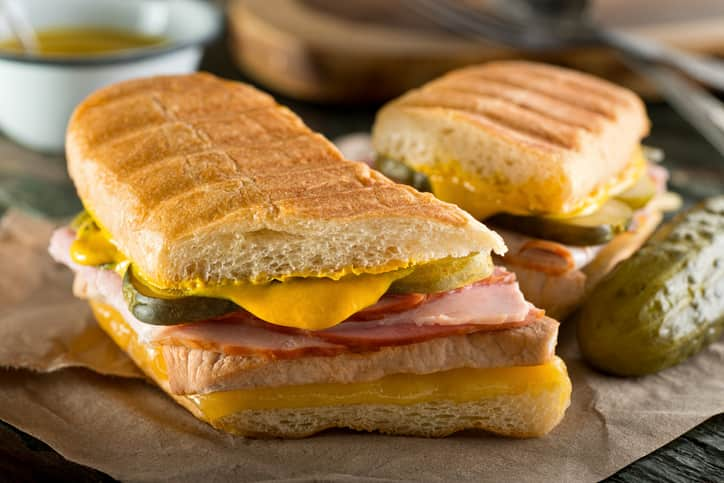 The go-to at Margon is their Cubano. While I haven't had very many of these, this Cubano is my favorite.
Be sure to add rice & beans + plantains to your order. And you can't go wrong with anything chicken related.
While you're there, of course, get a Cuban soda!
Where to Find Margon
A kind of small shop on 46th St between 6th and 7th Avenue.
Margon Address:
136 W 46th St, New York, NY 10036.
2- Yard House – Good for Sports & Drinks in Times Square
It's tough to put a non-New York City exclusive restaurant on this list, but we've genuinely enjoyed Yard House. And that's especially true if you want to get tasty food, choose from 100+ beers, AND have a place to watch sports.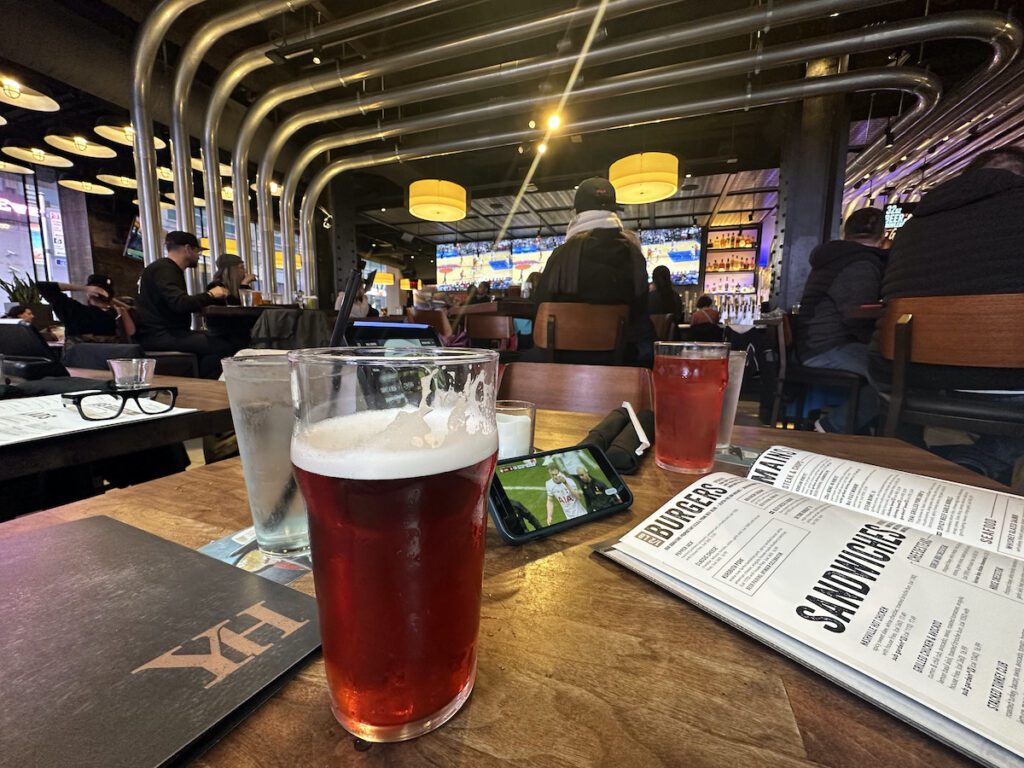 What to Eat at Yard House in Times Square
First, have at least one beer. They have over 100 beers on tap… Seriously, the menu for it looks like a Cheesecake Factory menu!
We also enjoyed the poke nachos and sliders. Their menu is full of slightly expensive & upscale bar food!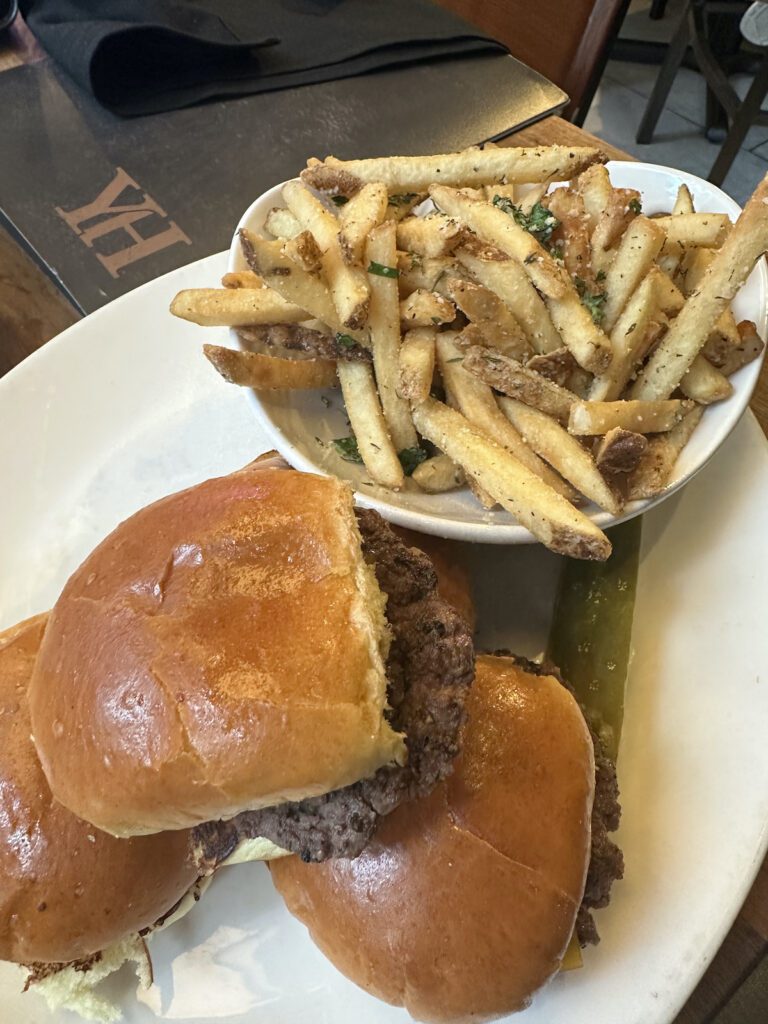 Where to Find Yard House in Times Square
A pretty large building (can't miss it) on the corner of 41st St and 7th Avenue.
Yard House Times Square Address:
575 7th Ave, New York, NY 10018.
3- Los Tacos No. 1
Los Tacos No. 1 is possibly the most popular taco spot in New York City. They have locations throughout the city, and even one conveniently located in Times Square.
A quick note on the ordering process, so you don't get confused. 👇
Pay for your meal at the register
Wait for your order to be called
Go to the taco counter and tell them what you want on it
Get your food
That may sound simple, but it can be confusing the first time.
What to Eat at Los Tacos No. 1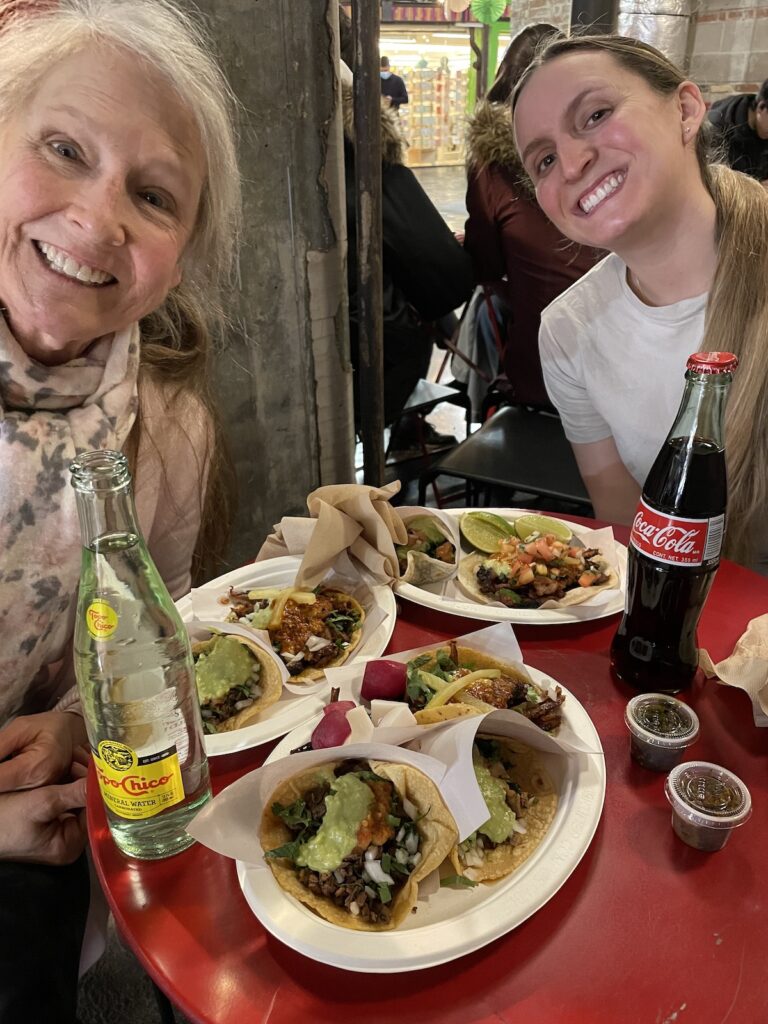 Without a doubt, get their tacos… We've tried all of them and they're delicious!
Other items are great, but tacos are their staple. As a note, the quesadillas are just an open-face taco with cheese, it's not what you might be expecting!
Their horchata is also delicious and you can always get a Mexican coke.
With a group? Snag some delicious chips & guacamole too!
Where to Find Los Tacos No. 1 in Times Square
Find it on 43rd St between 7th and 8th Avenue.
Los Tacos No 1. Times Square Address:
229 W 43rd St, New York, NY 10036.
4- Joe's Pizza – Arguably the Most Popular Food Spot in Times Square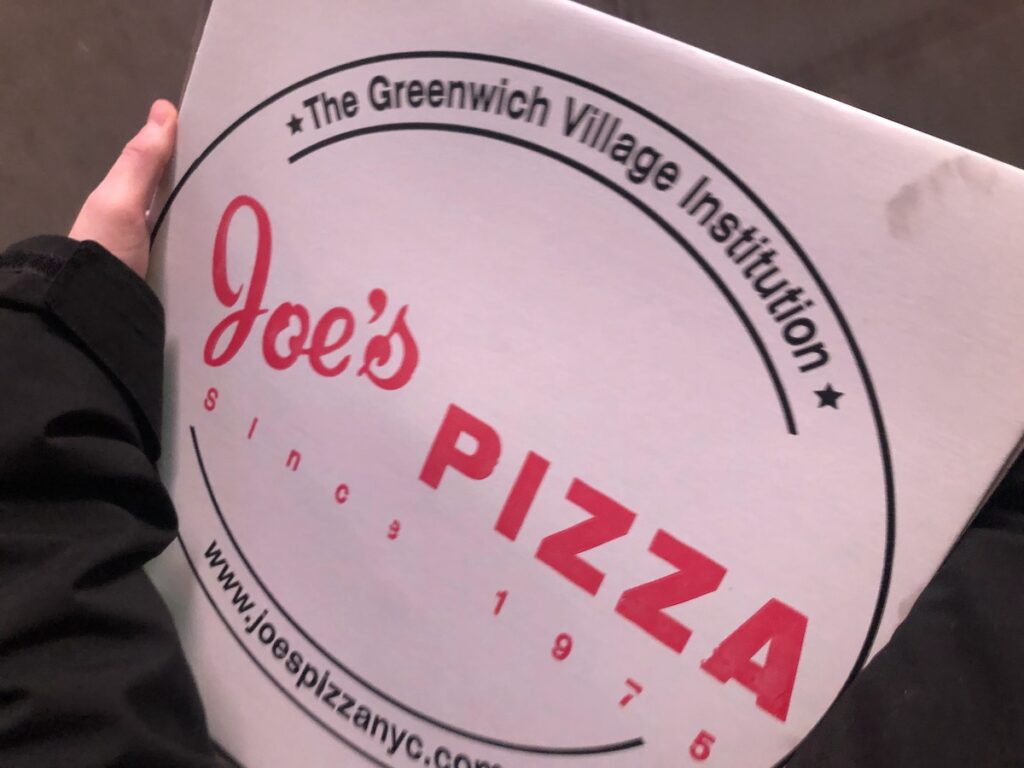 Joe's Pizza was originally opened in 1975 by Joe Pozzuoli, who was originally from Naples, Italy.
Here's the hard truth. No matter what you read from grumpy people on Twitter, Reddit, or Google Maps reviews, Joe's Pizza is a good slice of New York Pizza.
I've always been pleased with Joe's. The crust is probably the most controversial part, but the sauce and ingredients are always good!
If you're in New York, get a slice (or two) from Joe's in Times Square. You'll be happy you did!
Pro Tip: Order ahead if you're getting a full pie, it'll save you 20+ minutes. Do it from their website here!
What to Eat at Joe's Pizza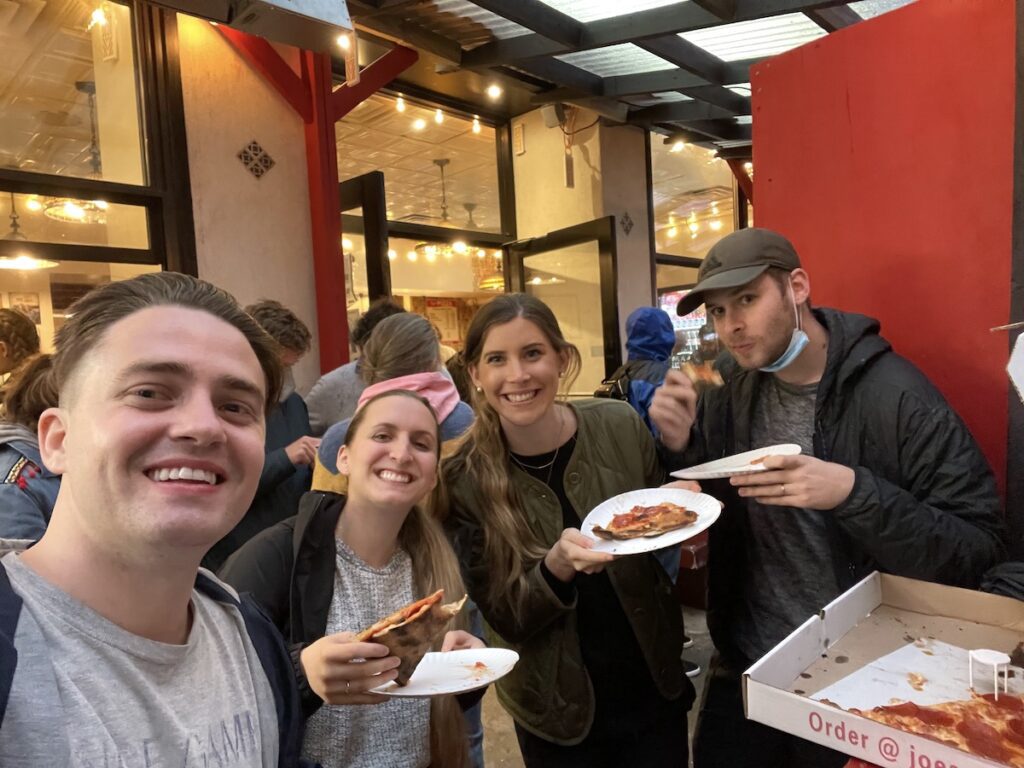 Everything is good, all comes down to preferences. I've never had a bad slice at Joe's, but my go-to is usually pepperoni.
You can hop over to the CVS across the street for cheaper and more options for drinks, even a beer if you'd like!
Where to Find Joe's Pizza in Times Square
Near the corner of Broadway and 40th Street.
Joe's Pizza Times Square Address:
1435 Broadway, New York, NY 10018.
5- Junior's Restaurant – Quality Dessert in Times Square
Junior's Restaurant can have some mixed reviews. I'll say upfront that the dessert is really good, and the food is usually just good.
What to Eat at Junior's Restaurant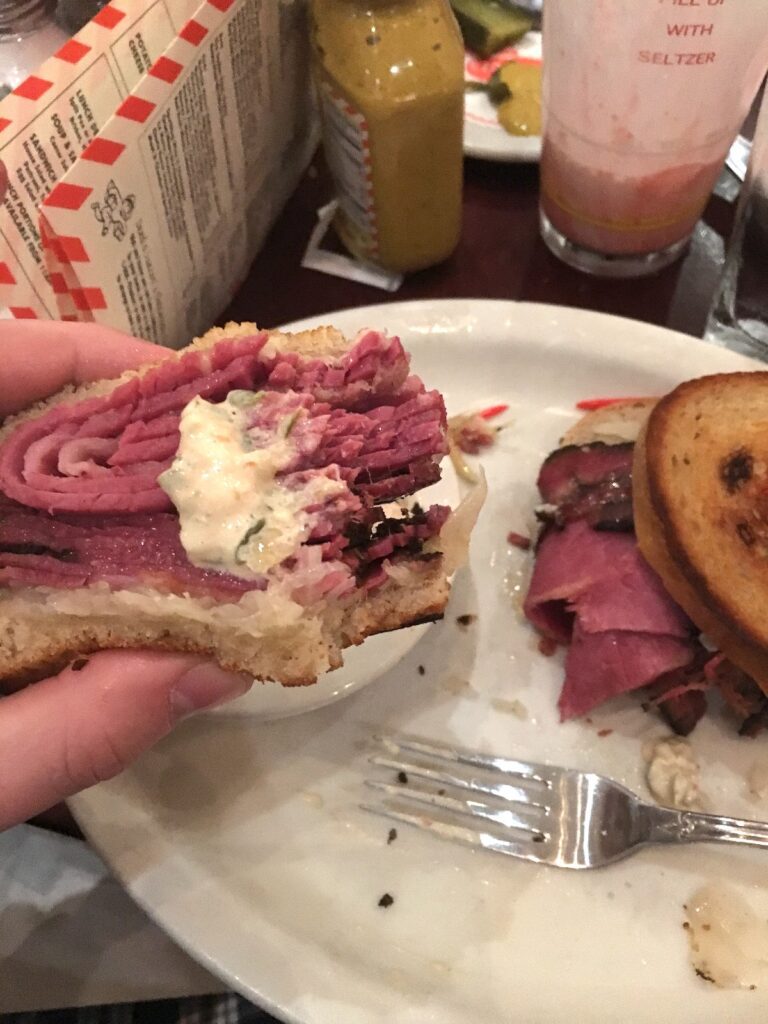 As for food, their most popular item is the Rueben. We've tried other items but haven't been overly impressed by anything, it's all just a "good" option.
Really, most people go to Junior's for cheesecake and other desserts.
Their milkshakes are also fantastic!
Where to Find Junior's Restaurant in Times Square
Super close to a lot of Broadway shows, right on the corner of 7th Avenue and 44th Street. It's the perfect place to eat near Gerswhin Theater
Junior's Restaurant Times Square Address:
1515 Broadway @, W 45th St, New York, NY 10036.
Bonus #6- Do NOT Go to Ray's Pizza
We had a random guy on the street in Times Square once try to convince us to go to Ray's Pizza…
Eventually, we did and regretted it.
It's not good, just choose another spot. Check out our best NYC pizza options here.
If you want a really cheap slice near Times Square, go to Dollar Slice on the corner of 55th and Broadway (Google Maps link).
5 Places to Eat in Times Square Recap
While I generally would recommend going to Hell's Kitchen for food if you're near Times Square, there are some solid options right in Times Square.
As a recap, here are 5 quality options for restaurants and food in Times Square:
Margon
Yard House
Los Tacos No. 1
Joe's Pizza
Junior's Restaurant
I recommend checking out Central Park as a part of your itinerary for NYC. See our article for date ideas & things to do in Central Park here.
And be sure to check out all of our NYC Restaurant & Bar reviews here.
*This post may contain affiliate links, so we may earn a small commission when you make a purchase through links on our site at no additional cost to you.