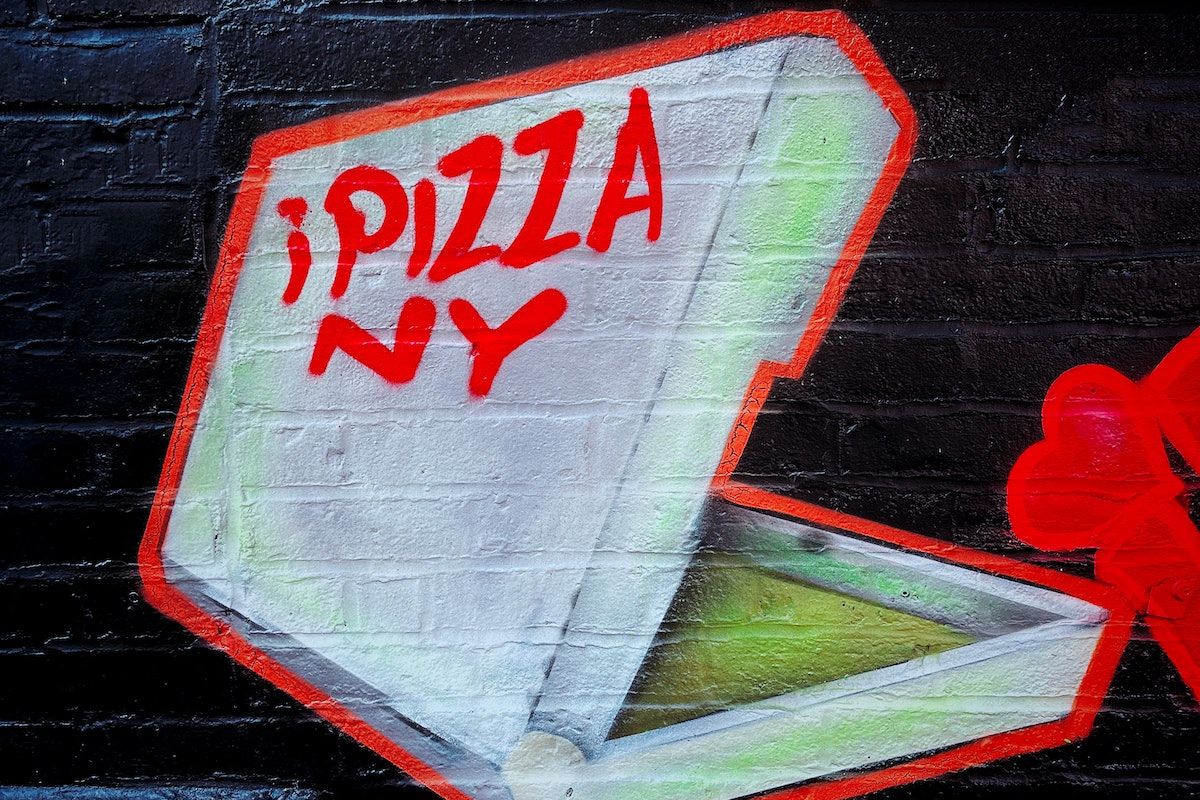 Best NYC Pizza Guide: Slices, Delivery & Famous Pizza + Google Maps List [2023]
The first thing I did when I visited was try to find the best NYC pizza. I've visited multiple times and currently live here, and I'm still on that quest.
You could ask 100 New Yorkers their favorite pizza spot and probably get 25+ different answers.
In this article, I want to give as complete of a guide as possible regarding the best pizza in America, NYC pizza! 🍕
Here is what this article will cover (click to jump to that section):
Alright, before the damn people from Chicago start complaining about me calling NYC pizza the best in America, let's dive into it! ⤵️
Best NYC Pizza – My Personal Top 5

First, to clarify, NYC pizza is the best in the United States. Anyone who says differently is probably from Chicago, California (looking at you California Pizza Kitchen) or some other second-tier pizza spot.
While I'm mostly joking, a giant ass slice of thin-crust New York-style pizza hits differently. Especially when you're drunk at 2 am. The true secret to why NYC pizza is so good is the water in NYC, but that's a topic for another day.
New York style pizza is generally classified as a hand-tossed thin crust pizza. And it's typically eaten folded in half because the slices are so big.
Now let's dive into some of the best NYC pizza. Of course, my opinion bleeds into this, but a lot of this is based on Google Maps ratings, conversations with other locals, and Reddit.
PS- I've created an 'NYC Pizza' list on Google Maps where you can view all these options on a map and even follow the list as we add more. Check it out here!
Here are my top 5 NYC pizza options 👇
Joe's Pizza
Grimaldi's Pizzeria
Prince Street Pizza
Bleecker Street Pizza
John's of Bleecker Street
Now, let's dive into each one!
Joe's Pizza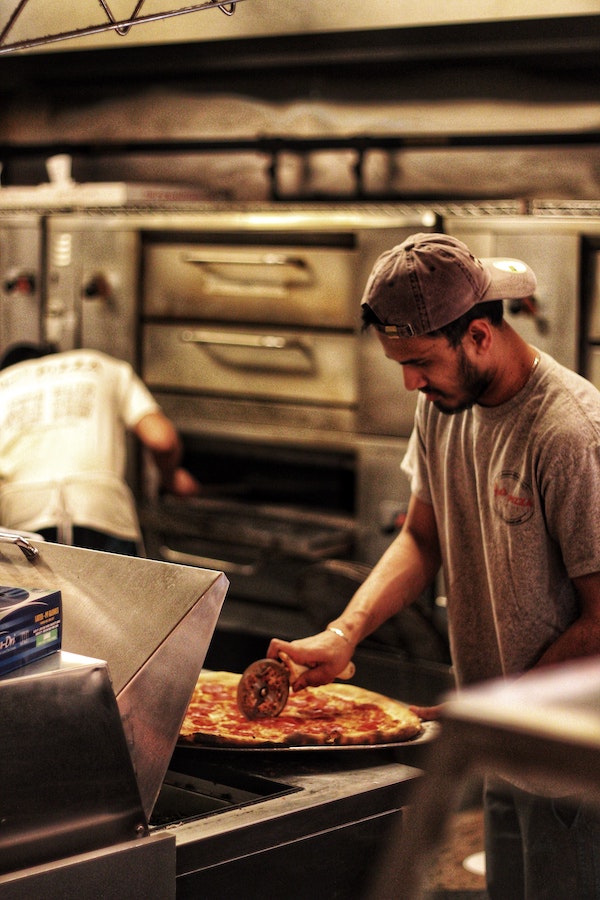 Joe's Pizza was originally opened in 1975 by Joe Pozzuoli, originally from Naples, Italy.
Here's the hard truth. No matter what you read from grumpy people on Twitter, Reddit, or Google Maps reviews, Joe's Pizza is a good slice of New York Pizza.
I've always been pleased with Joe's. The crust is probably the most controversial, but the sauce and ingredients are always good!
Here are the Joe's Pizza locations (links to Google Maps listings):
If you're in New York, get a slice (or two) from Joe's. You'll be happy you did!
Grimaldi's Pizzeria
Grimaldi's Pizzeria opened in Dumbo, right under the Brooklyn Bridge basically, in 1990. And honestly, I LOVE that location.
It has what seems like 7 stories (it's only 3), the staff is usually friendly (not the door staff though), and there are great views, steps away, of the Manhattan skyline.
The coal-fired pizza really makes a difference. The crust is unbelievable!
While Grimaldi's has locations all over the United States, there is only one NYC location (links to Google Maps listings):
There are other Grimaldi's you'll find (one on 6th Avenue) but it's not the same pizzeria. I made that mistake once, and it truthfully just wasn't as good!
Prince Street Pizza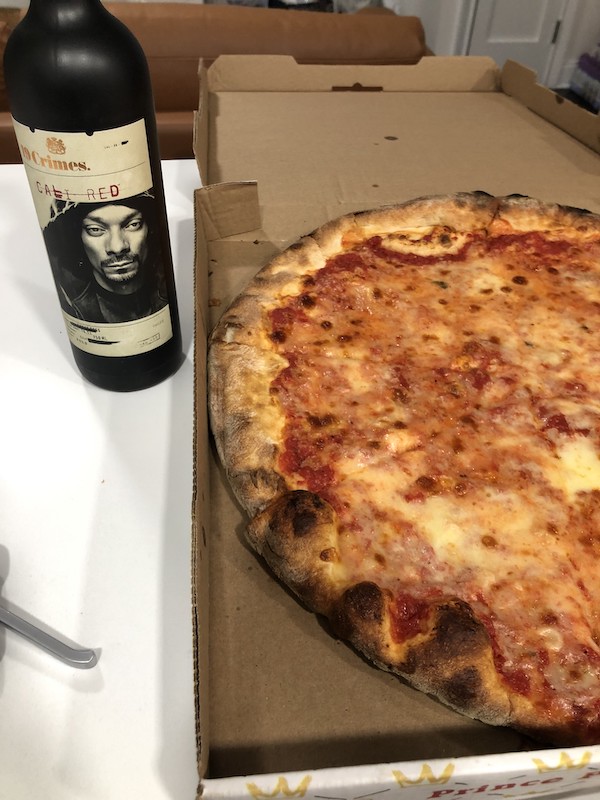 Prince Street Pizza is phenomenal. That's their cheese pie above, with a nice bottle of 19 Crimes Cali Red Wine (highly recommend).
I have nothing negative to say about Prince Street Pizza, it's ALL good. I personally love their pepperoni as my go-to, but you can never go wrong with a cheese pie.
If you're gonna get pizza from here, order ahead, as you may wait for quite a while if you don't. It's also a small location, so don't plan on having space to eat, even outside, depending on how busy it is!
It's on Prince Street, duh, which is near Soho.
Here's the Google Maps link to get there!
Bleecker Street Pizza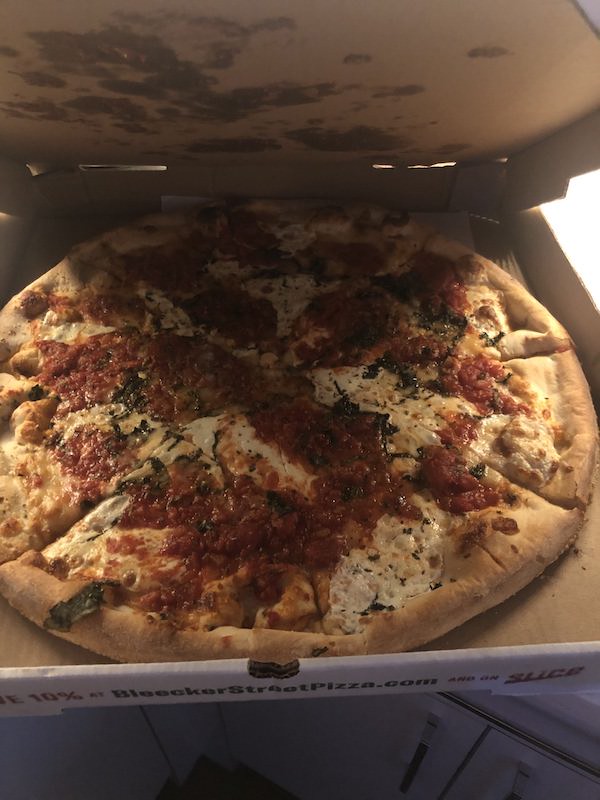 Bleecker Street Pizza is, in my opinion, extremely underrated.
It's been around since 2004 and has won plenty of awards in that short period. Their Nonna Maria Pie is their most popular, but I personally LOVE their Grandma Pizza.
Bleecker Street Pizza is, of course, located on Bleecker Street and 7th Ave. It's right in the heart of the West Village and is relatively close to Washington Square Park. It's also pretty close to the "Friends Apartment" if you want to check that out!
Here's the Google Maps link to get there!
John's of Bleecker Street
You can't make a best NYC pizza list without including John's of Bleecker.
It's been around since 1929 and that alone is a signal of just how damn good their pizza is. And when you show up and see the line, you shouldn't have any doubts about the quality!
Two important notes about John's.
They do NOT do slices so you'll have to commit to a whole pie!
They aren't open as late as most other pizza joints, closing at 10 pm on weekdays and 11 pm on weekends
You could probably guess it again by the name, you'll find it on the corner (ish) of Bleecker and Jones streets. If the lines are crazy, you can head uptown a couple of hundred yards to Bleecker Street Pizza.
Here's the Google Maps link to get there!
Notable Mentions
While these may have not made it into my personal top 5, there are other fantastic pizza spots you can check out in the city. Here are a few 👇
Made in New York Pizza (Upper West Side slices, open late)
99 Cent Fresh Pizza (more on this later, in Midtown)
Two Boots (unique flavors and combos, worth a try)
B Side Pizza Bar (sit down with good drink options, in the Hell's Kitchen neighborhood)
Angelo's Coal Oven Pizzeria
Simo Pizza
&pizza
Artichoke Basille's Pizza (location right near the High Line is great)
Check out all of these (and others) in my NYC Pizza Google Maps list here!
More Top Pizza Spots in NYC, According to Reddit

If I can make one recommendation about life in general, use Reddit. If you want to find what real humans (mostly) think about certain tourist attractions, food spots, etc., add 'Reddit' to the end of whatever you're searching in Google.
You also get glorious comment threads like the ones below.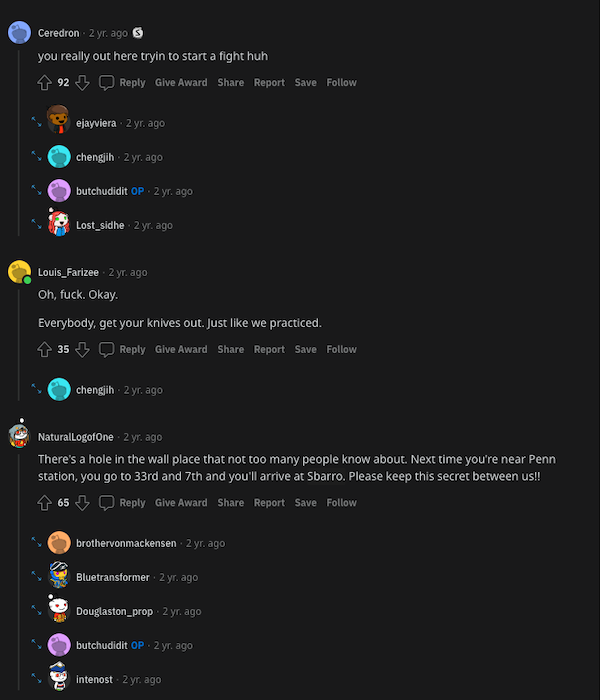 I scoured Reddit threads for other New Yorkers (and vacationers) favorite pizza spots, and here are some that popped up frequently. ⤵️
Scarr's Pizza
Carmine's
Lucali
NY Pizza Suprema
Juliana's
Difara's Pizza
I've added them to my list of pizza spots to check out in the city; make sure you do the same!
Best NYC Pizza in Manhattan Only

New York City, and its pizza, is much more than just Manhattan. But many tourists stay and explore mostly in Manhattan, so let's check out your best options!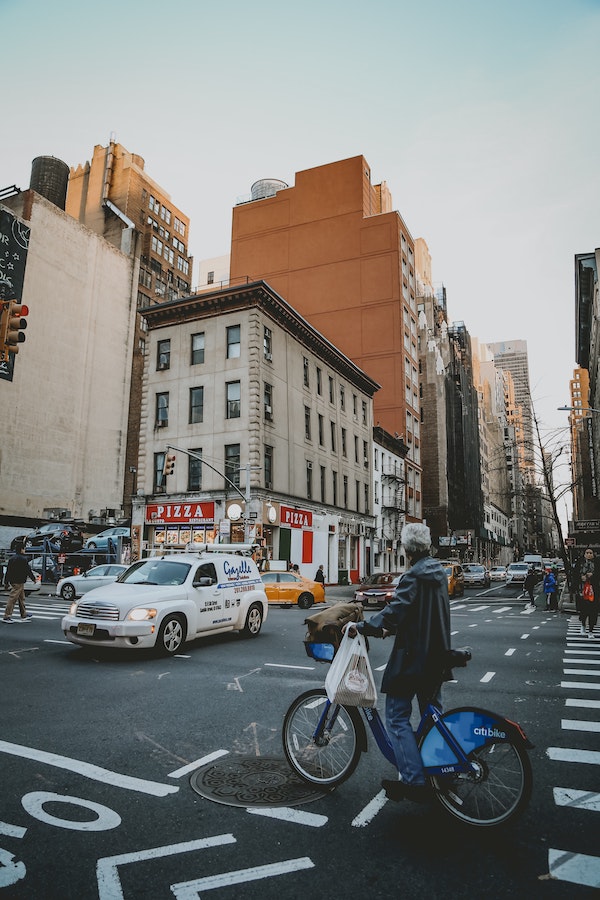 It's my top 5 list minus Grimaldi's Pizzeria, which is in Brooklyn.
MOST of the solid NYC pizza spots you'll want to hit have locations in Manhattan. Here are some of the best NYC pizza options in Manhattan.
Joe's Pizza
Prince Street Pizza
Bleecker Street Pizza
John's of Bleecker Street
Artichoke Basille's Pizza
Angelo's Coal Oven Pizzeria
99 Cent Fresh Pizza
Those are just a few, be sure to check out my NYC Pizza Google Maps list for more choices. Just view it on a map to see all the locations in Manhattan!
Best NYC Pizza Slice – Yes, It's Different
Just thinking about snagging a slice of New York City pizza makes me happy (and hungry). To me, being able to grab a hot slice of pizza at almost any time of the day is part of NYC's magic. And while many of the best pizza spots offer individual slices, not all do.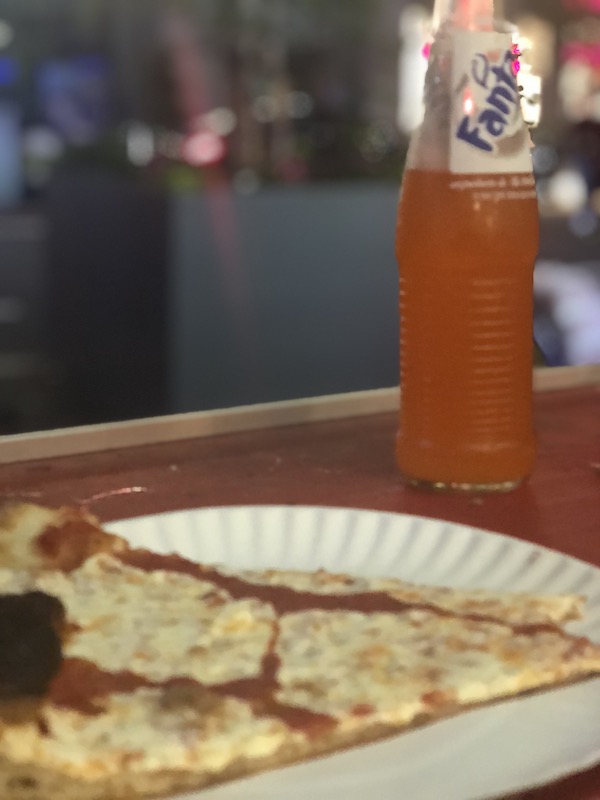 So, let's break down some of the best places in NYC to grab a quick slice. 🍕
99 Cent Fresh Pizza (this is THE best dollar slice in the city, hands down)
Joe's Pizza
Made in New York Pizza
Bleecker Street Pizza
Prince Street Pizza
Justino's Pizza
Slice Pizza
Famous Amadeus (a bit overpriced)
If you want the true New York experience, you've gotta snag a dollar slice. The fact that these places still exist at their prices is almost unbelievable.
I believe the best dollar slice in NYC is at 99 Cent Fresh Pizza on the corner of Broadway and 55th st. 99 Cent Fresh Pizza has 8 locations in the city as well!
There can be a line, but they pump pizzas out pretty quickly. The location makes it perfect for grabbing a slice on the way to Central Park or even a Broadway show! A true gift of the city.
Here's the Google Maps link to 99 Cent Fresh Pizza on Broadway.
Top Midtown Manhattan Pizza Options (Where I Live!)
I live in Midtown Manhattan, so I had to give a quick shout-out to some of the best Midtown Manhattan pizza options!
You'll def see some repeats from above, but here is a list of my favorite pizza places in Midtown! (links open Google Map listings) ⤵️
Do NOT go to Ray's Pizza; I've never been happy with the pizza there. I also think Famous Amadeus is a bit overrated.
If I had to choose one pizza spot in Midtown Manhattan, it would certainly be the 99 Cent Fresh Pizza for a quick slice!
For sit down, I've always loved Pazza Notte!
NYC Pizza Google Maps List (follow it!)
I'm a huge fan of Google Maps lists. They make it super easy to compile, share, and even follow topic (or location) specific groupings.
I've compiled an NYC Pizza list to which I am constantly adding new places. Feel free to check it out (and follow the list) here!
Recap of Best NYC Pizza – The Never-Ending Debate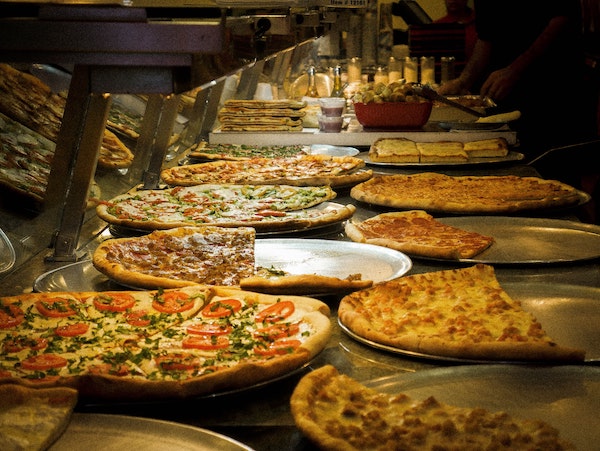 Ask 100 New Yorkers their favorite pizza place and you'll get at least a couple dozen different answers.
But that's the beauty of New York City.
There are SO many options to choose from that are worth your time and money!
Again, follow my NYC Pizza Google Maps list to check all (or at least most) of the places mentioned in this article.
What's your favorite slice (besides Sbarro)? Tell me in the comments! 🍕
*This post may contain affiliate links, so we may earn a small commission when you make a purchase through links on our site at no additional cost to you.