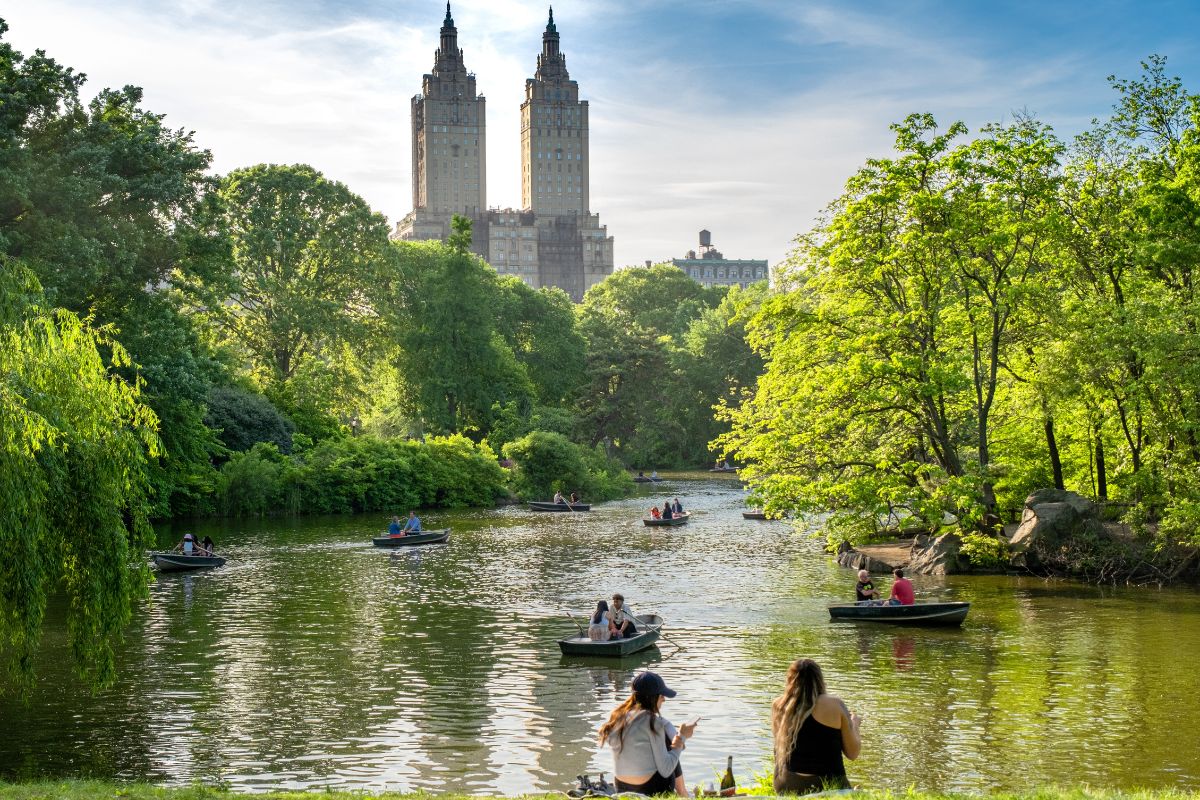 21 Central Park Date Ideas & Romantic Things to Do
There is SO much to do in New York City, and almost as much to do in Central Park. If you have a significant other (in any way), visiting Central Park for a fun day out can be a highlight of any NYC trip or weekend (if you live here).
So if you're looking for romantic (or even not-so-romantic) Central Park date ideas, we have 21 different activity ideas that are sure to make for a memorable day out! And the best part, many of these are completely free 🙌
Here is a quick overview of 21 Central Park date ideas with a significant other, friend, or family member. ⤵️ (click to jump to that section)
Now, let's dive into each date idea below!
And a quick note, be sure to check out the audio guides throughout Central Park that feature unique & historical information, often read by famous New Yorkers! Just look for the green signs throughout the park and scan the QR code. 👍
All the 'Location' links below open a Google Maps location.
Related Reading: Unique NYC Date Ideas
1- Lover's Bridge – aka Bow Bridge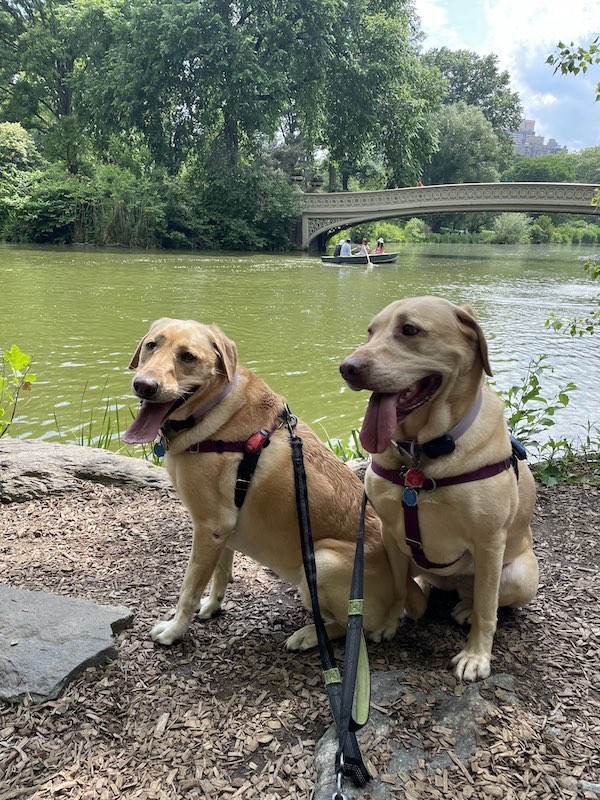 Lover's Bridge (see above) is just a nickname, the real name of this iconic bridge is Bow Bridge.
This Victorian bridge, built in 1862, spans 60 feet and connects The Ramble (#2 in this list) and Cherry Hill (an amazing place to see the cherry blossoms). It is also the 2nd oldest cast-iron bridge in the United States.
It is a BEAUTIFUL bridge and the legend is that kissing on Lover's Bridge provides luck and extra love for your relationship! ❤️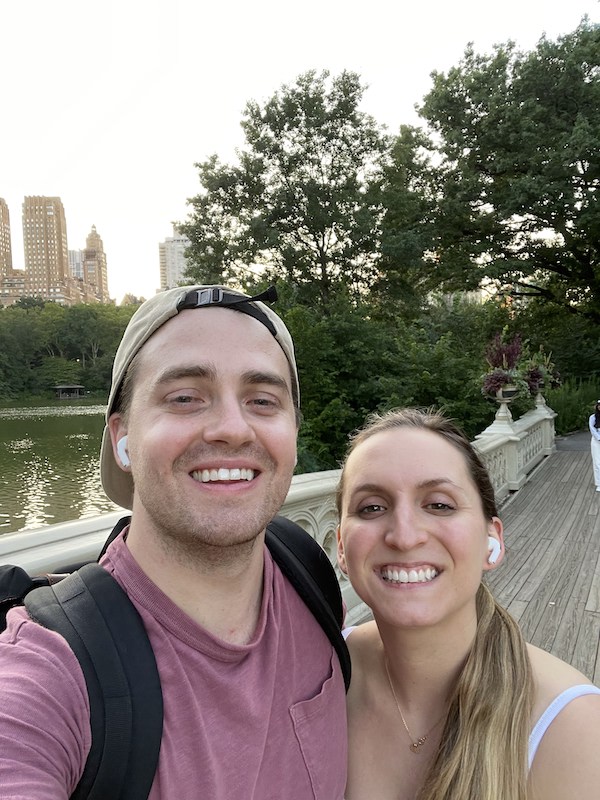 Location: Lover's Bridge (aka Bow Bridge).
Cost: Lover's Bridge is completely free.
2- Walk Through The Ramble
The Ramble is one of the most underrated portions of Central Park. And truthfully, it's a seriously romantic area to explore.
One of my favorite things to do with my wife is just get lost in The Ramble. There are SO many paths you can explore and it's one of the most peaceful and quiet places in Manhattan.
It's a thickly wooded 38-acre area and when you're in it, you'll truly forget you're in the city! Plus, there is a good public restroom in The Ramble, always a plus.
Location: It's a huge area, but here's a Google Maps location for The Ramble as a starting point.
Cost: The Ramble is completely free.
Related Reading: NYC Packing List: 7 Essential Items
3- Explore the Conservatory Garden – Great Free Date Idea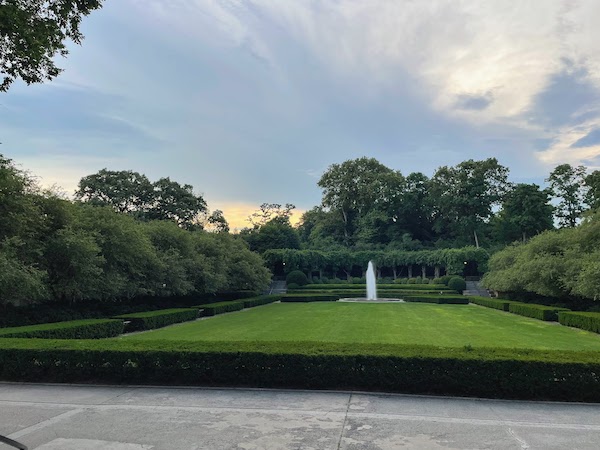 I am so disappointed in myself that it took over a year of living in NYC to go to the Conservatory Garden.
It is PHENOMENAL. It boasts three different style areas. The center Italianate Garden, the French-style North Garden, and the English-style South Garden.
You'll find massive fountains, squirrel-shaped shrubbery, a wide variety of flowers and plants, and of course, public bathrooms (again, this matters).
As of writing this, the South Garden is under construction. But, even with that being said, you shouldn't miss the Conservatory Garden.
It just might be the most romantic thing to do in Central Park, honestly!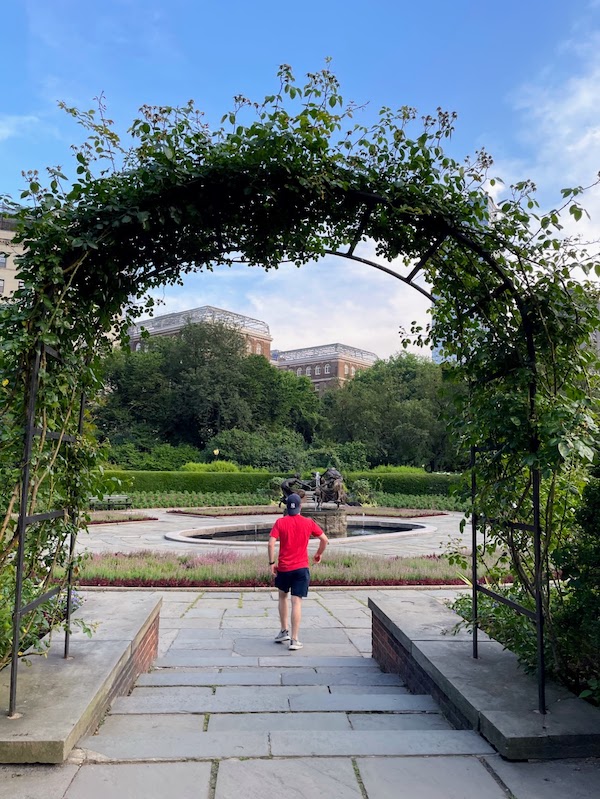 Location: Check out the Conservatory Garden here.
Cost: The Conservatory Garden is completely free.
4- Ice Skating (or Roller Skating) at Wollman Rink
I'll be honest, I actually haven't ice skated in Central Park (yet). But even walking by and watching people skate with the city backdrop invokes a warm, cozy feeling!
Plus, they actually converted the ice rink to a roller rink last summer (2022). You can see the disco-themed roller rink colors in the picture below!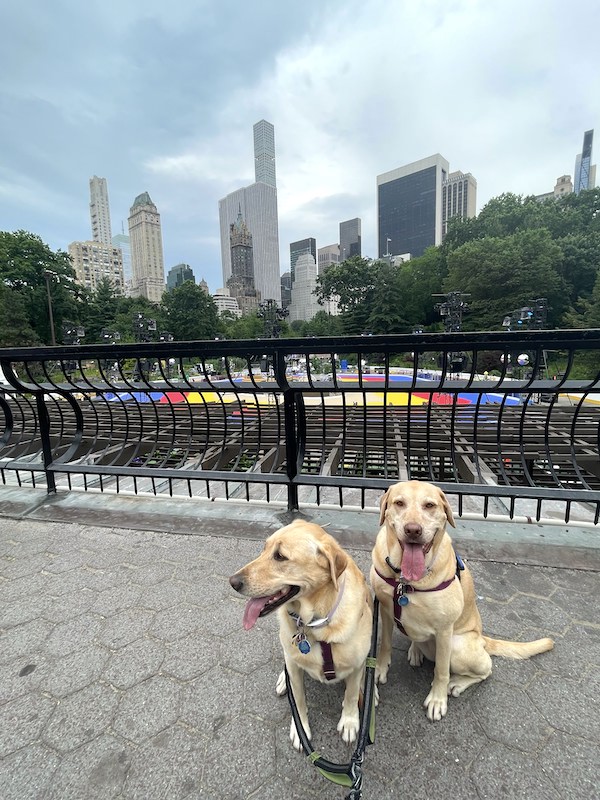 This summer (2023) they're converting Wollman Rink to be pickleball courts! Can't wait!
On any night you'll see couples holding hands, skating, and seemingly having a wonderful time! The views at Wollman Rink are truly unbeatable! 🏙
Location: You can check out all the info with pricing and details here.
Cost: Ice Skating (or roller skating) is a paid activity and you can expect to spend about $25-$50 per person depending on age, needing skates, etc.
5- Have a Picnic for a Date
There truly is something romantic about picnics. It seems to transport you back to a simpler time.
And when you couple that with Central Park views…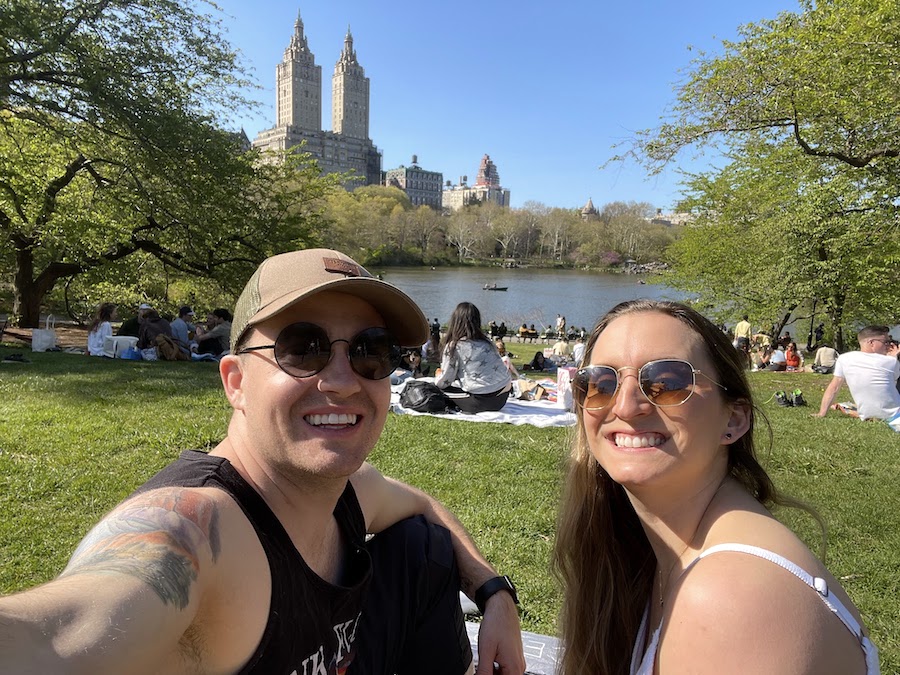 Here are some of my favorites places to have a picnic in Central Park (links below open Google Maps listings):
And truthfully, you can lay down a blanket just about anywhere in Central Park and have an outstanding picnic!
Cost: Having a picnic in Central Park is free, outside of the cost of the food/drinks.
6- Go for a Boat Ride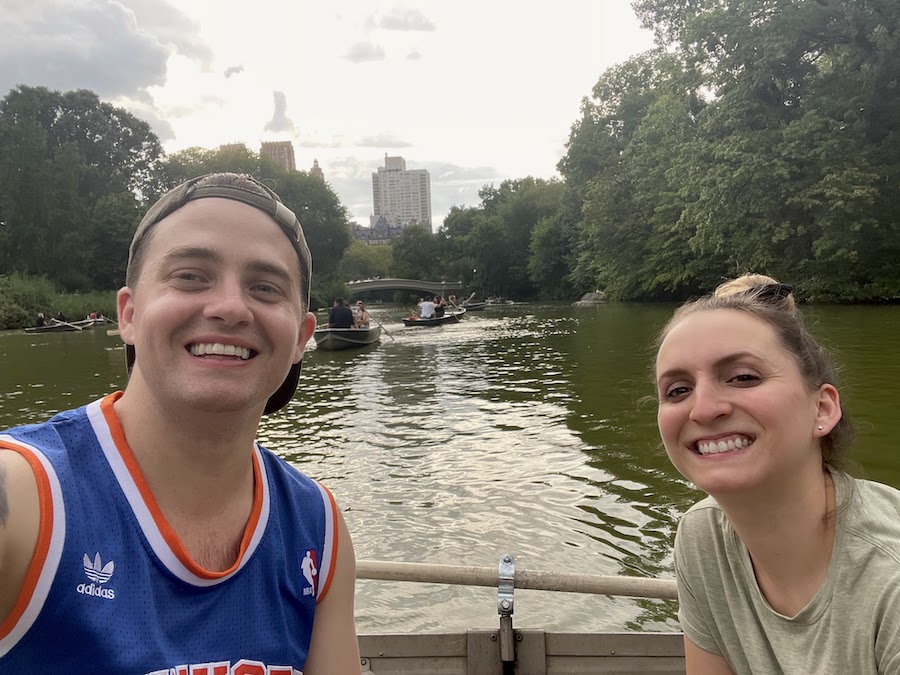 If you're up for a bit of a physical activity with your date, go for a fun boat ride on The Lake (that's what the body of water is actually called).
You can rent a row boat and paddle yourself and your date all over The Lake. You can even go underneath Lover's Bridge (see #1 above)!
What I love about this date idea is that you can take in unique views that you just won't get anywhere else. You can go near The Ramble, get a unique view of Bethesda Fountain, and even see some turtles at Turtle Rock.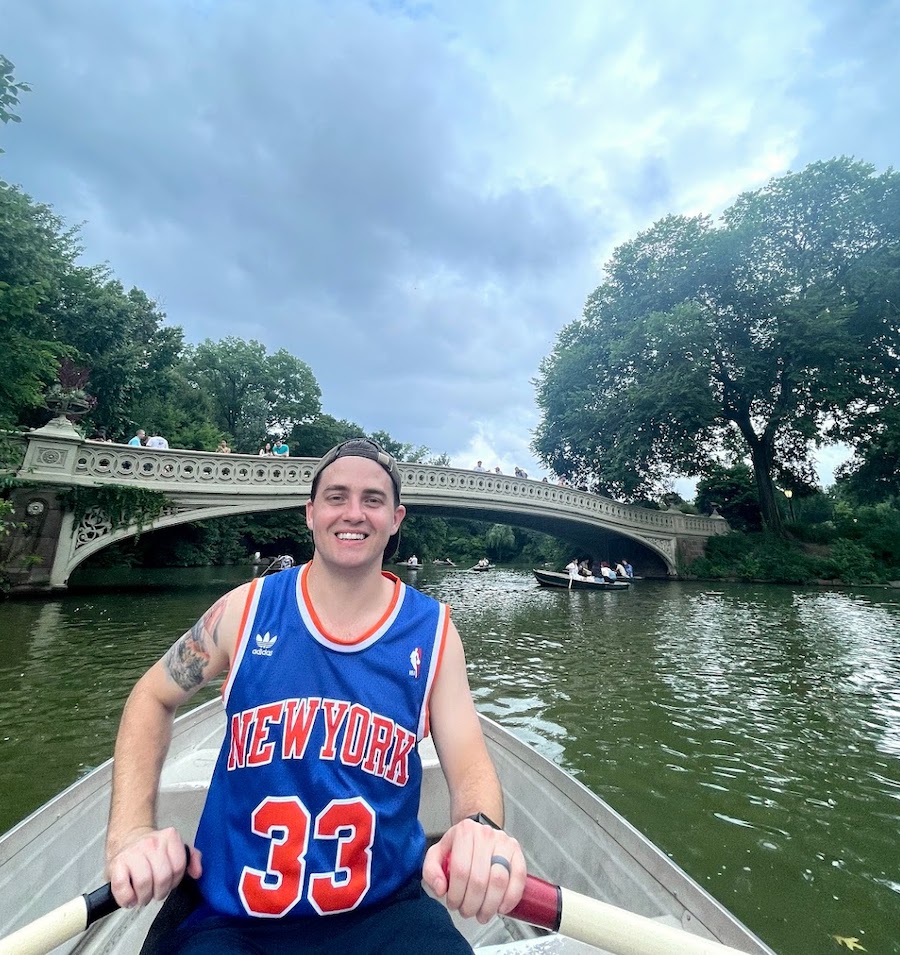 Here's some quick info on renting boats:
The boats are available to rent from April to November (weather permitting)
It costs $20 to rent the boat for an hour. One note though, you'll need to give $40 cash and they'll give you $20 back when you return the boat within an hour
The boats can hold 4 people
Rentals are open from 10 am to dusk
Location: This is where you can go to rent boats in Central Park.
Cost: It costs $20 to rent the boat for an hour. One note though, you'll need to give $40 cash and they'll give you $20 back when you return the boat within an hour.
Additional Reading: Learn to navigate like a local when traveling to NYC!
7- Eat a Fancy Meal at Loeb Boathouse or Tavern on the Green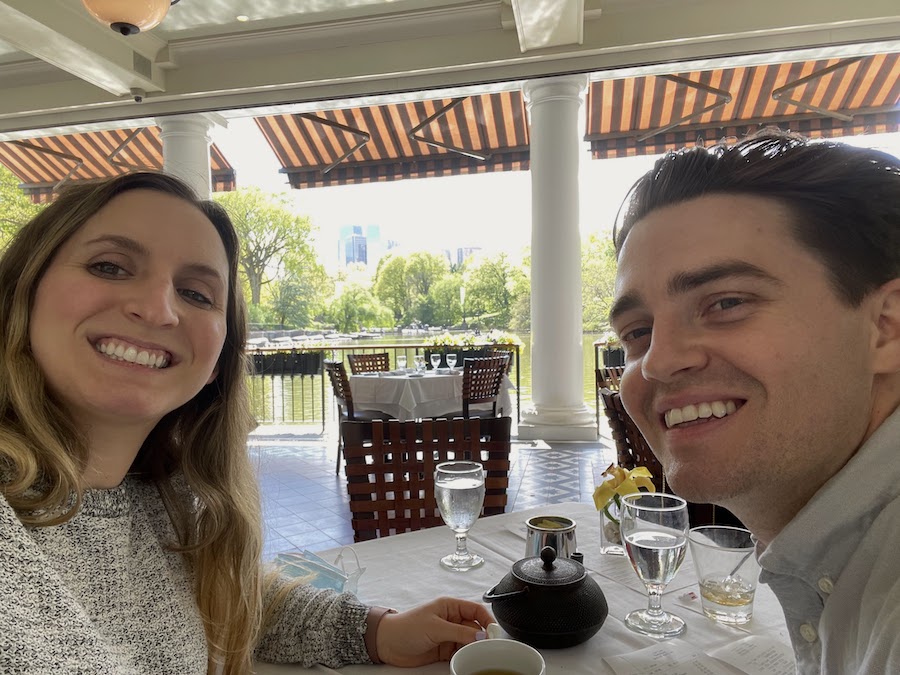 There are a few restaurants in Central Park, but the two most popular are the Loeb Boathouse and Tavern on the Green.
As of writing this, there are rumors that the Loeb Boathouse will be closing down. It will likely be replaced by another restaurant, but I'm hoping it stays in business!
I personally think the Loeb Boathouse is an extremely romantic dinner date. Make sure you get a reservation because it can get very very busy, especially on weekends and evenings!
The beauty of Loeb Boathouse is the partial indoor/outdoor seating. You get an amazing view of the Midtown skyline, people watching of all the people on boat rides (see #6 above) AND amazing food!
I personally have loved all their cocktails, appetizers, and entree options.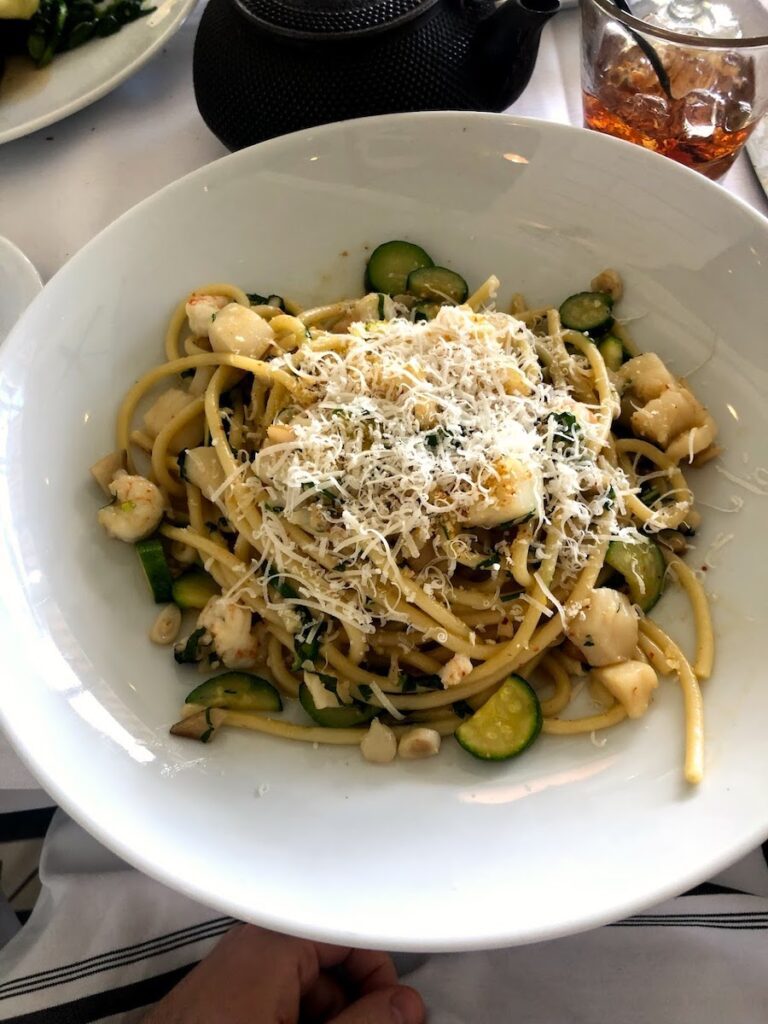 Tavern on the Green is also a fantastic restaurant with great reviews! It also has a beautiful courtyard and garden seating.
Fun fact, the building that houses Tavern on the Green actually used to hold the sheep that grazed at Sheep Meadow!
Location: Loeb Boathouse or Tavern on the Green.
Cost: For both restaurants, expect mid-level New York City pricing. You'll probably spend anywhere from $30-$60 per person, depending on what you get!
8- Listen to Live Music in Central Park (Best on Weekend Afternoons)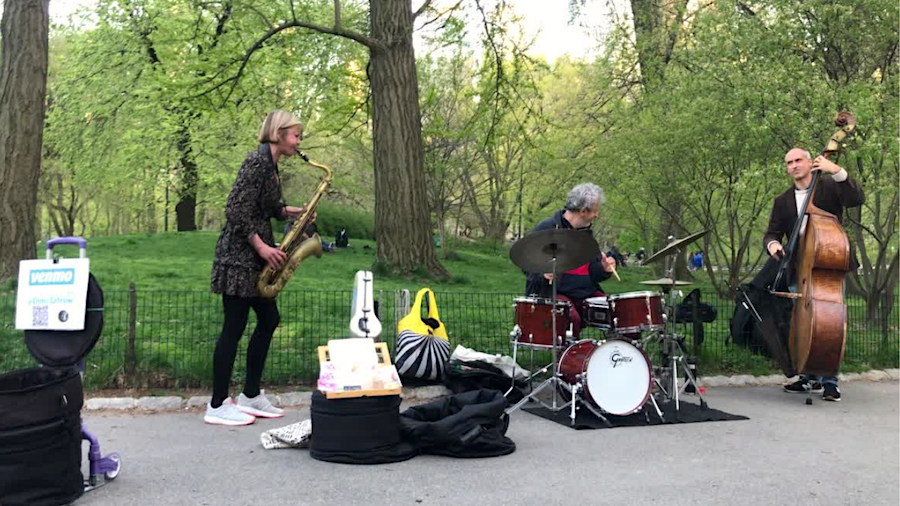 The only thing better than live music is live music you don't have to pay for! 😅
Take a stroll with your date through Central Park on a summer weekend and you'll certainly find a live musician or two (or more).
While there isn't one specific place to find live music in Central Park, here are a few places I've had luck finding guitarists, jazz groups, drummers & live music (links open to Google Maps listings). 👇
Again, these are just some places but there are certainly more. It all depends on the day!
The best times to catch live music in the park are on weekends during the daytime, especially from Spring to Fall seasons (basically just not the Winter).
Cost: Live musicians in the park are technically free, but you should tip some cash (some even have Venmo)!
9- Get Lost in the North Woods
Similar to The Ramble, the North Woods is a beautifully scenic place to explore on a date!
The North Woods is one of the thickest areas of trees and nature you'll find in Central Park. There are lots of quaint streams, mini hiking trails, and even bird watching.
There are some areas here where I've had not-so-pleasant run-ins with people who put off some bad vibes, so I wouldn't go here at night.
NOTE: I personally wouldn't do a ton of exploring in Central Park at night, especially if you aren't familiar with the area. New York City is a large city with some people who aren't in a great state of mind and/or are looking to cause trouble.
Location: Check out the North Woods on Google Maps here.
Be sure to check out this hidden gem, the North Woods Loch Waterfall!
Cost: This is a completely free date option!
Related Reading: Central Park Audio Guide
10- Dog (and People) Watching (Especially Before 9am)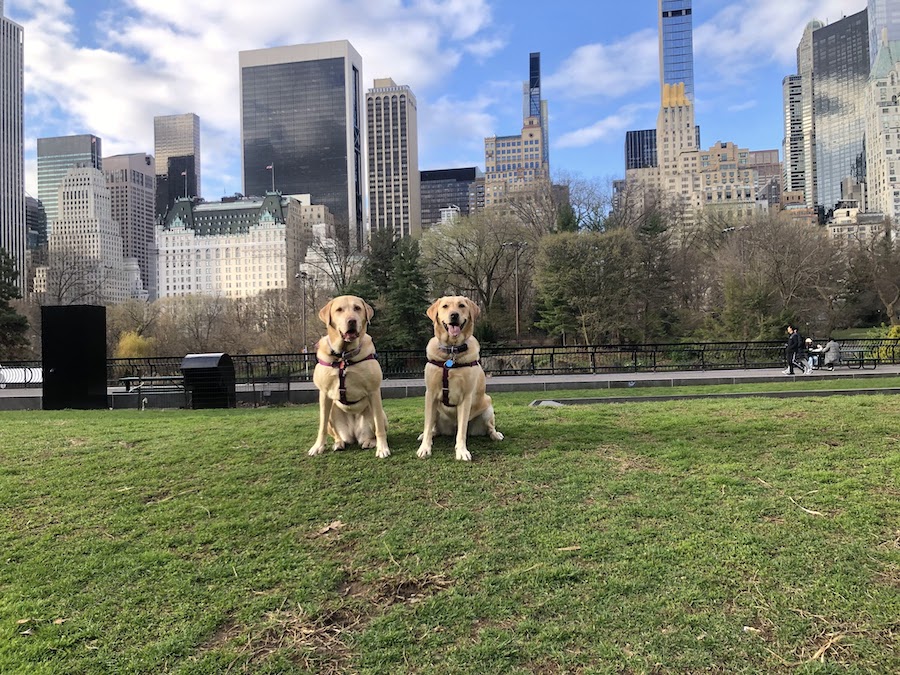 The people watching in New York City is second to almost none. Central Park is no different!
PLUS, if you go to the park before 9 am (pups are allowed off-leash before 9am), you'll get some phenomenal dog watching.
They say New York is the melting pot of America, and the variety of dogs follows suit.
You can see a swath of different breeds playing, chasing squirrels, and exploring the park. So, if you love dogs, head into the park to dog watch as part of a date or fun weekend! But if you don't like dogs, I wouldn't recommend a morning walk in Central Park.
Location: Head anywhere in the park to see plenty of pups, and it seems like lots congregate near the Great Lawn area.
Cost: Again, completely free to do!
11- Bike the Entire Central Park Loop (Just Over 6 Miles)
Biking through Central Park is one of my favorite date nights! My wife and I will grab a Citi Bike and cruise through different parts of the park.
An extremely fun thing to do in Central Park is to bike the entire main park drive loop. It's an extremely easy route to find… Just go to the main "road" part of the park and follow that all the way around!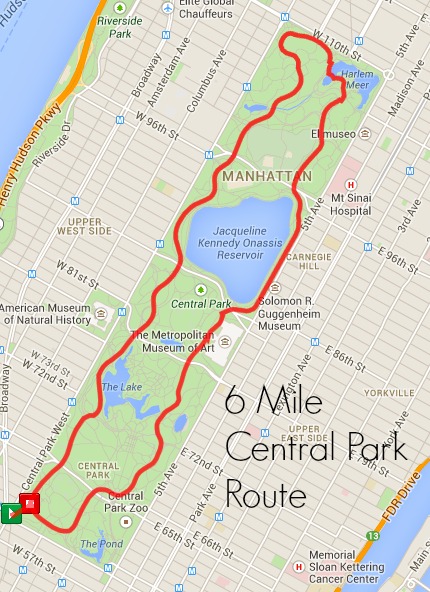 My 10000% recommendation is to use Citi Bike (also affiliated with Lyft). It's the easiest option (instead of renting a bike) AND you can park the bike at ANY station in the city. If you choose to rent from a bike shop, you have to go back there no matter what…
There are instances where you're just gonna wanna finish your ride wherever you are, trust me!
Use Citi Bike (and this link for a discounted ride)!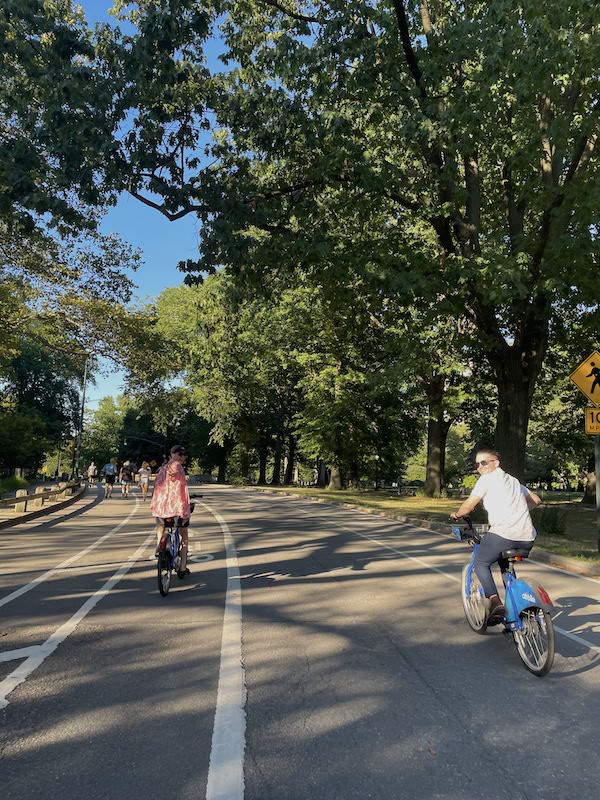 My favorite place to start this ride is at the south end. There are Citi Bike stations at both the 6th ave entrance (see here) and 7th ave entrance (see here) near 59th street. If there aren't any bikes there, just pull up the Citi Bike app as there are plenty near the park!
Beware of a giant-ass hill up at the very north end of the park. Just enjoy it and keep going! 😅
Your only cost is a bike rental (preferably through Citi Bike which should cost you about $7-$15 depending on how long it takes you to bike)! It's a super fun and romantic ride throughout the entire park!
Cost: Depends on your time on the bike, but anywhere from $7-$15 or so.
12- Get Some Sun in Sheep Meadow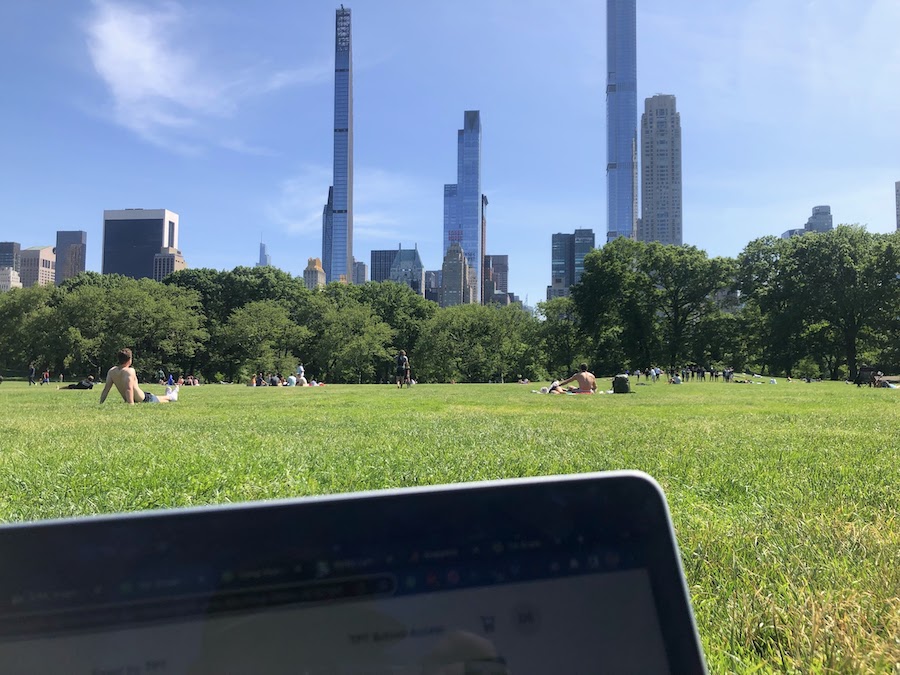 You can't talk about Central Park without mentioning Sheep Meadow. It's possibly the most iconic spot in the entire park.
While it originally was a grassy 15-acre area that was grazed by sheep (hence the name), it's now a top destination for picnics, catching some much-needed sun, and generally finding peace and relaxation in New York City.
Even on the most crowded days in the park (4th of July, Labor Day, etc.), there is plenty of space in Sheep Meadow. If you want to go on a day that might be busy, it can be harder to find a shady spot.
Here's what you'll typically see happening in Sheep Meadow:
People sunbathing
Eating tasty NYC pizza
Parties of all types
Friends playing games like spike ball, soccer, frisbee, etc.
Almost everyone drinking (and not usually trying to hide it)
Yoga and other workout classes
Artists drawing and writing
And so much more!
Sheep Meadow is one of my favorite places to go in Central Park! If nothing else, the people-watching is unparalleled (see #10 above).
Location: Sheep Meadow is HUGE and has entrances on all sides, but here is the Google Maps location if you need it!
Cost: This is a completely free date idea, too!
And while maybe not super "romantic", Sheep Meadow never disappoints!
13- Dance (or Just Hang Out) at Bethesda Terrace & Fountain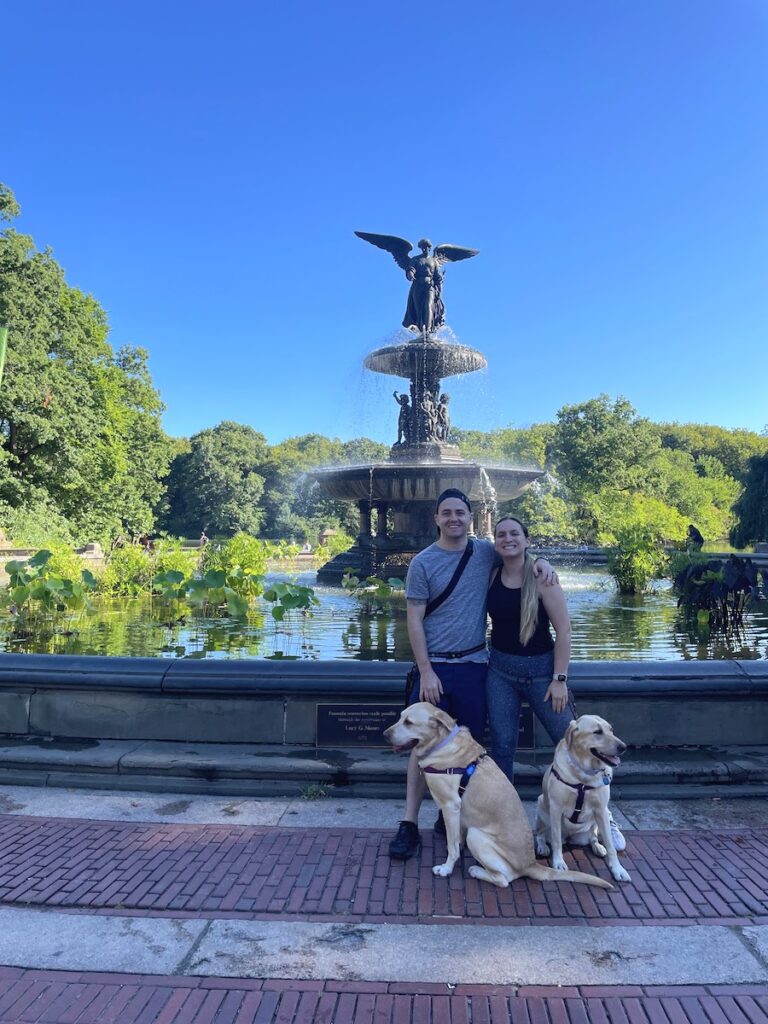 Bethesda Terrace & Fountain have been featured in loads of movies and TV shows, and for good reason!
The Terrace features elaborate carvings and ceiling art representing the seasons and times of the day.
The Fountain is massive, boasts magnificent views of the park, and generally is an amazing picture spot.
On any given day you may stumble upon dance classes right near the fountain! Whether you join in or not, Bethesda Terrace is a free and fun date idea in Central Park!
Plus, there is almost always live music!
PS- In this video I walk through Bethesda Terrace & Fountain with my pups! (If you click play below it will start right at the video portion covering Bethesda Terrace & Fountain)
Location: Here's the Google Maps for Bethesda Terrace.
Cost: This is another completely free thing to do in the park that can be extremely romantic, especially when live music is playing!
14- Relax at Strawberry Fields (and Hopefully Catch a Beatles Cover Artist)
No, this is not what inspired The Beatles' song Strawberry Fields Forever… Rather, it is inspired and dedicated to the famed Beatle, John Lennon.
Lennon actually lived right near this area in the iconic Dakota building before his death and loved exploring this area. Upon his death, his wife Yoko Ono worked with the Central Park Conservatory to help create this area and memorial. It features the 'Imagine Mosaic' commemorating John Lennon and also a couple of meadows lined with beautiful trees and shrubs.
Whether you like The Beatles or not, this area is quaint, calm, and often frequented by Beatles cover artists. There truly is something iconic, romantic, and relaxing about hearing some of Lennon's works while relaxing on a bench in Strawberry Fields. This is a must-do and makes for an awesome date idea!
Location: Here's where you can find Strawberry Fields via Google Maps.
Cost: Going here is completely free, just tip any artists that are performing!
15- Head to the Central Park Zoo
Not only the location of the beginning of the movie Madagascar, the Central Park Zoo is a staple for anyone looking for something fun to do in Central Park.
The zoo has a LOT of different types of animals and exhibits, here are a few:
74 penguins
23 waterfowl species
Sea lions
Grizzly bears
A tropic zone and more!
Central Park Zoo is always putting on different educational programs and activities for kids, too!
Personally, I think going to the zoo is a fantastic date idea and is a fun way to get to know someone on a deeper level.
Location: Here's the main entrance to the Central Park Zoo.
Cost: Tickets to the Central Park Zoo (as of April 2023) are $19.95 for adults, $14.95 for kids (3-12 yrs old), and $16.95 for seniors (65+).
16- Belvedere Castle Photoshoot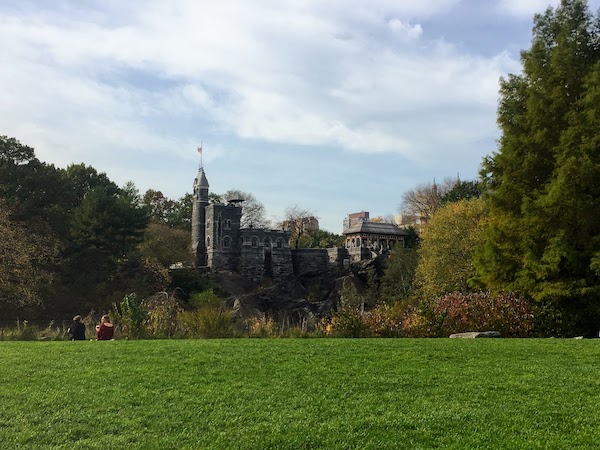 I'm not one for photoshoots, but if you're going to take some high-quality photos then do it at Belvedere Castle!
This castle was completed in 1872 and is located at the highest point of Central Park, Vista Rock.
In 1919, the US Weather Bureau actually turned the castle into a weather station complete with offices inside! In the 1980s, after renovations, it became a simple visitor center that boasts AMAZING views of the Great Lawn, Ramble, and general cityscapes.
It's a pretty epic castle, especially when you realize it's in the middle of Central Park. Be sure to check it out and get some beautiful pictures!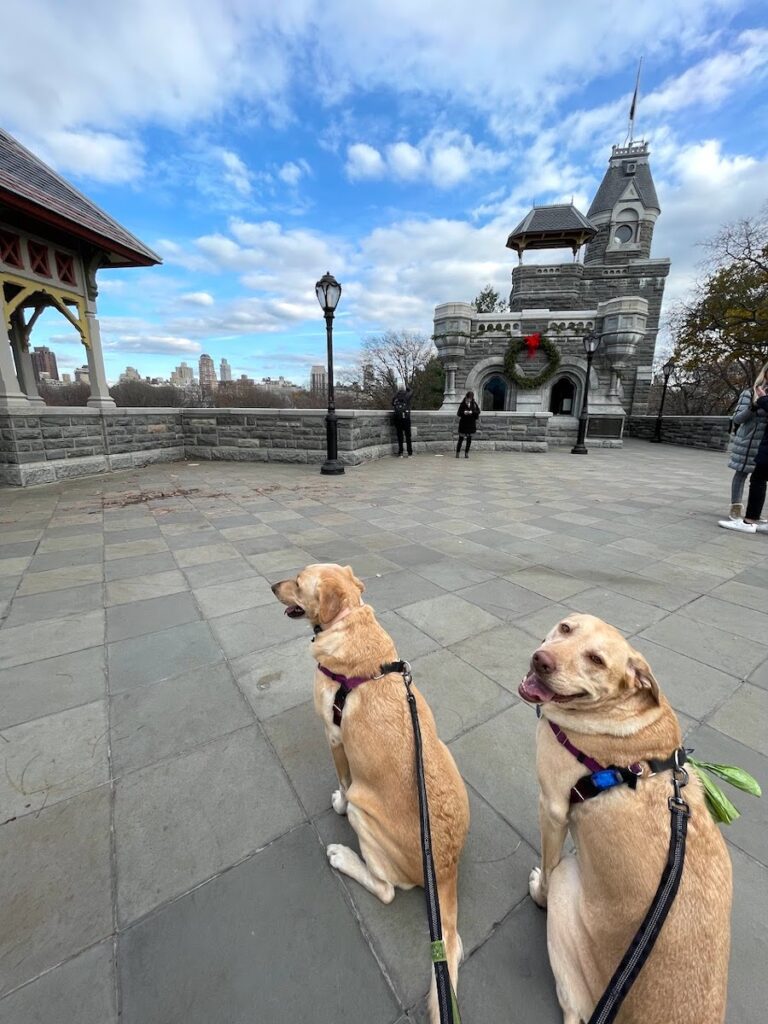 Location: Here's where you can find Belvedere Castle.
Cost: Belvedere Castle is free to explore and take photos of!
17- Watch the Sunset by the Jacqueline Kennedy Onassis Reservoir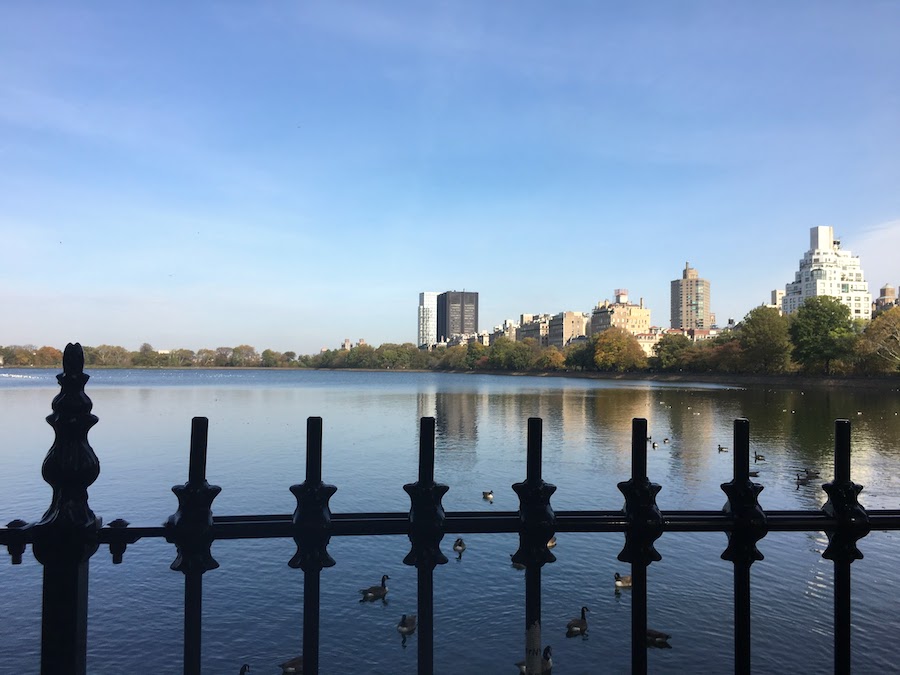 The Jacqueline Kennedy Onassis Reservoir is a HUGE body of water that creates epic sunsets, city viewing, and a general unique feel in New York City.
What I love most about the reservoir is that it is typically pretty quiet and serene. Other bodies of water in Central Park (like The Lake) are often crowded, noisy, and busy. The reservoir is a bit more secluded and typically lends itself to some peaceful moments.
It can be a really romantic spot to just chat, listen to some music, or even share a small picnic. It also has a 1.58-mile track that is perfect for joggers or an evening stroll.
While it originally was used for the city's drinking water, it now is just a beautiful area to enjoy. This massive reservoir holds a billion (with a b) gallons of water!
Location: Click here for the location of the Jacqueline Kennedy Onassis Reservoir.
Cost: Completely free to enjoy!
18- Play Chess or Checkers
Is there anything more romantic than getting your ass kicked in chess? 😉
The Central Park Chess & Checkers House is quite the romantic backdrop for a fun date in Central Park. There are 24 tables meaning you'll rarely, if ever, wait for a spot to play!
In the summers, the Central Park Conservancy offers classes to players of all ages and skill ranges.
As of June 2023, it's open again after renovations!
Location: Here's the Chess & Checkers House (although it is currently closed for construction as of April 2023)
Cost: Bring your own pieces! Could even be worth getting a cheap set, like these, to experience playing in Central Park!
19- Check Out Gapstow Bridge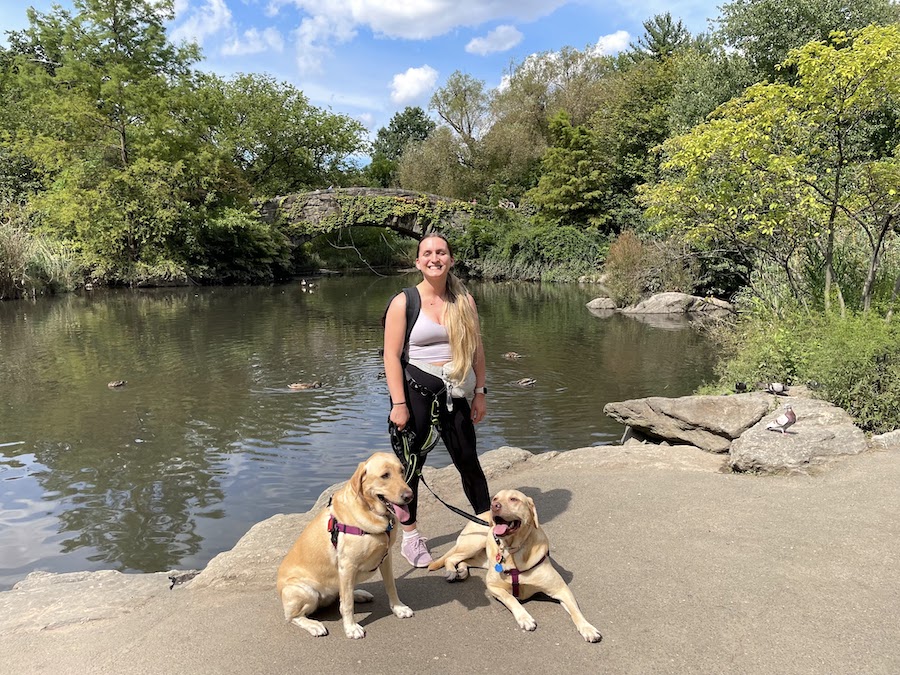 Gapstow Bridge is where I started to fall in love with New York City. While there are hundreds of iconic spots in the city, this beautiful bridge showcases one of the most breathtaking and photo-worthy spots in all of NYC.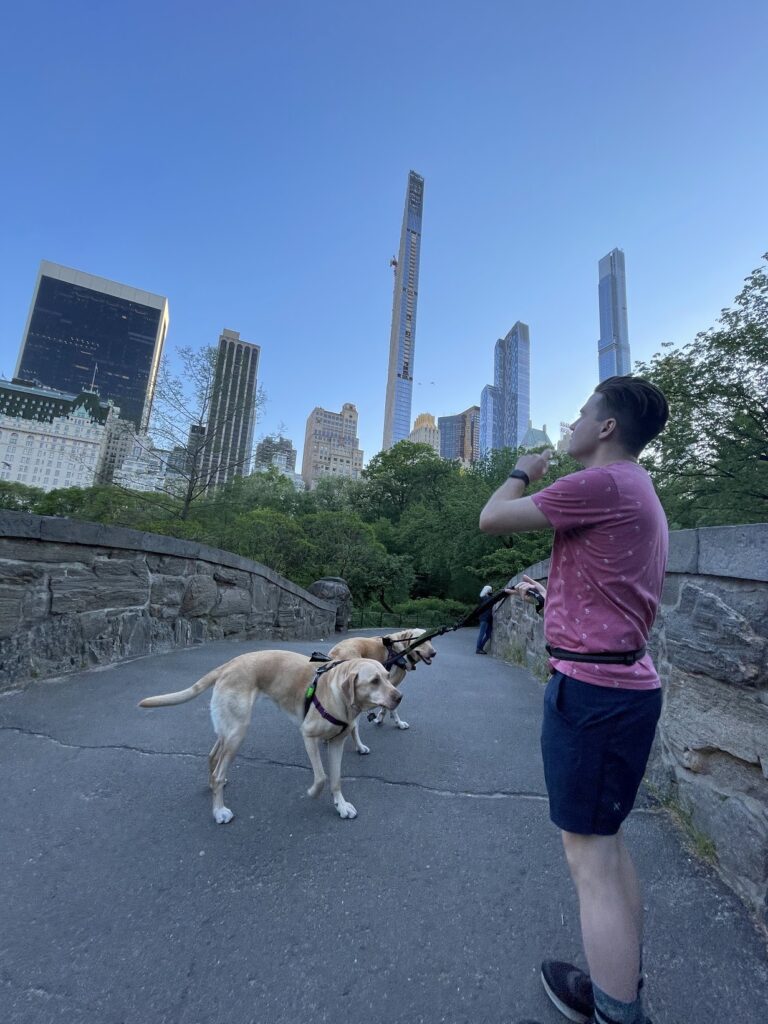 I love it so much that I actually got it tattooed on my arm as part of a memorial to all the places I've lived. 👇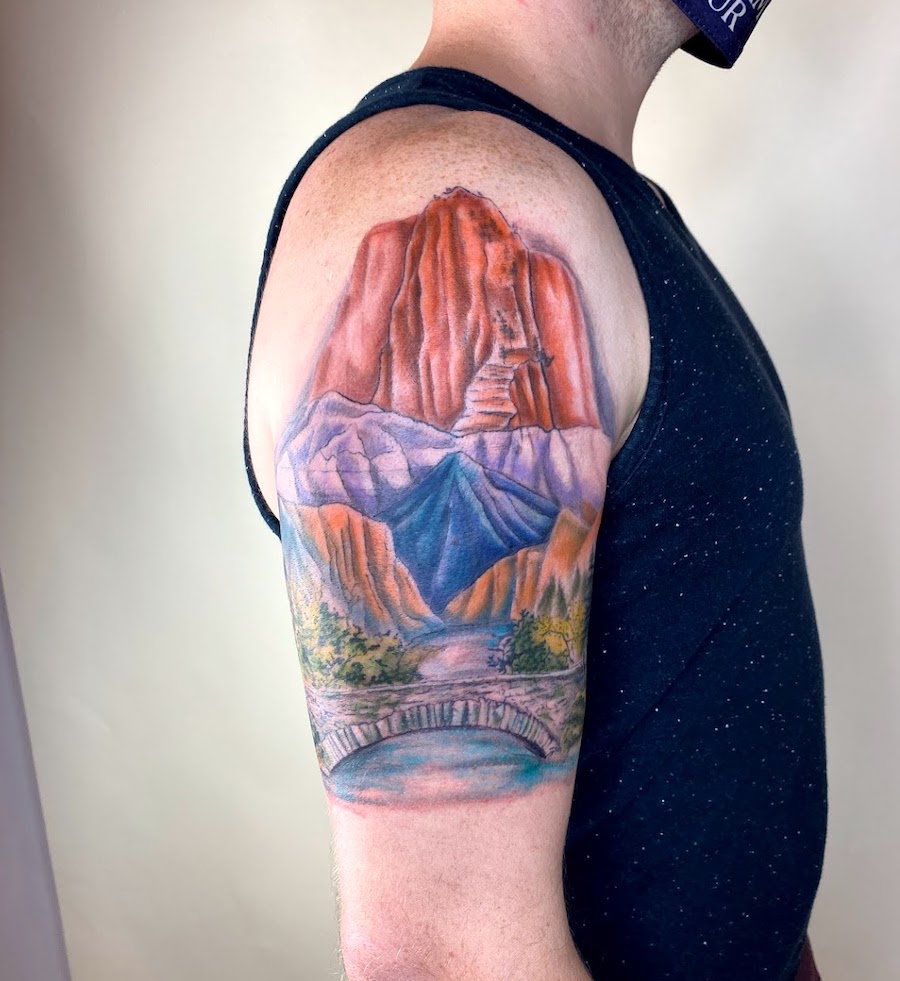 The bridge was originally built in the late 1800s and has since gone through a revision or two on its way to its current state. I love love love the bridge in the spring and fall as the vines make it feel like it's part of the nature around it.
It's a great place to see some turtles, fish, and unique birds in the surrounding pond. Truly, Gapstow Bridge is a great place to visit in Central Park!
Location: Here is the location of Gapstow Bridge in Central Park.
Cost: Free to walk across and enjoy!
20- Walk Down The Mall & Literary Walk
Here are just some of the movies that have been filmed in The Mall/Literary Walk in Central Park:
Mr. Deeds
Bed of Roses
Big Daddy
When Harry Met Sally
Get Him to the Greek
Serendipity
Vanilla Sky
And that's just some of them!
The Mall is truly an absolutely legendary part of Central Park. The tree-lined promenade, large amphitheater, and often-lined-up musicians make this spot beautiful and extremely romantic.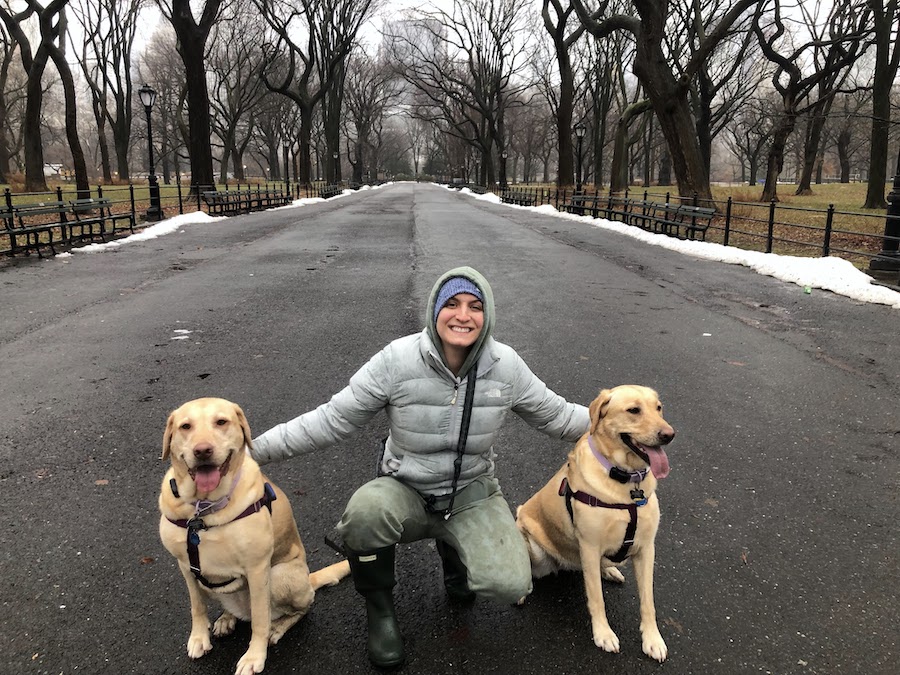 This area is best during the fall as leaves are changing, but it is still magnificent year-round.
There are also statues of many famous literary legends (hence the name Literary Walk) including important female figures.
I think it's best to start at the south end and walk through the entire Elm-tree-lined path toward Bethesda Terrace!
Click the video below to start at the section covering the Literary Walk & The Mall ⤵️
Location: It's a long promenade, but here's the Maps location.
Cost: Completely free!
21- Grab a Coffee and Croissant at Le Pain Quotidien
While Le Pain Quotidien (literally who knows how to say it 😅) isn't the greatest cafe in the city, the Central Park location makes it a worthwhile activity!
It's right next to Sheep Meadow making it a popular spot to grab some coffee, a pastry, or even a sit-down brunch. Plus, it's mostly outside seating and is dog-friendly!
On the weekends it can get quite busy so be prepared to wait for a table or just plan on grabbing something to go. I absolutely love their Chocolate Almond Croissant!
Location: Check out Le Pain Quotidien in Central Park here.
Cost: Depends on what you get, but plan to spend on average $5-$25 per person.
Recap of Best Central Park Date Ideas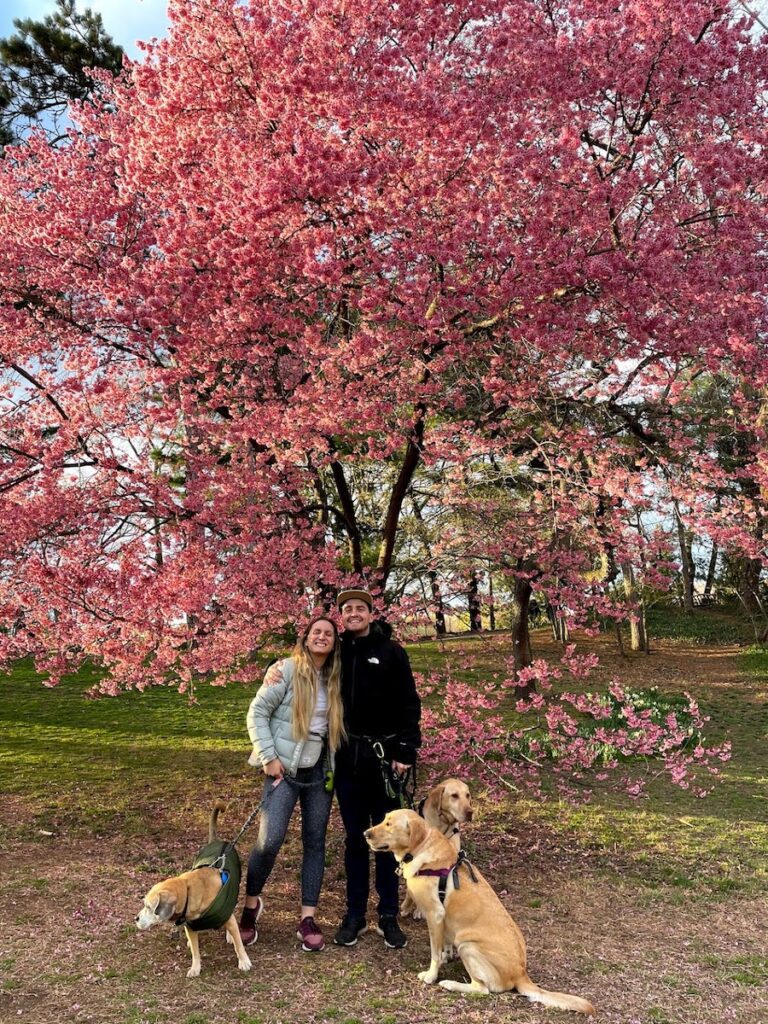 Whether you're in New York City for a day or a month, you need to spend time in Central Park. It is truly one of the best places to spend time with a date, friend, or even just for a solitary stroll.
Be sure to see all these date ideas in Central Park on this compiled Google Maps list here. I've included notes about each location on the list, too!
Here is a complete list of 21 fun date ideas & things to do in Central Park!
And be sure to see all these date ideas in Central Park on this compiled Google Maps list here. I've included notes about each location on the list, too!
What sounds like the most fun thing to do in Central Park? Tell me in the comments!
*This post may contain affiliate links, so we may earn a small commission when you make a purchase through links on our site at no additional cost to you.