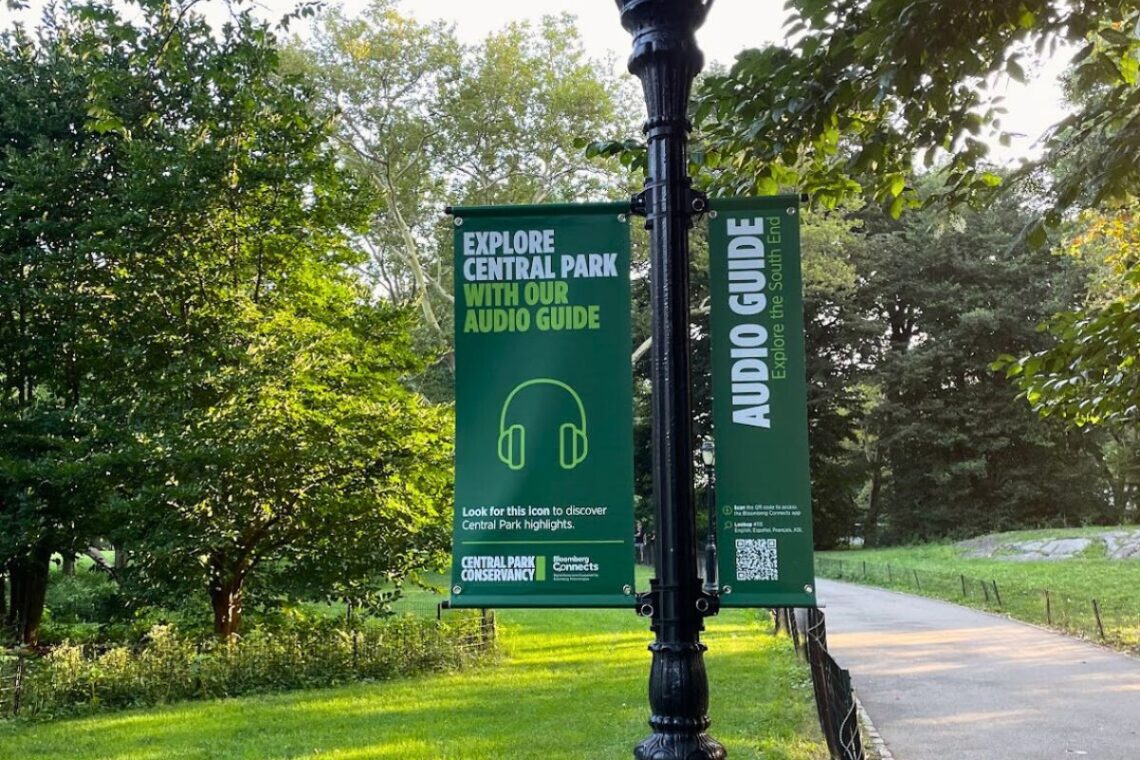 Central Park Audio Guide – The BEST Way to Explore Central Park
While many visitors flock to Central Park, only a handful truly delve into the rich past and hidden gems of the 840-acre park!
Whether you have half an hour or an entire day to spare, the park's sheer expanse offers something for everyone.
But how do you learn about these landmarks as you explore?!
Enter the Central Park Audio Guides which provide interesting audio readings of 40+ places in Central Park.
In this episode, we'll dive into how to use the free audio guides, where to find them, and even give you a preview of what the audio guides sound like.
Let's dive right into it. 👇
Related Reading: 21 Romantic Things to Do & Date Ideas in Central Park
Central Park Audio Guide Podcast Episode
Want to hear more podcasts like this? Head here.
Using the Free Central Park Audio Guides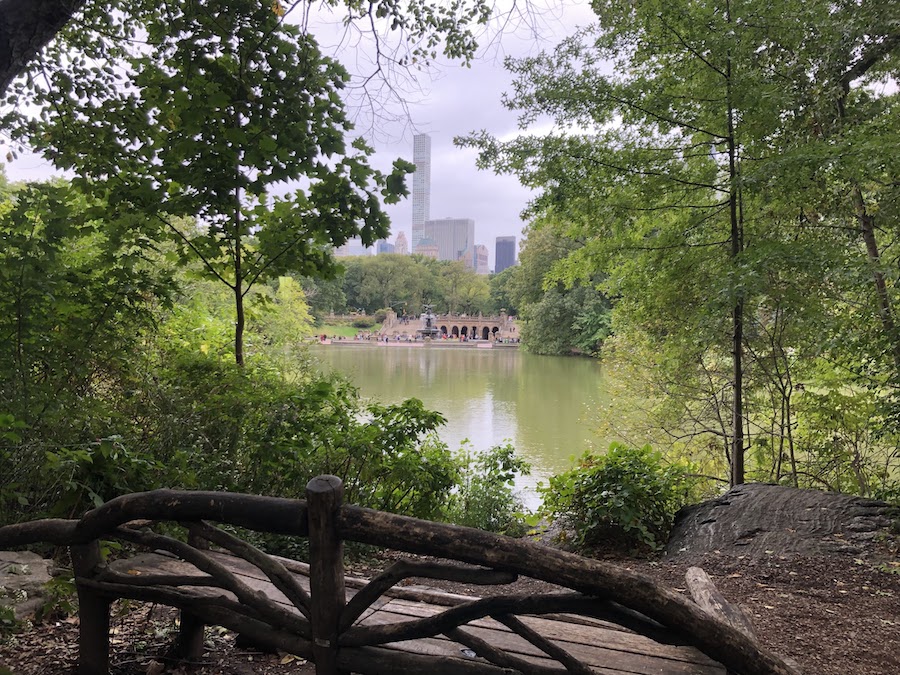 While you can certainly book guided tours of Central Park, those cost money & require you to be there at a certain time and for a certain amount of time.
If you're more of a DIY explorer and like to go at your own pace, the Central Park Audio Guides are for you!
These guides offer historical information, fun facts, and little-known tidbits of info about 40+ landmarks. Each audio guide is available in English, Spanish, French, and ASL.
For most locations, the audio snippets range anywhere from 90 seconds up to about 4 1/2 minutes.
Here are the 2 ways you can use the Central Park Audio Guides. ⏬
Option 1: Phone Call
Call the phone number listed on the sign near the location
Enter the "extension number" listed on the sign
Listen to the audio (preferably with headphones)
If you want to save it in your contacts, here's the Central Park Audio Guide phone number: 646-862-0997
The main disadvantage of the phone call route is that you have to find the extension on the sign in the park (or you can cheat and look at our list below).
Option 2: Bloomberg Connects App
Option 2 is to download the Bloomberg Connects app and find the Central Park Audio Guide there.
The advantage of the app is that you can search for locations/landmarks without being right next to them. That makes it easy to learn about sections of the park before (or after) you check them out.
I have found that the app can sometimes be buggy; honestly, the phone call is a straightforward option!
No matter which option you choose, use some headphones so you can listen and walk hands-free (and not bother people around you 😉).
What the Central Park Audio Guide Signs Look Like
The audio guide signs are located throughout the park, right near popular landmarks.
It's a green sign that usually has:
The name of the landmark/location
The audio guide's phone number
The specific landmark/location's extension
A QR code to scan and access the Bloomberg Connects App
The Central Park Audio Guide signs look like this: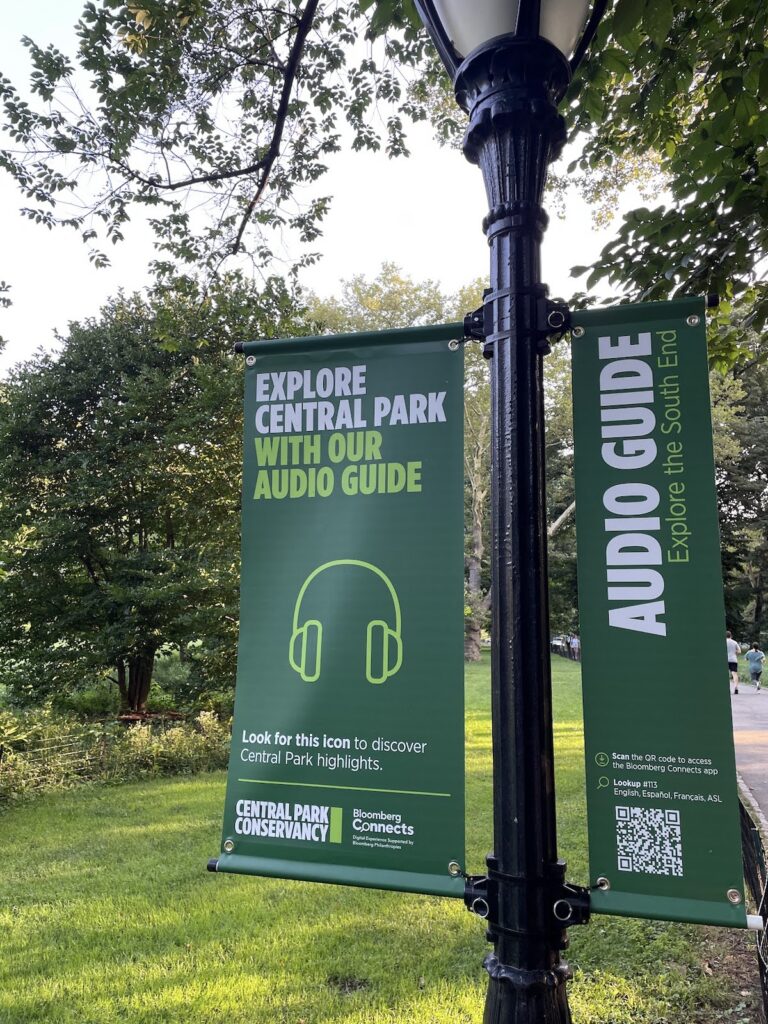 List of Locations Available in the Audio Guides + Call Extension Numbers
As mentioned above, the disadvantage of the phone call option for the audio guides is that you have to be at the location to see the extension number.
Well, we're gonna make it a little easier on you with a full list of all the audio guide stops and each associated extension number.
Fun but Mostly Sad Note: From about 2009 to early 2023, the audio guides were ready by famous New Yorkers. For some reason, they got rid of it. Such a shame! Next to each location, we'll include the name of the person who used to read the audio snippet.
PS- If anyone knows why they got rid of this feature, please let us know.
Alright, here are all of the locations available on the free Central Park Audio Guide & each corresponding extension number (if there's a hyperlink, it's for an article we've written about that specific landmark):
Explore the North End: #100
Blockhouse: #101
Fort Clinton: #102
McGowan's Pass: #103
Great Hill: #104
The Harlem Meer: #105 (previously read by S. Epatha Merkerson)
The North Meadow: #106 (previously read by Jimmy Fallon)
North Woods: #107
Huddlestone Arch: #108
The Ravine and Loch: #109
The Pool: #110 (previously read by Susan Lucci)
Duke Ellington Circle: #111
Frederick Douglass: #112
Explore the South End: #113
The Pond: #114 (previously read by Sarah Jessica Parker)
Heckscher Playground and Ballfields: #115 (previously read by Scott Clark)
Children's District and the Dairy: #116 (previously read by Kelly Ripa)
The Mall: #117 (previously read by Jerry Seinfeld)
Concert Ground: #118 (previously read by Paul Shaffer)
Bethesda Terrace and Fountain: #119 (previously read by George C. Wolfe)
Bow Bridge: #120 (previously read by Julia Louis-Dreyfus)
Cherry Hill: #121
Conservatory Water: #122 (previously read by Glenn Close)
Alice in Wonderland: #123 (previously read by Whoopi Goldberg)
Balto: #124 (previously read by John Stossel)
Sheep Meadow: #125 (previously read by Matthew Broderick)
Strawberry Fields: #126 (previously read by Yoko Ono)
The Lake: #127 (previously read by Penn Jillette)
The Ramble: #128 (previously read by Isabella Rossellini)
Hallett Nature Sanctuary: #129
Dene: #130
Adventure Playground: #131
Merchants' Gate: #132
Grand Army Plaza: #133 (previously read by Regis Philbin)
Explore the Mid-Park: #134
Great Lawn: #135 (previously read by Alec Baldwin)
Seneca Village Site: #136
Delacorte Theater: #137 (previously read by Anne Hathaway)
Shakespeare Garden: #138 (previously read by Marcia Gay Harden)
Obelisk (Cleopatra's Needle): #139 (previously read by Philippe de Montebello)
Arthur Ross Pinetum: #140 (previously read by Martha Stewart)
Reservoir: #141 (previously read by Kevin Bacon)
Bridge No. 28: #142
Welcome to the Belvedere: #143 (previously read by Lee Goldberg)
Previous locations on the audio guide (no longer included) were read by:
Danny Meyer
Tea Leoni
Penn Jillette
Meredith Vieira
Sigourney Weaver
David Copperfield
Neil Patrick Harris
Doug Blonsky
John McEnroe
Jason Alexander
Again, if anyone knows why they got rid of the celebrity readings, please let us know!
Central Park Information Kiosks
While the Central Park Audio Guides are priceless, you can also check out the Central Park Information Kiosks throughout the park for added information.
There is one near Columbus Circle (map link), one near 72nd Street (map link), and sometimes one near the 6th Ave entrance near Central Park South (map link).
Most will have physical maps and a knowledgeable park volunteer who can answer questions, give directions, and guide you on your journey in Central Park!
Those look like this: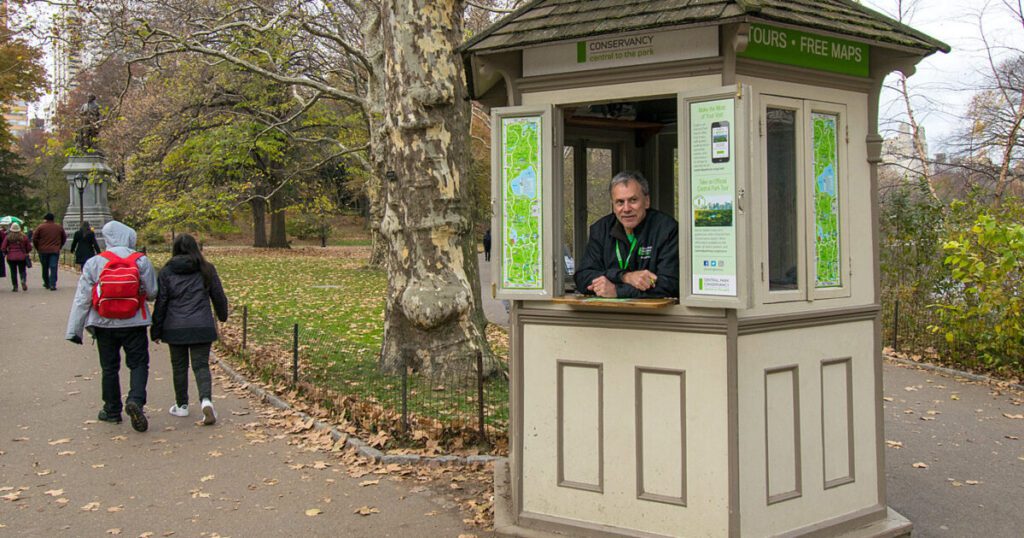 How to Get Around Central Park
As we're talking about these audio guides, you may be wondering how to get around the massive park to see all these spots!
The short answer, walking is typically the most practical! You'll also see parts of the park you will not see on a bike or other form of transportation.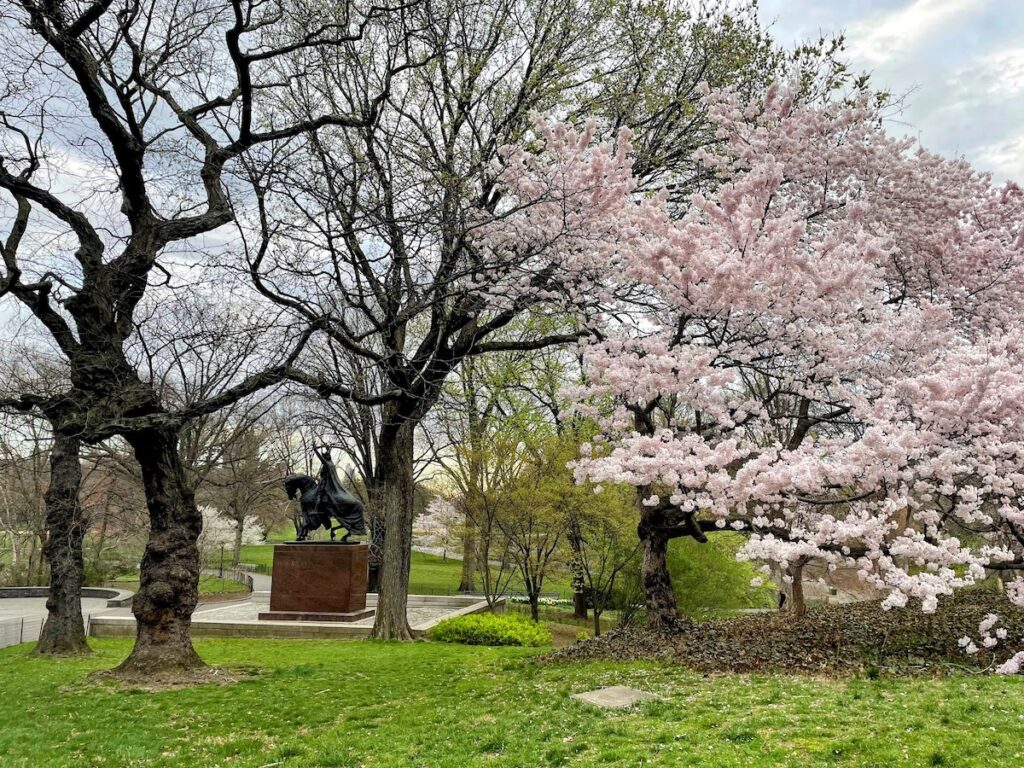 You can rent a bike (even a Citi Bike), but for any of those you pay for time. Walking is free and truly the best way to experience Central Park to the fullest extent!
Get out and walk.🚶‍♀️
Whatever you do, do NOT take a horse-drawn carriage or a pedicab! They're a HUGE tourist trap!
Related Reading/Viewing: Narrated Walk Through Central Park (with our dogs)
Maki Maki Sushi – Episode's "You'll Have to Check It Out" Segment
In each podcast episode (if you aren't following, do so here) we'll be recommending one place to eat, drink, or snag some coffee throughout New York City!
This week's segment is a delicious, fairly-priced, and close-to-the-park sushi spot. Maki Maki Sushi!
Their rolls are fresh, decently priced, and are packaged up nicely making them a perfect option for taking to a Central Park picnic!
Check out Maki Maki Sushi here.
Central Park Audio Guide Recap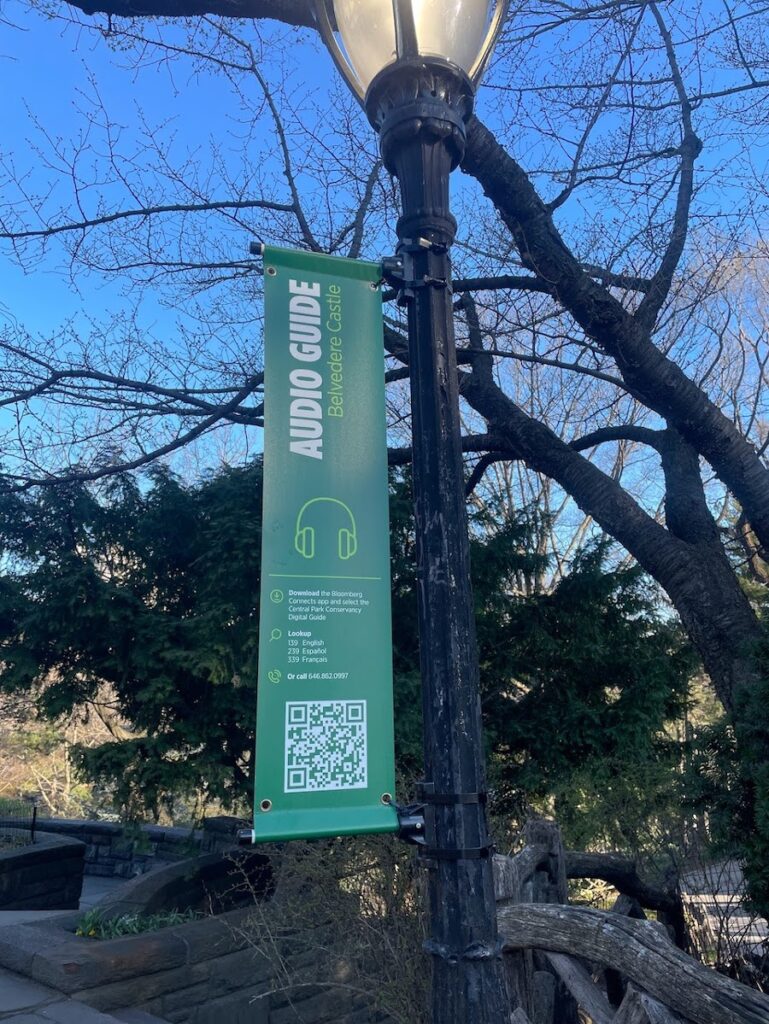 Exploring Central Park should be at the top of the to-do list for any New York City trip!
Using the free Central Park Audio Guides is the best way to learn, explore, and take in all the beauty and history the park has to offer!
Again, you can download the Bloomberg Connects App or call the Audio Guide phone number to access the bite-sized audio snippets.
What part of Central Park did/do you enjoy the most?! Tell us in the comments.
PS- Want to snag a slice while in NYC? Check out our Best NYC Pizza guide!
*This post may contain affiliate links, so we may earn a small commission when you make a purchase through links on our site at no additional cost to you.