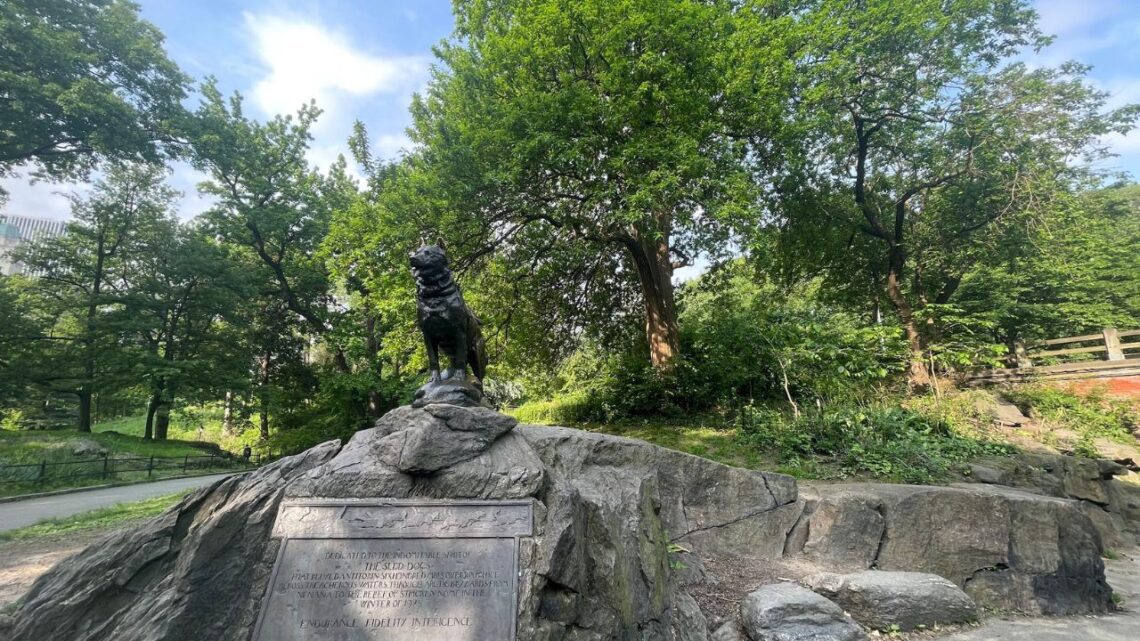 Balto Statue in Central Park NYC
Balto Statue in Central Park is a popular destination, especially for dog lovers. This statue can be pet, climbed on, and of course, photographed!
Here's what we'll cover in this quick article (click to navigate to each section):
Let's dive into all things Balto Statue! 👇
Related Reading: Alice in Wonderland Statue + Conservatory Water
Balto Statue Overview & History
The Balto statue in Central Park is a beloved monument that commemorates the heroic efforts of a sled dog named Balto and his team during the 1925 serum run to Nome, Alaska.
In the winter of 1925, the remote town of Nome, Alaska was facing a diphtheria outbreak, and the only available serum to treat the disease was in Anchorage, nearly 1,000 miles away. With the town cut off from transportation due to harsh weather conditions, a relay of dog sled teams was organized to deliver the life-saving medicine.
Balto, a Siberian Husky, was the lead dog of the final team that completed the grueling journey, traversing treacherous terrain and braving blizzard conditions. On February 2, 1925, after covering over 50 miles in one night, Balto and his team arrived in Nome, successfully delivering the crucial serum. Their heroic efforts saved the lives of countless people in the town.
In recognition of Balto's bravery and the contributions of all the sled dogs involved in the serum run, a statue was commissioned to honor their achievements. It depicts Balto in a dynamic pose, leading his team and exuding strength and determination.
Balto Statue in Central Park Location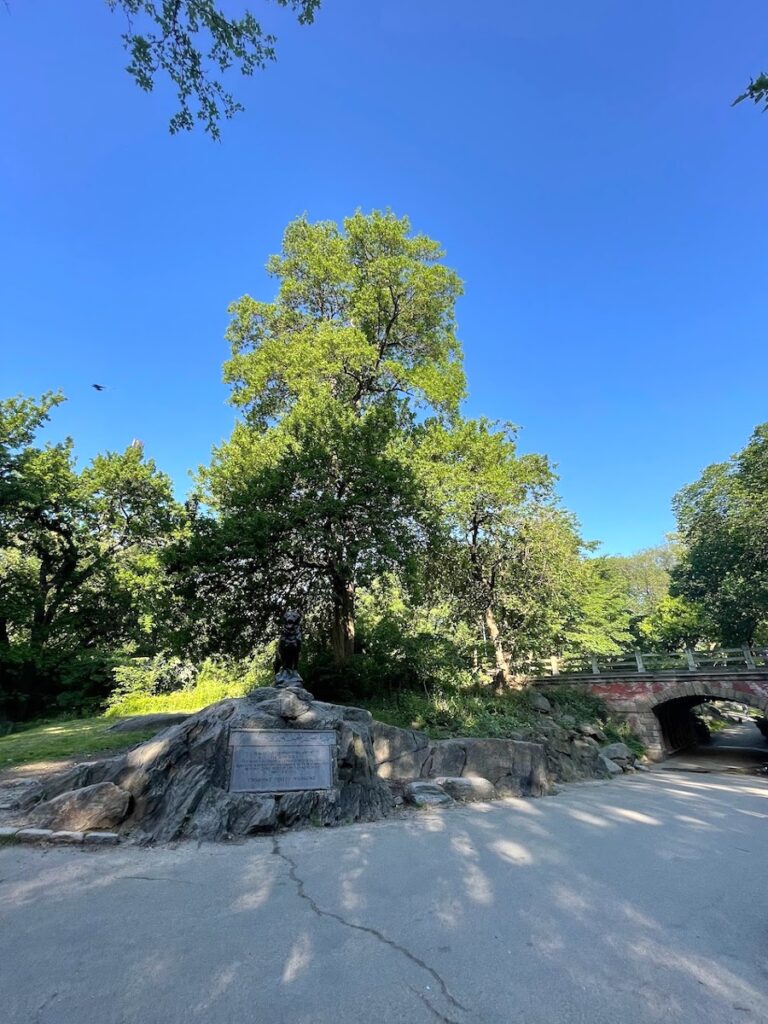 The Balto Statue is located on the eastern side of Central Park, about even with 67th Street. You can enter the park from 5th Avenue between 66th and 67th Street!
It's extremely close to the Literary Walk & The Mall, so you can see a few of the most popular spots in Central Park in a short time frame!
The statue is right next to the Willowdell Arch!
Who Built the Balto Statue?
The Balto Statue was created by sculptor Frederick Roth and unveiled in Central Park on December 17, 1925.
Frederick Roth also created the Dancing Goat and Honey Bear sculptures in the park!
He was also the head sculptor for the New York City Parks Department from 1934-1936.
Related Reading: Best Central Park Picnic Spots
Why Did They Build a Statue of Balto in New York City?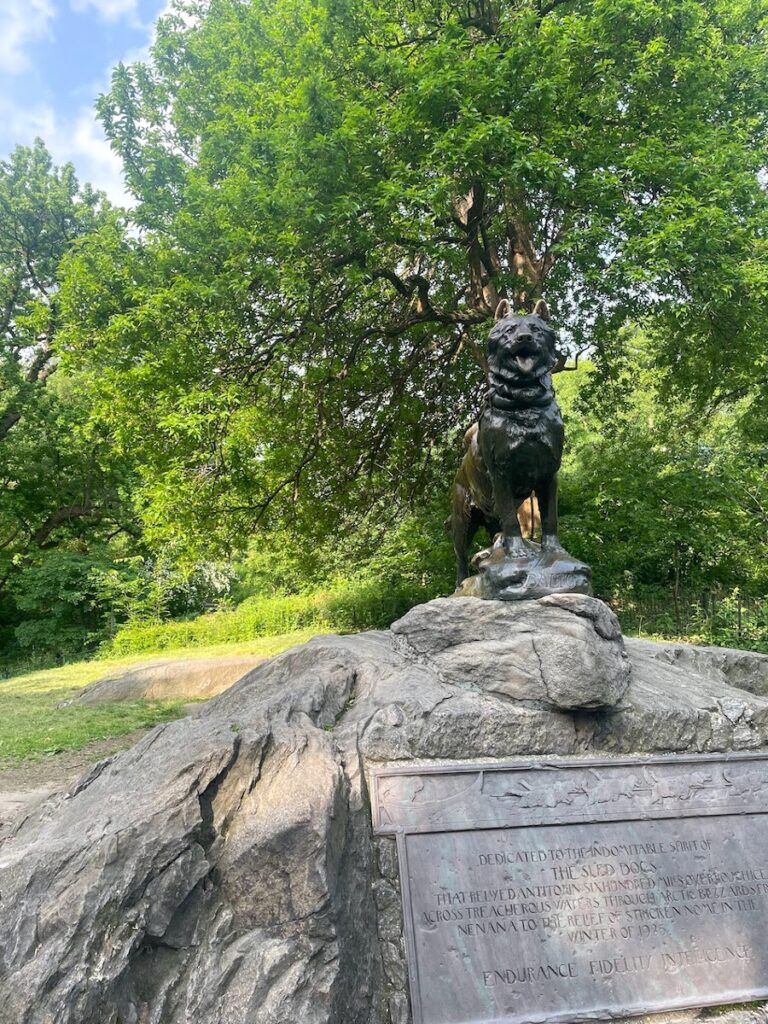 The decision to build a Balto statue in Central Park was primarily motivated by the desire to honor the heroic efforts of Balto and his team during the 1925 serum run to Nome, Alaska. The serum run was a significant event in which dog sled teams played a crucial role in delivering life-saving medicine to the isolated town of Nome, combating a diphtheria outbreak.
Balto, as the lead dog of the final team, became a symbol of courage, endurance, and dedication. His team successfully completed the last leg of the perilous journey, braving harsh weather conditions and treacherous terrain to deliver the serum in time.
The mission saved numerous lives and captured the public's attention, elevating Balto and his fellow sled dogs to hero status.
Balto Statue in Central Park Recap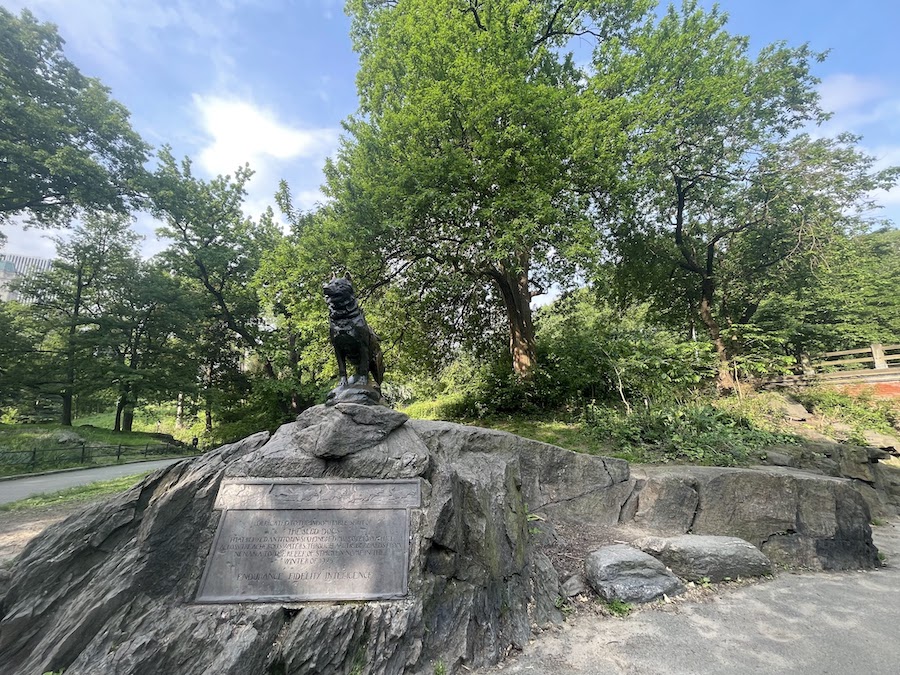 Balto Statue has long been an integral and iconic part of Central Park! It's a great place to visit, especially with kids!
Looking for more to do in Central Park? Check out 21 Central Park Date Ideas & Things to Do!
*This post may contain affiliate links, so we may earn a small commission when you make a purchase through links on our site at no additional cost to you.