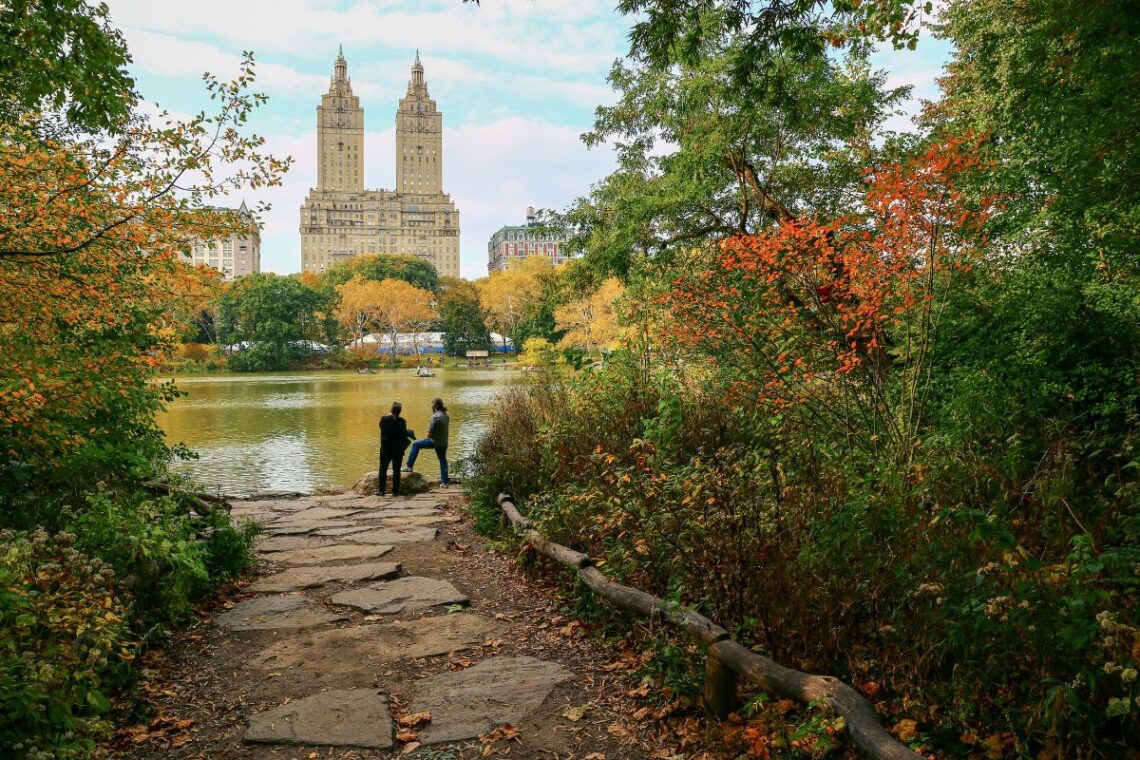 Best Central Park Picnic Spots
While there truly are some iconic Central Park picnic spots, you can picnic just about anywhere in the park!
There are green spaces everywhere and just about any of them will be a great place to have a picnic. Having a picnic on a nice sunny day is one of our favorite romantic things to do in Central Park (or just for fun, romanticism is not necessary).
But, let's dive into some of the most iconic and beautiful places to have a picnic in Central Park!
Here are the 5 best Central Park picnic spots:
A quick note too… You can of course picnic on a bench (there are hundreds of them), but I think for peak Central Park experience you should bring a blanket and head to one of these grassy areas.
Related Reading: Unique Date Ideas in NYC
Cherry Hill – Iconic Views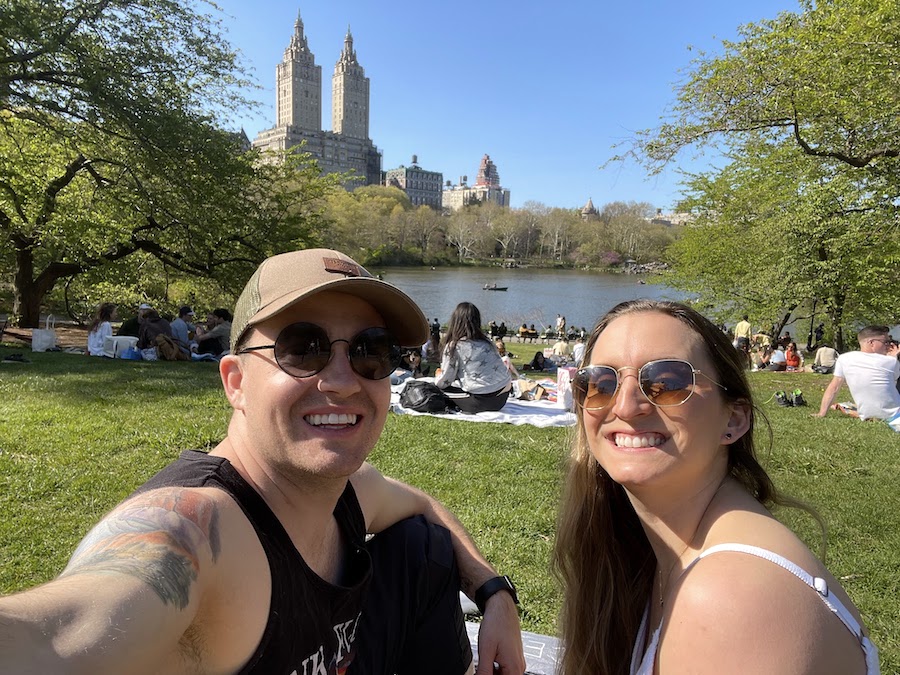 Cherry Hill gets its name from the picturesque Cherry trees that bloom each spring.
If you go at the right time it's quite the spectacle!
Another reason people love picnicking at Cherry Hill is that you get absolutely gorgeous views of The Lake. And in the summer you can watch the boaters cruise by, too!
You also get perfect views of some of the massive Upper West Side buildings.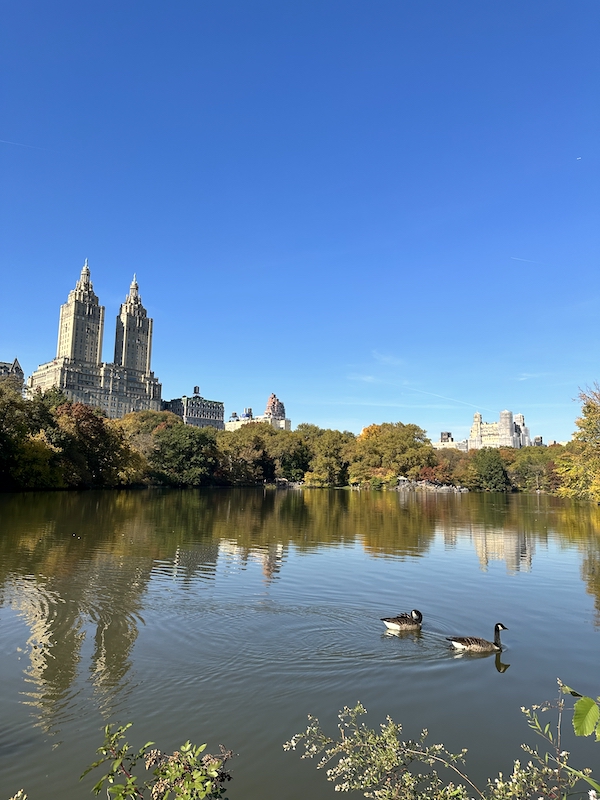 The only downside of Cherry Hill for a picnic is that it can get really crowded during the spring and summer months. Even then, you can almost always find some space for your blanket!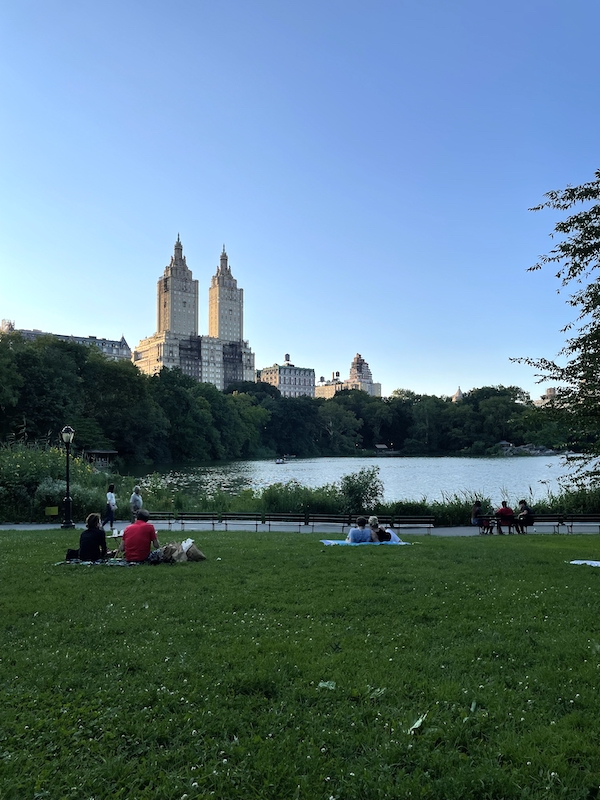 Location: Here is a Google Maps link to where you can find Cherry Hill.
Sheep Meadow – A MASSIVE Grassy Area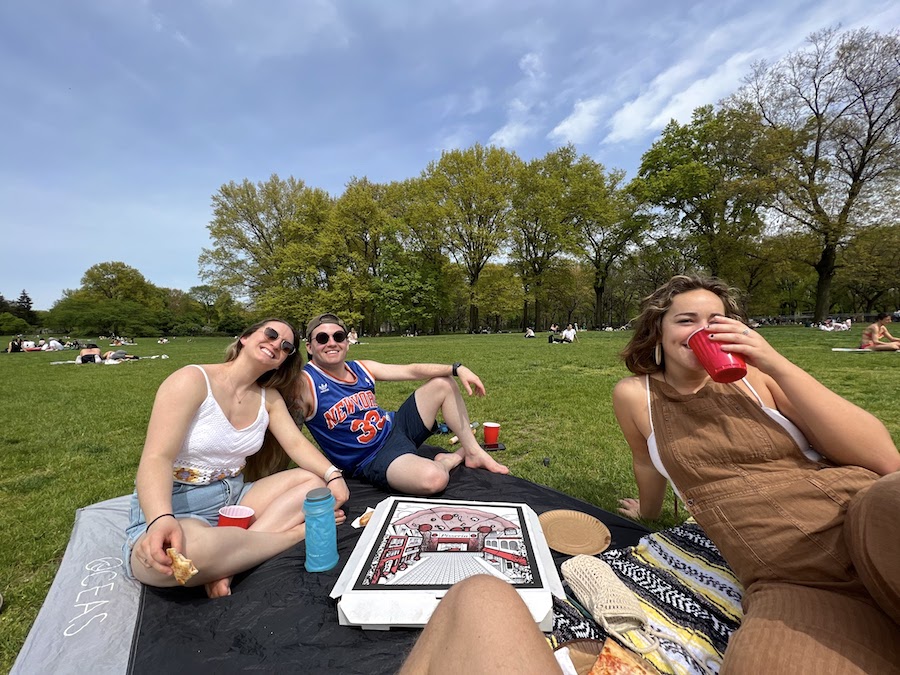 This just might be the best place for a picnic in Central Park!
Sheep Meadow in Central Park gives you almost 360-degree views of the city AND there is so much space here. Even on busy holidays you can still find plenty of space for a picnic, even with a large group of friends.
Sheep Meadow usually opens in early April and they open the gates each day around 11 am.
Plus, the people-watching is next level. Here is some of what you might see when you picnic in Sheep Meadow:
People sunbathing
Eating tasty NYC pizza
Parties of all types
Friends playing games like spike ball, soccer, frisbee, etc.
Almost everyone drinking (and not usually trying to hide it)
Yoga and other workout classes
Artists drawing and writing
And so much more!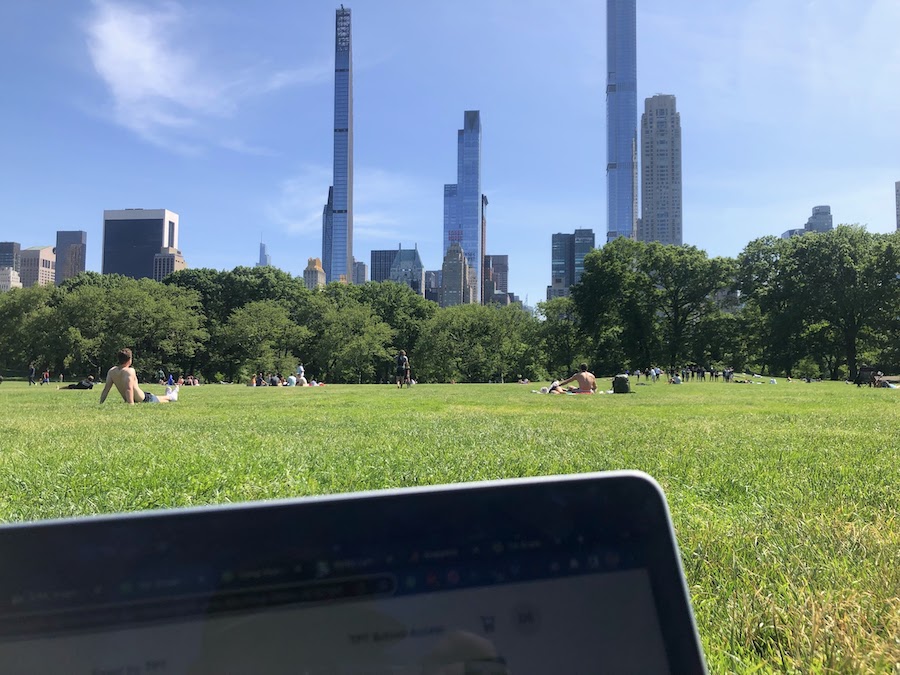 Location: Here is a Google Maps link to where you can find Sheep Meadow. There are a lot of entrances on all side, so choose whichever one works best for the direction you're coming from.
The Great Lawn – Unparalleled Skyline Views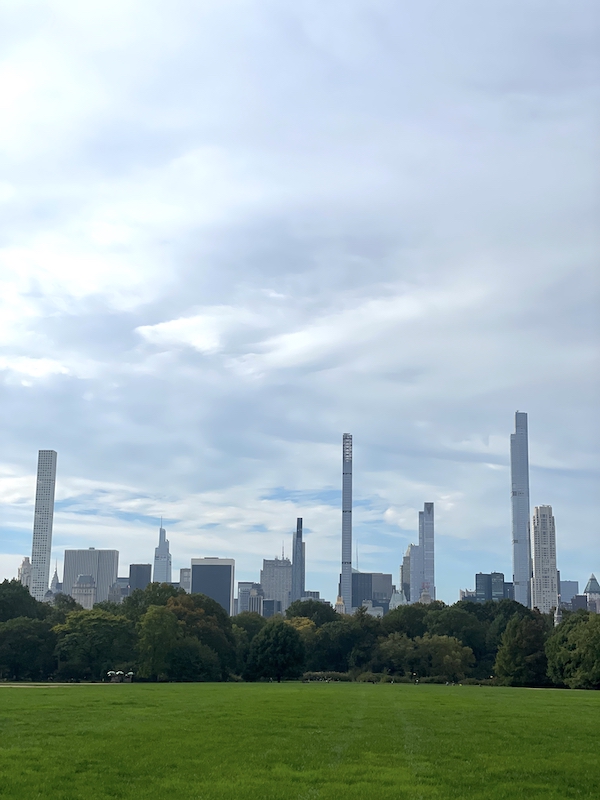 The Great Lawn is just what it sounds like… An absolutely sprawling grassy area with lots of baseball fields as well.
The Great Lawn is where some massive concerts have historically been held. I'm talking Queen, Simon & Garfunkel, and Global Citizen Festival which has seen names like Kendrick Lamar, Billie Eilish, Cat Stevens, Metallica, and even Cardi B.
It also makes for a very fun place for a picnic!
Nearby: Belvedere Castle
The beauty of The Great Lawn is that you can pick a nice grassy spot OR you can head to any of the hundreds of benches that surround the lawn. It's truly unbeatable in that regard.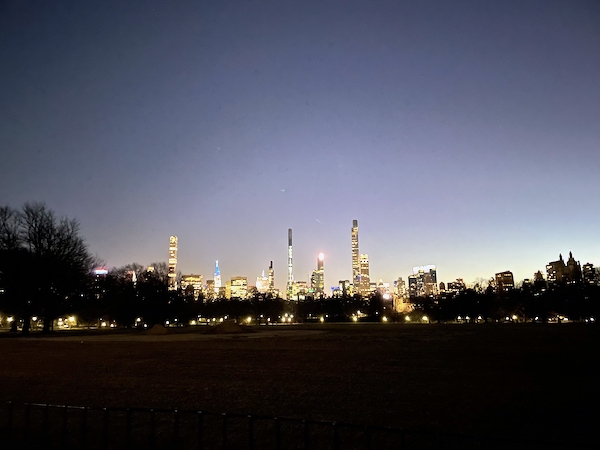 Plus, the views of the Midtown skyline are unbeatable. It's one of my favorite picnic spots for that reason!
Location: Here is a Google Maps link to The Great Lawn.
The Ramble – Serene & Quiet Picnic Spot
While many wouldn't initially think of The Ramble as a picnic spot, I'd argue it is one of the best!
While The Ramble doesn't have as many open grass areas, it does have some of the quietest and most serene spots in all of Manhattan (in my opinion). You can truly disappear into nature in The Ramble.
We've had some amazing experiences traversing through The Ramble and picking a random bench for a picnic! Check out this fantastic view of Bethesda Fountain from a bench in The Ramble. 👇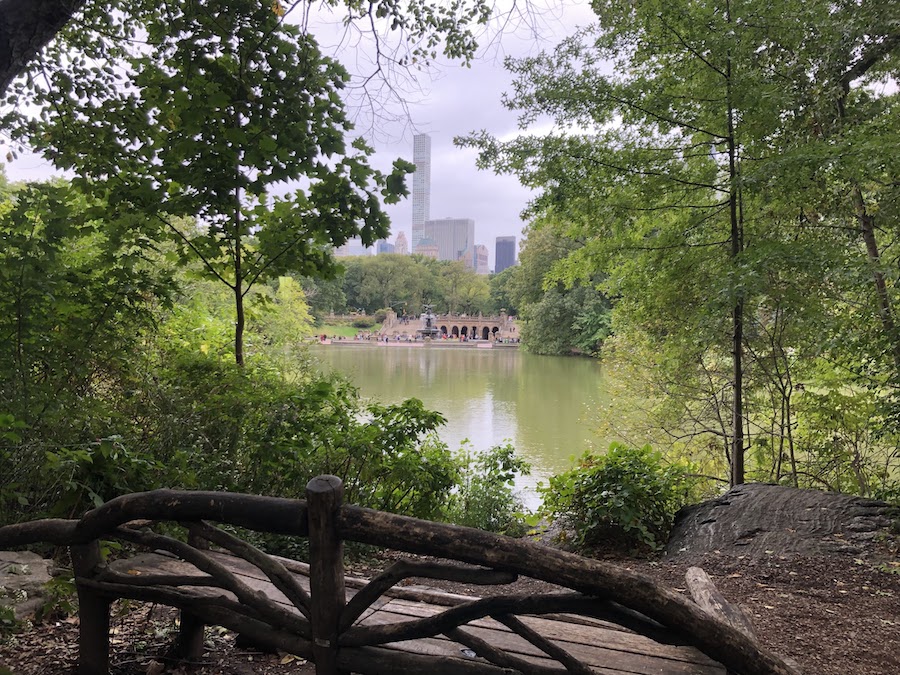 I will say that it's easy to get lost in The Ramble, so let yourself get lost and then find a picnic spot. It's the most fun way!
Location: Here is a Google Maps link to The Ramble. Again, it's massive so you can enter from many places but it's most accessible from the west side of Central Park.
East Meadow – Close to the Reservoir
This picnic spot is the furthest north on this list. If you're up in this area wanting to have a picnic, I highly recommend checking out the Conservatory Garden after your picnic!
The East Meadow is a large lawn up near about 98th street and is frequented by families, dogs, and sunbathers.
I love this area for picnics because it is much less crowded than many others. So, if you're looking for a more peaceful picnic in Central Park this is a great spot!
PS- The North Meadow is close too, and also has sprawling grassy areas for picnics.
Location: Here is a Google Maps link to the East Meadow.
Recap of Best Central Park Picnic Locations
If you're visiting for the weekend (or live here), having a picnic in Central Park should be on your to-do list. This list will hopefully give you some great ideas of where to head for the best views, people-watching, and picnicking!
Here's a recap of 5 great places (with Google Maps listings linked) to have a picnic in Central Park:
And if I had to pick 2 favorites they would be Cherry Hill & Sheep Meadow (#1 & #2 in this article).
PS- Want to see all these spots in an easy-to-navigate Google Maps list? Head here!
Have other picnic spots you like? Tell me in the comments!
Additional Reading: Learn the ins and outs of traveling in New York City like a pro!
Additional FAQs about Central Park Picnics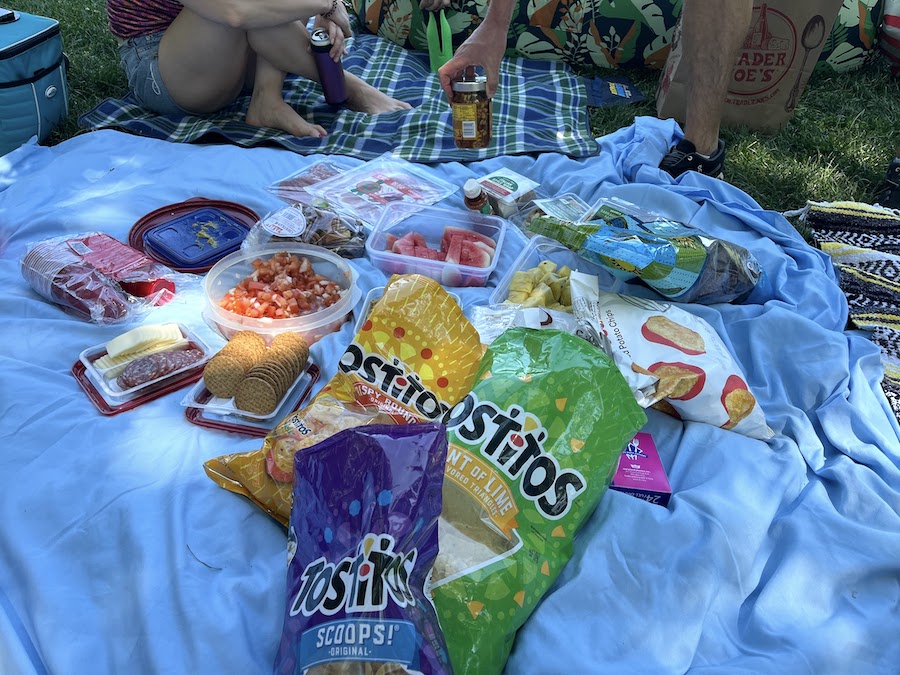 While we covered most of the basics, there are some additional questions I often hear about picnicking in NYC's best park. So let's cover those!
Can you picnic in Central Park?
Yes! There really isn't any limitation on this.
Where are there picnic tables in Central Park?
There are benches all over Central Park. For picnic tables, head here. (Just north of Heckscher Playground.)
Can you use a bbq or grill in Central Park?
No, except for Memorial Day, the 4th of July, and Labor Day.
Can you drink alcohol in Central Park?
Technically no, but everyone does. As long as you aren't being a jackass you won't run into any problems.
Can you smoke weed in Central Park?
Technically no, but people do pretty often, especially in Sheep Meadow! Cannabis is legal in New York, but it's still technically illegal to smoke in parks, including Central Park.
*This post may contain affiliate links, so we may earn a small commission when you make a purchase through links on our site at no additional cost to you.