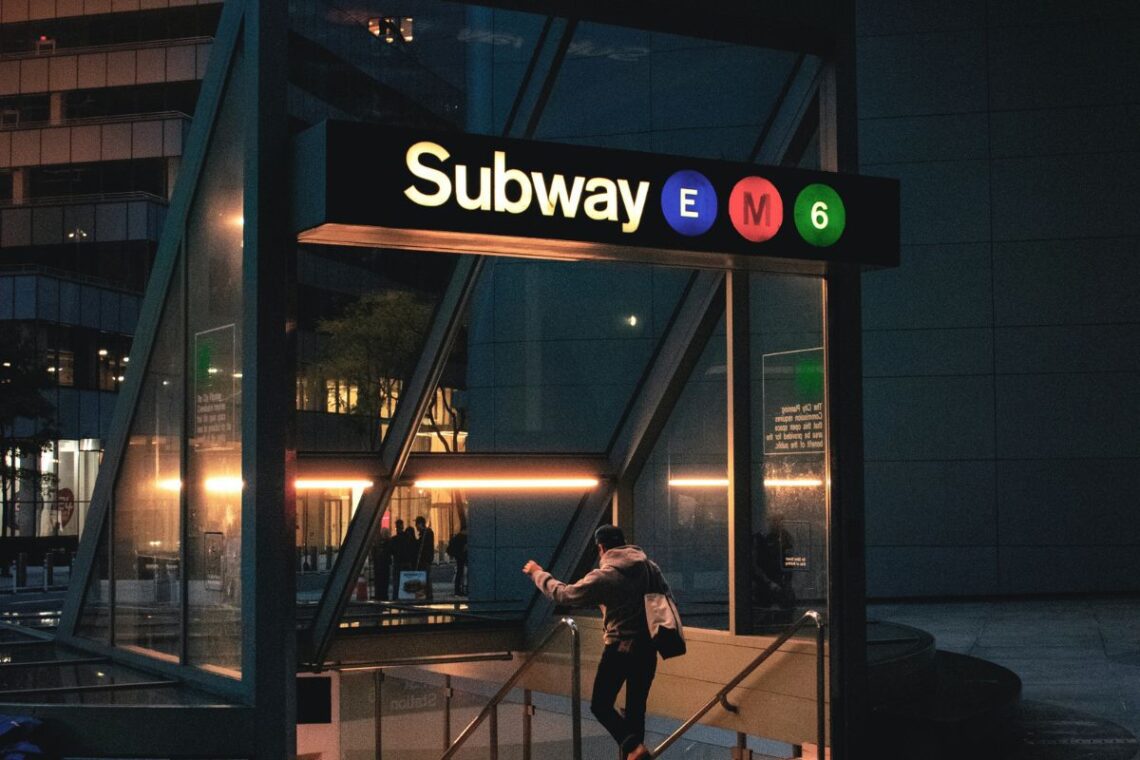 Getting Around NYC As a Tourist: 6 Tips to Navigate Like a Local
If you're planning a trip to New York City, good for you! NYC offers endless possibilities, great diversity, and high energy, making it a popular travel destination. With its rich history and plethora of museums, public parks, landmarks, architecture, arts, sports, concerts, and entertainment, NYC has something to offer every visitor.
Additionally, now that the COVID-19 travel advisory is no longer in effect, the city is coming back to life — offering travelers smaller crowds, great hotel rates, and more opportunities to support small businesses and local eateries.
There's just one issue: NYC is BIG. They call it the Big Apple for more reasons than one.
If you're traveling to New York City, you need to understand that it is a massive metropolis. Its five boroughs or districts cover 309 square miles and contain a population of over 8 million people, making it the most populous city in the United States and one of the largest urban conglomerations in the world.
Needless to say, if you are visiting NYC to take in the sights, the sheer size of the city and the density of its population can present some challenges.
But don't worry!
Getting around NYC as a tourist doesn't have to be a deal-breaker for your itinerary. Here are six tips to make travel in New York City easier.
Plan for the weather
Consider a taxi from the airport
Use public transportation in the city
Ride bikes with caution
Avoid traveling (especially cars) during rush hour
Walk fast
Now, let's look at each one below. 👇
Related Reading: 5 NYC Safety Tips
1. Plan for the Weather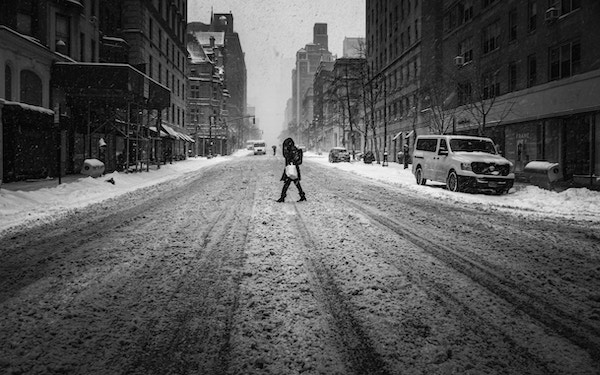 New York City has things happening every month of the year. Peak travel times are usually during the summer months, but spring, fall, and winter all offer holiday celebrations and seasonal events.
Depending on the time of year you visit, you may want to plan your travel around the possibility of rain, snow, or scorching summer heat. And be aware that one day it may seem like summer, and the next you'll see snow. The weather is fickle here!
My first time visiting NYC it was 60 degrees the first day, and then it snowed 14 inches the next day. Seriously.
Temperatures during the height of the New York summer average about 83-90 degrees Fahrenheit, while deep winter temperatures can plummet to 25 degrees Fahrenheit as a high.
Make sure you check the weather reports before and during your trip and pack sunscreen, hats, extra jackets, ponchos, gloves, or whatever else you need to travel outside comfortably.
Pro Tip: In the winter, bring gloves, a beanie, and a warm jacket. No matter what!
Related Reading: NYC Packing List: 7 Essential Items
2. Consider Taking a Taxi From the Airport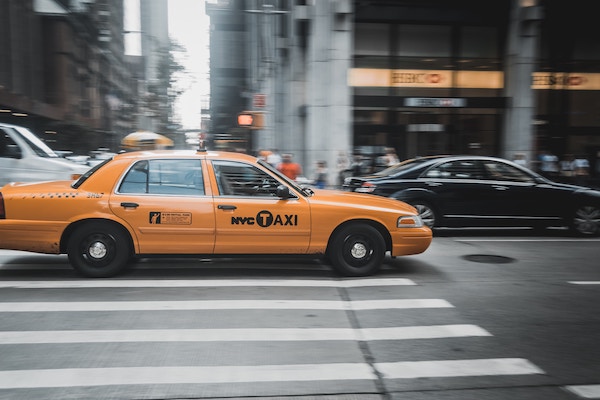 If you are flying into one of NYC's three airports, you'll likely need to then transport yourself and your luggage to your hotel or Airbnb.
Public transportation can be tricky to negotiate when you have suitcases or a lot of bags, and taking an Uber or a Lyft can become expensive if the place you are staying is not relatively close to the airport.
Fortunately, many taxi services offer a flat rate for airport transportation (on average $60-$100 after tip). This is a safe, convenient option for you and your luggage and may be more affordable than your rideshare options, so be sure to do some research before you land in New York.
Pro Tip: If you're looking to save money though, public transportation is your best route.
3. Use Public Transportation to Get Around NYC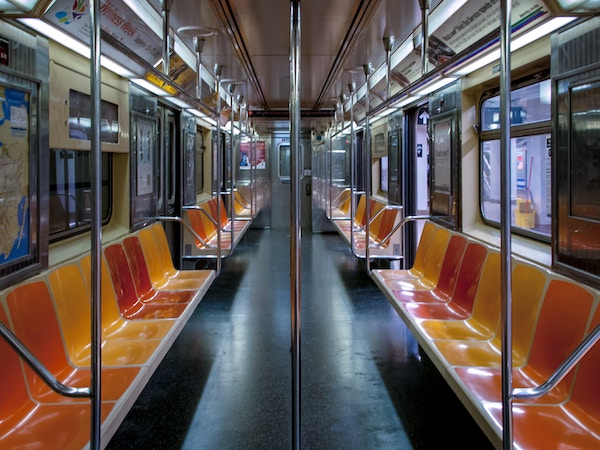 Travel in New York City features an extensive network of public transportation — taxis, rideshare, buses, ferries, and the famous NYC subway all make getting from point A to point B significantly easier.
Manhattan's infamously heavy traffic makes the subway an especially popular option for tourists and day-to-day commuters alike. You may want to invest in a 7-day MetroCard, which offers unlimited subway travel for a week for $33. This option makes sense for most instances of traveling to New York City!
If you are planning extensive travel throughout the city, a MetroCard can keep public transportation fares from adding up and overwhelming your budget.
Pro Tip: If you are only going to do a few rides, just tap to pay with your credit card. You do not need to buy a MetroCard.
Related Reading: 5 Places to Eat in Times Square
4. Ride Bikes With Caution
Some visitors to the Big Apple choose to ride bicycles, which can be a great option to see all the parks (check out our 21 Things to Do in Central Park) and outdoor landmarks. If you choose to hop on a bike, however, you should abide by vehicle regulations to stay safe — don't ride a bike on sidewalks, ride with the flow of traffic, follow traffic signs, and pay attention to traffic lights.
Pro Tip: The Doordash delivery guys seem to never stop or yield… be warned!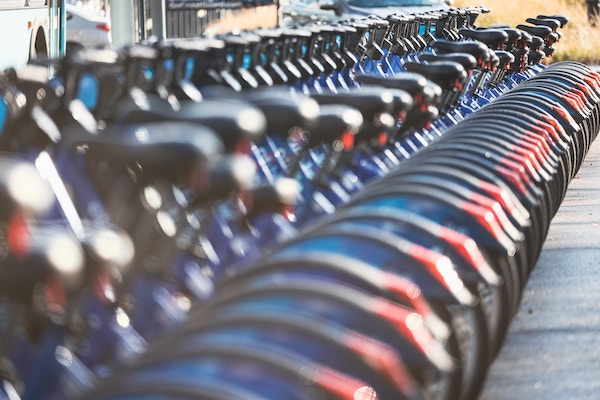 Riding a bike in NYC traffic can also be a risky proposition, as many drivers are not as careful as they should be. As a general rule of thumb, always wear a helmet when riding, and make sure that your bike has lights and reflectors.
If you want to try out Citi Bike, get a discount on your first rides here!
Related Reading: 3 Tourist Traps in NYC to Avoid
5. Avoid Traveling (especially Cars) During Rush Hour
Whether you're riding a bike, taking the subway, or walking, plan to avoid traveling much of anywhere during rush hour.
Pro Tip: Don't get in a car (taxi, Lyft/Uber, etc.) during rush hour, it's never worth it.
Generally, rush hour in NYC runs right around 7:30 to 9:30 AM and from 5 to 7 PM every weekday. NYC rush hour means that the streets and public transportation will be jam-packed with commuters going to or coming home from work, and with 8 million people calling the city home, it can feel hectic as a tourist.
If you want to avoid crowded subway cars and heavy traffic, plan your travel accordingly. Sleep in, schedule a dinner at a restaurant, or enjoy a museum or art gallery during peak rush hours.
If you absolutely must travel during rush hour, keep your wits about yourself, be polite and considerate, and pay close attention to this next tip. ⏬
6. Walk Fast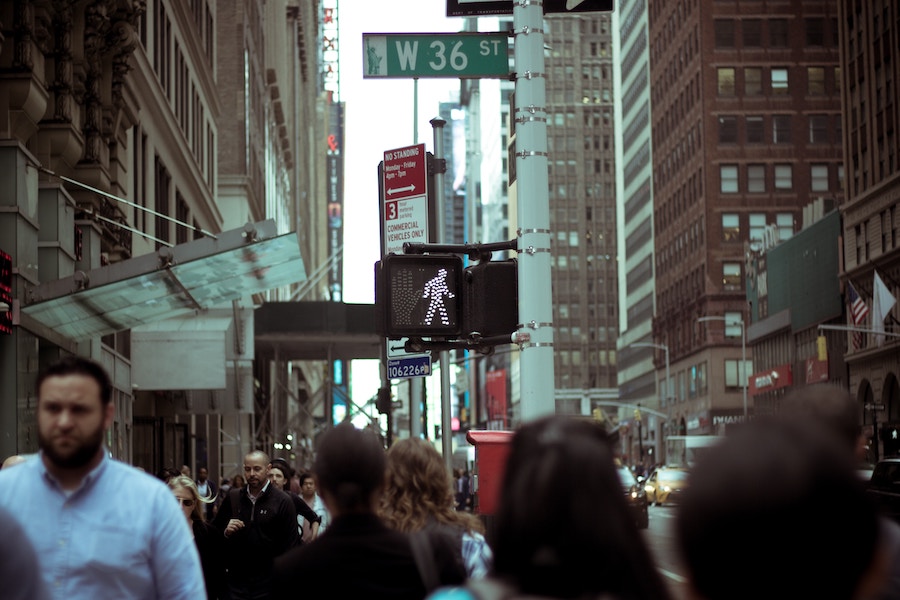 If it's your first time traveling to New York City, it can be tempting to pause and snap a photo as you traverse the city. If you're walking along a busy sidewalk, however, don't stop or slow down.
This adds to congestion and may get you at least a few side eyes from others trying to use the sidewalk.
If you need to stop, step off to the side.
Otherwise, match the walking pace of those around you and avoid bunching up in a big, slow-moving group. Everyone around you has places they need to be — such is the fast pace of life in the big city.
Pro Tip: Don't walk into a street/crosswalk without checking both ways (even if you have the walk sign), bikes & scooters often come from all directions and can be reckless at times.
Recap of Best Ways to Get Around NYC (Especially as a Tourist)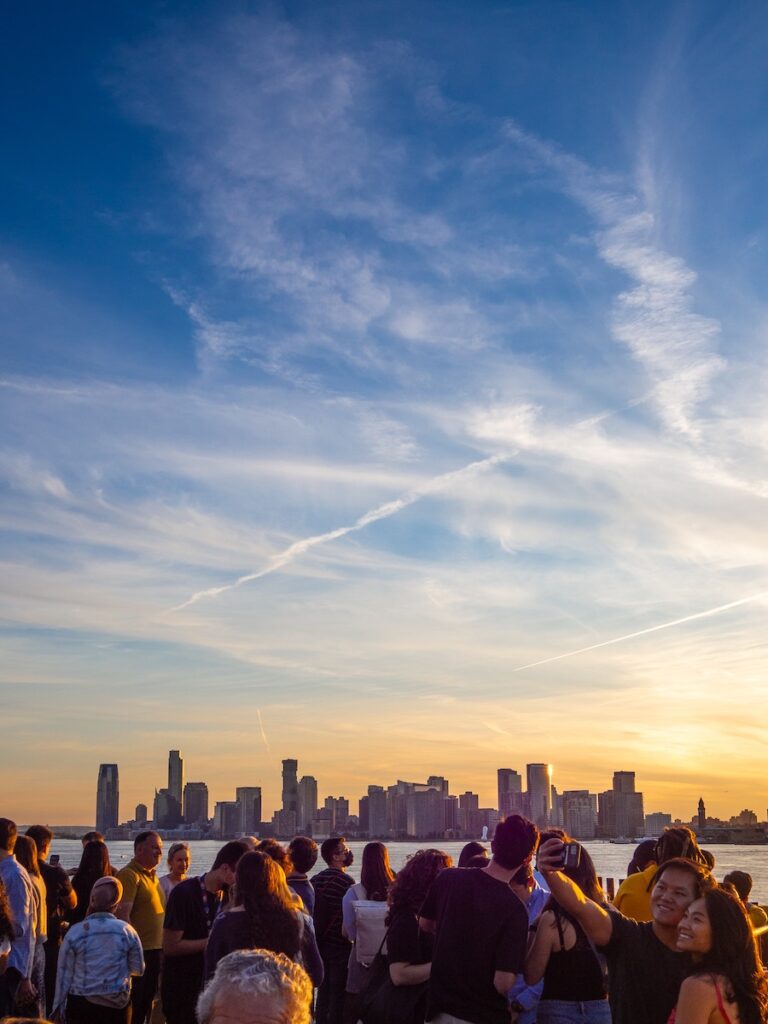 Navigating while traveling in New York City can feel daunting, but remember that technology like Google Maps should be your friend! As a recap, here are six tips to make travel and getting around in New York City easier.
Plan for the weather
Consider a taxi from the airport
Use public transportation in the city
Ride bikes with caution
Avoid traveling (especially cars) during rush hour
Walk fast
Looking for more NYC travel ideas? Check out more fun things to do in NYC here!
*This post may contain affiliate links, so we may earn a small commission when you make a purchase through links on our site at no additional cost to you.