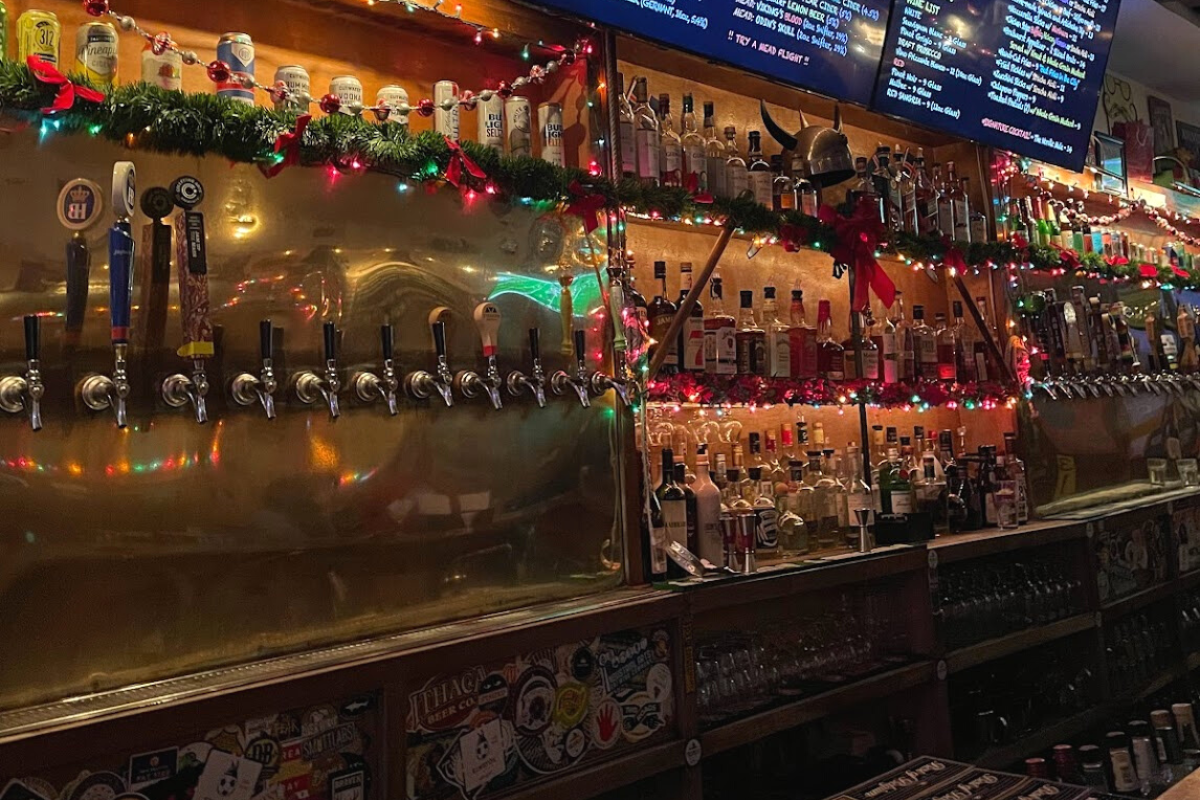 5 Fun Bars in NYC for Games, Dancing & Drinks
Trying to find a fun bar in NYC isn't really difficult, but a lot of it comes down to your definition of "fun".
Some people have fun in a quiet bar where they can catch up with friends.
You might think of a fun bar as one that has the cheapest drinks (valid point).
Others are looking for bars with activities when they think of a "fun bar".
In this article, I'll show you 5 bars where fun activities dominate the experience AND offer some great drinks to go along with it. I also included these because they are generally affordable (Swingers, not so much) and don't come off as too pretentious. Overly pretentious places often don't = fun in my book!
Here are 5 fun bars in New York City ⤵️
Barcade
Jake's Dilemma/The Stumble Inn/3 Sheets Saloon
Swingers Crazy Golf
The Royal Palms Shuffleboard Club
e's Bar
1- Barcade
Barcade is just what it sounds like, a bar with arcade games. The simple idea truly makes for a super fun time, no matter what time of the day or week you go!
It's also not a bar with just some arcade games, they have a fantastic selection of arcade games. Tons of classics, some new ones, and even a variety of pinball options.
I grew up going to arcades on the weekend, and this place really hits that nostalgic feeling for many.
There are multiple Barcade locations (they've even expanded to different cities), here is each NYC location (with a Google Maps link for each) 👇
Barcade also hosts a variety of craft beers (bottle & on tap) and cycles through new options frequently! Be sure to check their website for what's currently on tap.
Here are some of the fun (and my favorite) arcade games you can play at Barcade (games vary by location):
Asteroids
Contra
Crazy Taxi
Daytona USA
Donkey Kong
Dr. Mario
Excitebike
Galaga
The Legend of Zelda
Marvel v Capcom
NBA Jam
Pac-Man
Teenage Mutant Ninja Turtles
Barcade is a top-notch fun bar in NYC for drinks and an activity!
Typical Age Group: All ages, but leans older to the nostalgic arcade age group!
Cost: Drinks range from $6-$15 (typical NYC prices) and games are typically 1 token to play (tokens cost $0.25).
If you want more "bar style" games and dancing, keep reading. ⤵️
2- Jake's Dilemma/The Stumble Inn/3 Sheets Saloon – Great Bars for Dancing in NYC
I lumped these bars together because they are all owned by the same "parent" company and have VERY similar vibes!
These bars are not only a good-ass time, but also have some of the best drink prices in the city. I don't know how this happened but one time I ended up paying about $7 (including a generous tip) for 4 beers! 🍻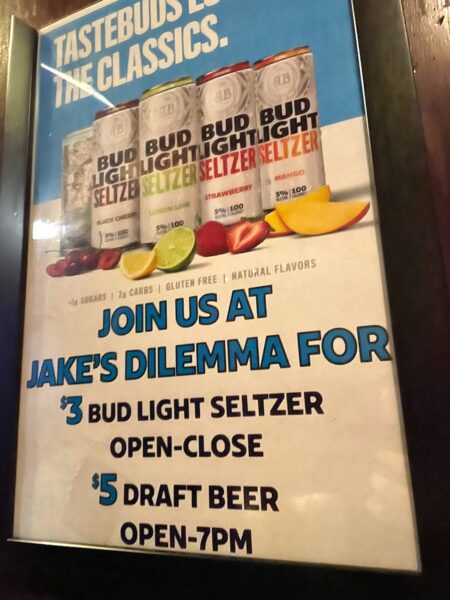 Jake's Dilemma, Stumble Inn & 3 Sheets Saloon have a live DJ on most (if not all) weekend nights. I've had nights with truly talented DJs, and other nights I've had DJs who didn't really seem to care to be there.
If you get a solid DJ, it can make for an amazing night of dancing! These bars are super fun for larger groups of friends too as there's typically plenty of space.
These bars also offer fun games (depending on location) like foosball and beer pong amongst others AND, they always have the most popular sports games on. It's truly got a bit of everything!
Here is where you can find these fun bars (click for Google Maps listing):
Typical Age Group: This group of bars typically draws a 20's to mid 30's age group, but leans younger than many bars (depending on the night).
Cost: As mentioned above, this is one of the most affordable places to drink in NYC! Drink specials start as cheap as $3.
Related Reading: NYC Packing List: 7 Essential Items
3- Swingers Crazy Golf
Mini golf + drinking… What more could you ask for?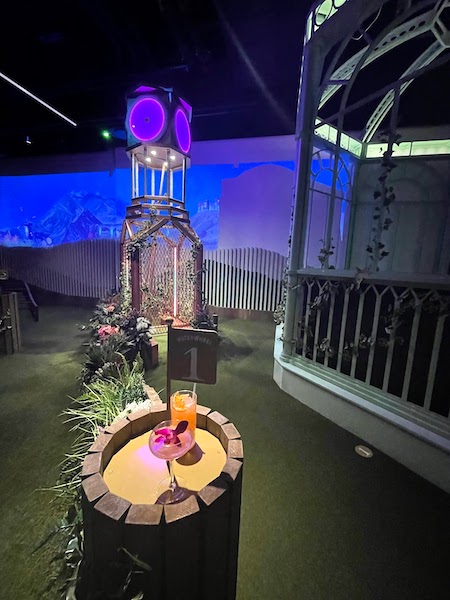 Swingers in NoMad boasts 3 different 9-hole courses, a wide variety of drink options, and pretty damn good food! I had the tacos and they were super tasty.
The venue truly is pretty epic, especially all the ridiculous fake golfer art they have throughout. You walk down the stairs and really feel like you're in a different world of golf, drinking, and just an overall party.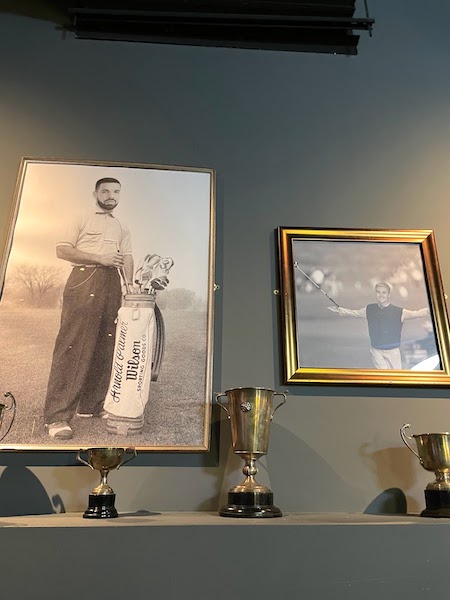 If you're looking for a fun bar in NYC then Swingers is a perfect option! Check out the NoMad location here.
Typical Age Group: All ages, but typically mid 20's to mid 40's looking for a fun activity to do while drinking.
Cost: A round of mini golf is $27 (as of November 2022). Drink prices are on the higher-ish end of NYC prices, most cocktails are $16-$18, beers are $7-$10 and wine is around $11-$14 per glass. Again, the most expensive bar on this list!
4- The Royal Palms Shuffleboard Club
Who knew shuffleboard was for more than just the top deck of a cruise ship?!
On top of the shuffleboard, The Royal Palms Shuffleboard Club has multiple bars, tons of other fun games like Mega Connect 4, and a live DJ on most nights.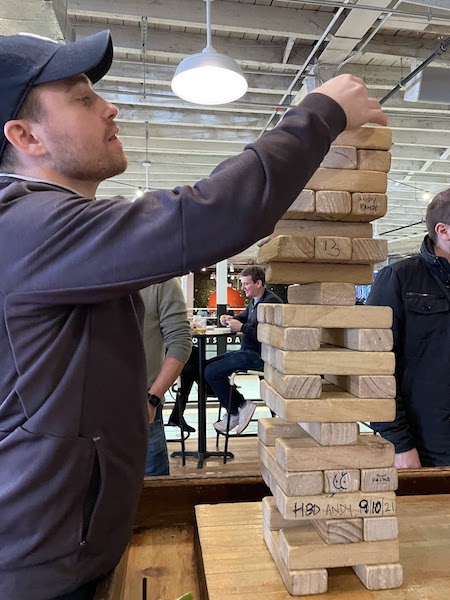 This place is TRULY a party. Plus, they make the cocktails super strong, so don't be surprised if you end up stumbling out at the end of the night.
While there can be a bit of a wait to get onto the shuffleboard courts, there is plenty to do to keep you busy and entertained. Plus, there's food! It's everything you need for a hell of a time in NYC.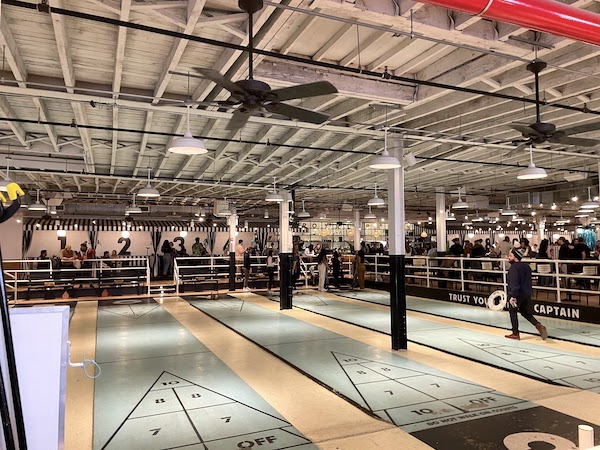 Check out the location in Brooklyn here.
Typical Age Group: You'll certainly find a bit younger crowd, with most of the patrons ranging from early 20's to mid 30's.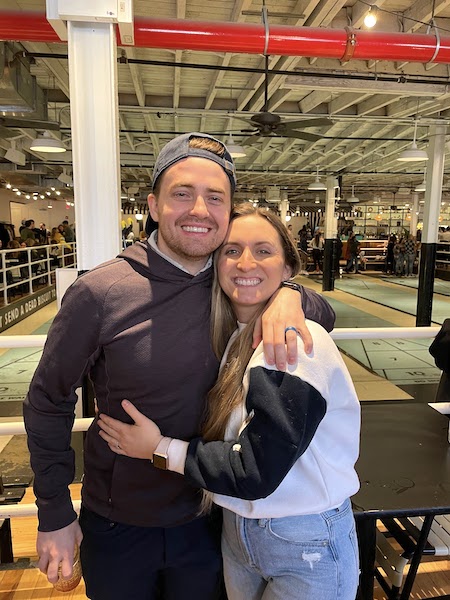 Cost: An hour on a shuffleboard court is $50, but if you have a few people that's not too bad of a price. Drink prices are on the lower-mid side, with beers starting at $6 and cocktails coming in at $14.
5- e's Bar
e's Bar on the Upper West Side is truly a hidden gem. I've been here a few times and it is ALWAYS bumpin' with a laid back but energetic crowd.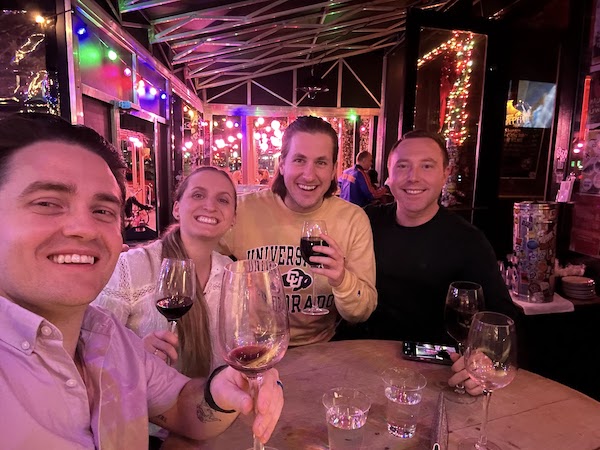 They have karaoke on Wednesdays, trivia on Tuesdays, comedy on some Mondays and more!
Plus, their happy hour is solid and goes until 7pm every night. Oh, and they have board games you can play.
e's Bar has plenty of seating both indoor, outdoor, and in a hybrid indoor-outdoor type area in the front.
This place NEVER disappoints! Check out the location here.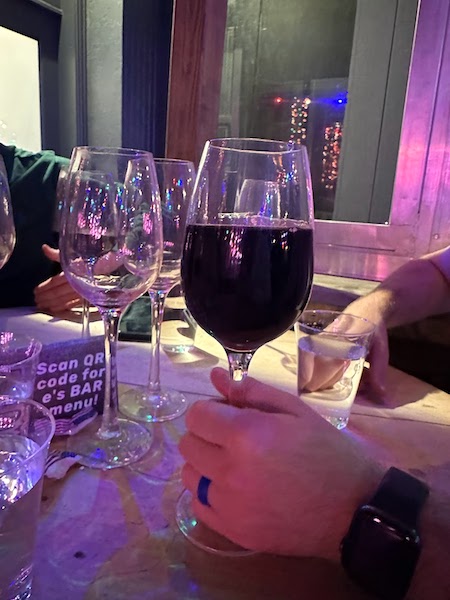 Typical Age Group: This bar is close enough to Columbia University that most nights you get a crowd in that age group, but it's def also full of people well into their 30's and 40's.
Cost: It's an average-priced bar for NYC standards (cocktails about $13-$14, beers for $8-$10, etc.), but Wine Wednesday is the best! FULL pours of wine for only $7.50. They also have other nights of specials, check them out here.
Recap of Fun & Cool Bars in NYC You'll Love Time & Time Again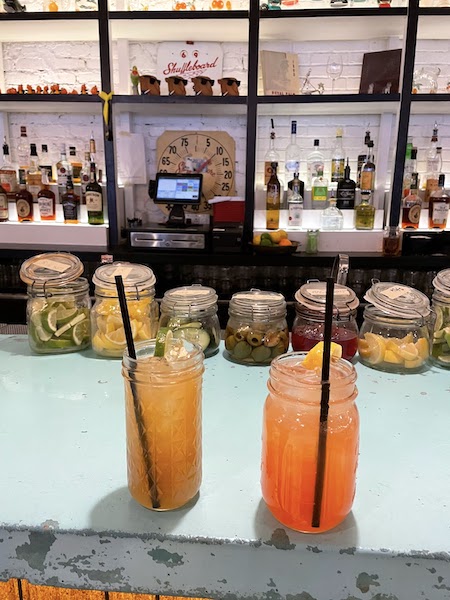 There are thousands of bars in New York City, and some are just about drinks while others are about having a fun-ass time! Here's a recap of 5 fun bars in NYC you won't wanna miss:
Barcade
Jake's Dilemma/The Stumble Inn/3 Sheets Saloon
Swingers Crazy Golf
The Royal Palms Shuffleboard Club
e's Bar
What other fun bars have you enjoyed in NYC? Tell me in the comments so I can check them out!
PS- If you wanna see all these bars on a Google Maps list head here!
*This post may contain affiliate links, so we may earn a small commission when you make a purchase through links on our site at no additional cost to you.