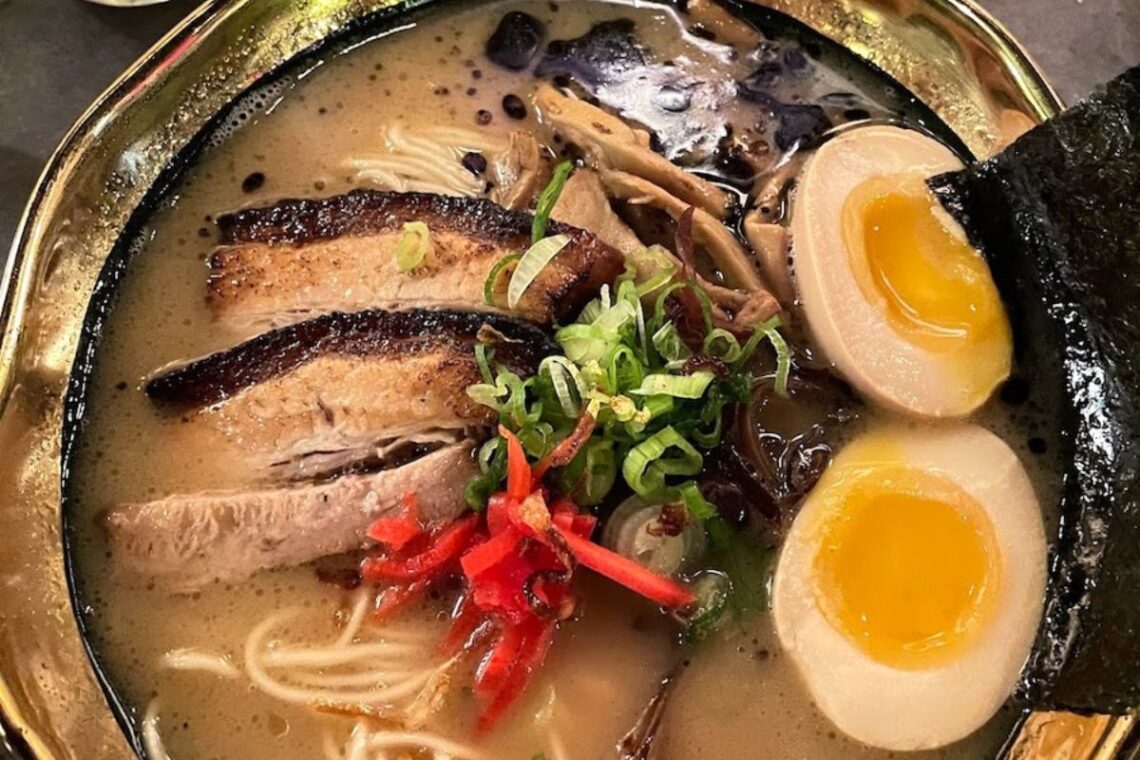 Kin Ramen in Midtown Manhattan Review
Kin Ramen in Midtown Manhattan just might be our new favorite spot in our neighborhood! It has become one of our favorite ramen spots in NYC. 🍜
It not only has unique cocktails and delicious ramen (amongst other foods), but the ambiance is what makes it one of the coolest ramen restaurants in all of New York City.
I highly recommend you check it out (Google Maps listing here), but here's our full review if you need more convincing! 👇
Fun note, Kin loosely translates to money or gold in English (more on that later).
Kin Ramen Interior & Staff
The moment you step into Kin Ramen you're greeted by a welcome saying from the entire staff (I'm sorry I don't know exactly what they're saying, but it's great nonetheless).
What from the outside looks basic and humble turns out to be a well-crafted space that truly transports you to Ramen Street in Tokyo.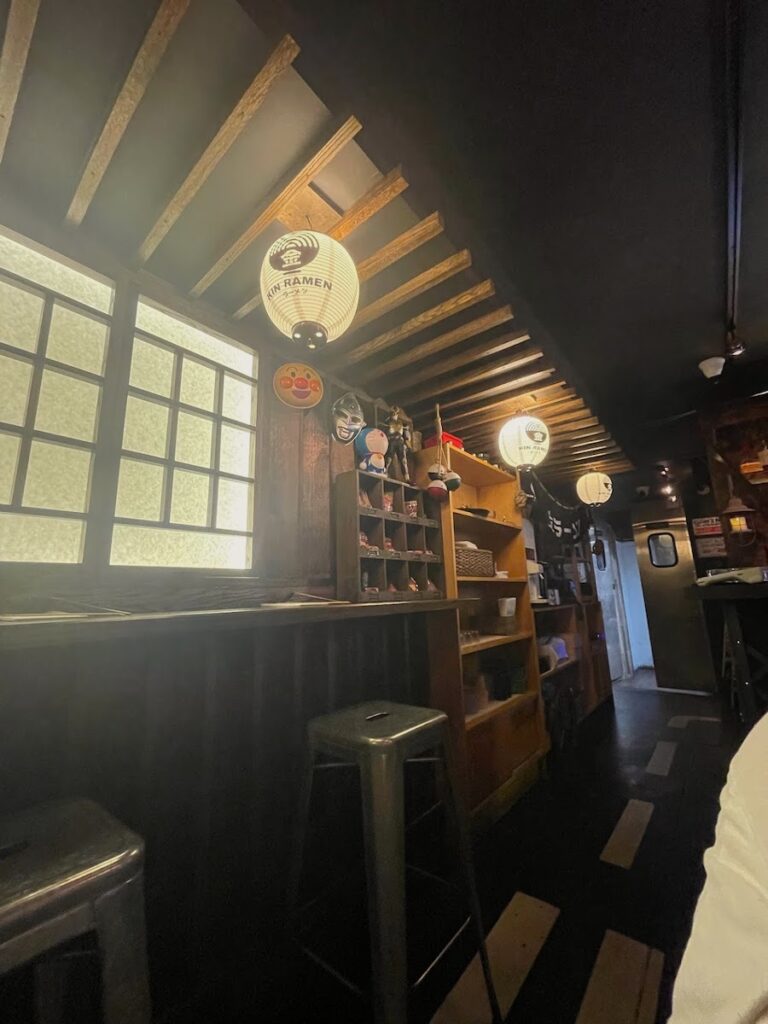 From the wall & ceiling color (mostly black) to the unique 2-person tables set on Asahi drink crates (think milk crate), every piece of the restaurant has clearly been well thought out and created.
Every staff member I've interacted with at Kin Ramen has been friendly, but not in a staged or overkill way.
Plus, the bathroom is probably THE coolest bathroom I've ever been in…
Now, the food! 🔽
Kin Ramen Food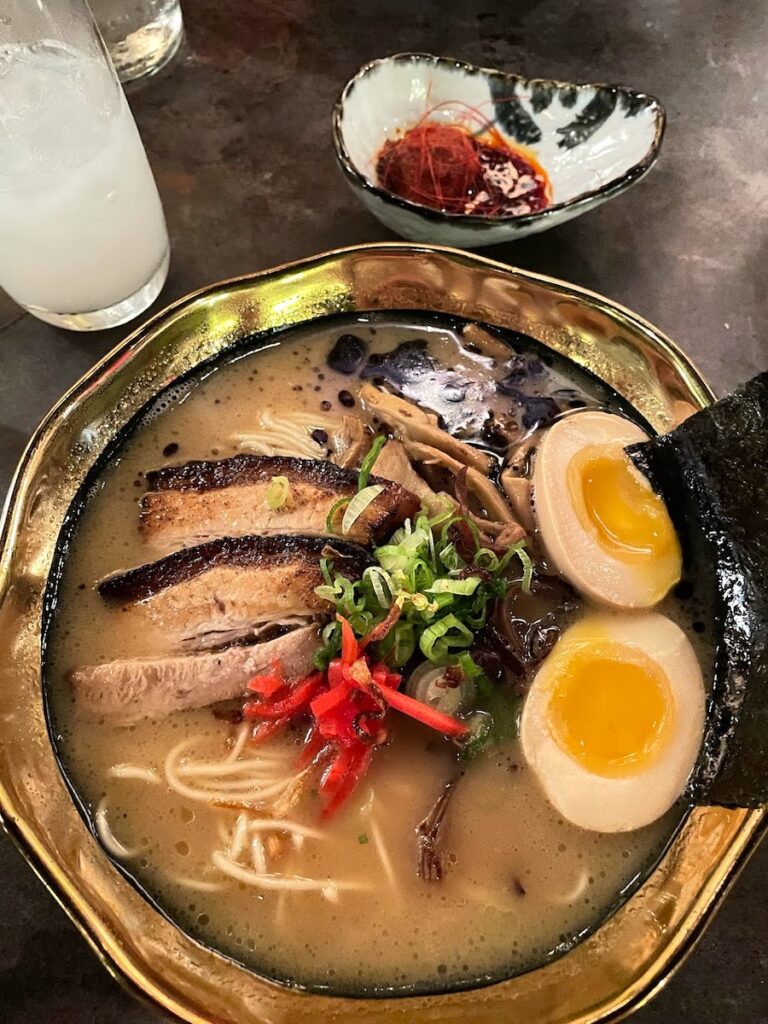 The ramen broth is rich, the portions are large, and every appetizer we've tried has impressed us.
Our go-to is the Kin Ramen which actually includes gold flecks on top, the perfect addition to an already phenomenal ramen.
Most of the ramens range from about $18-$25 for the more specialty ramen, standard NYC prices.
We've also loved the Tori Karaage & Cucumber Salad amongst other appetizers.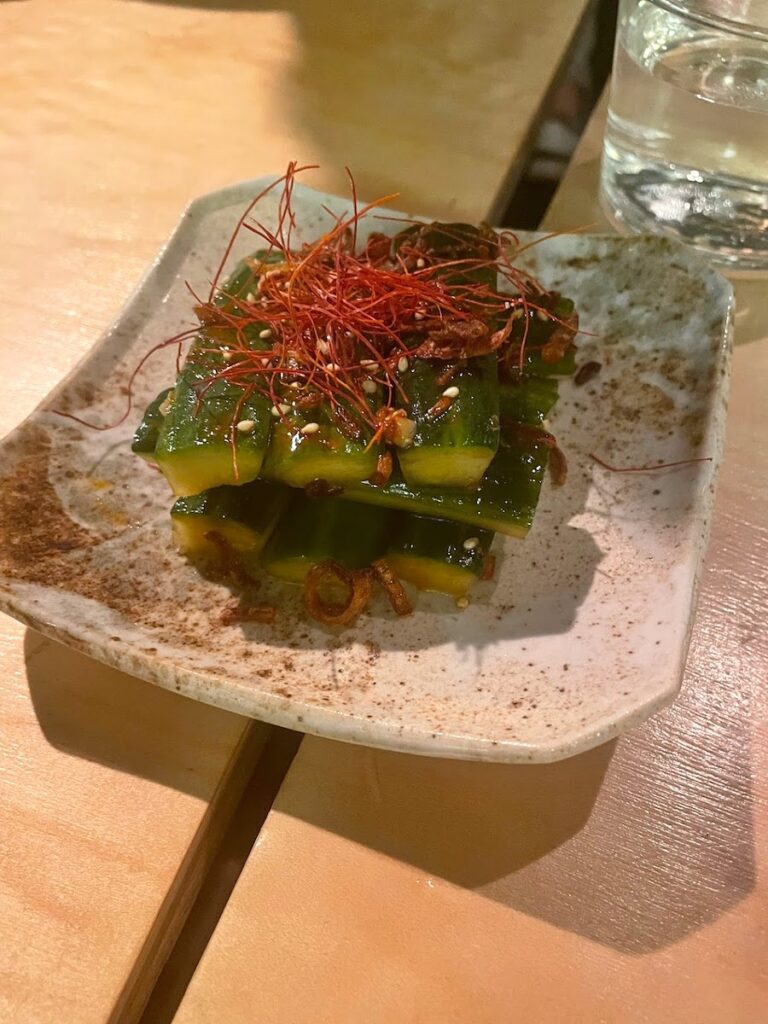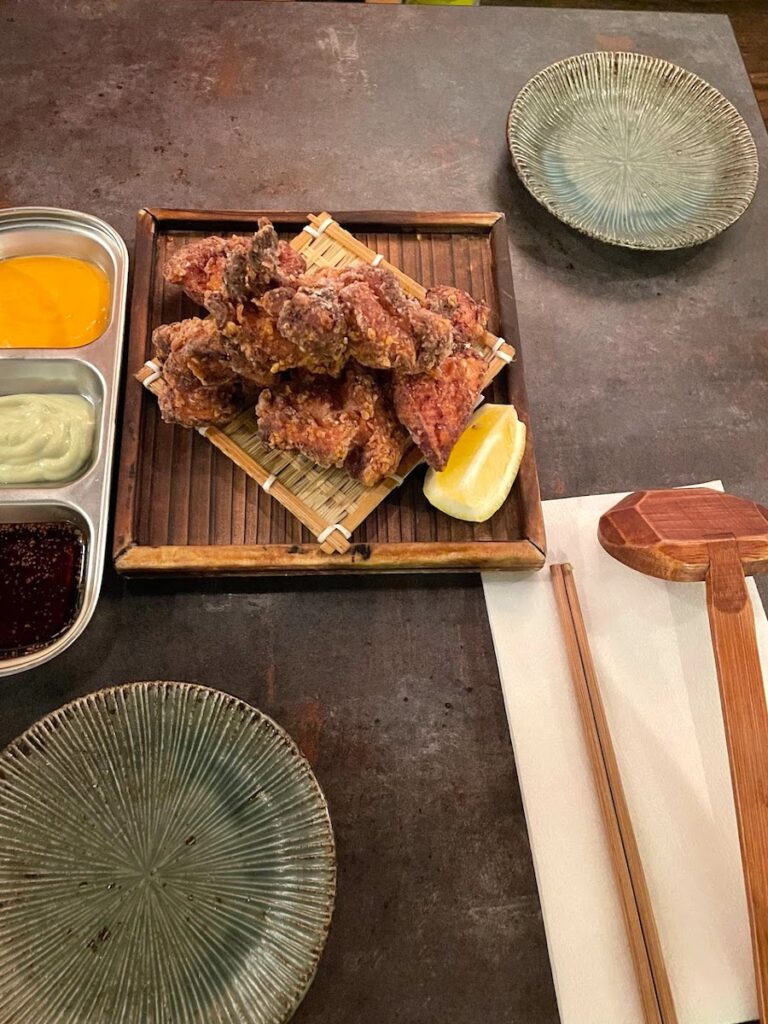 For drinks, keep reading. 👇
Kin Ramen Cocktails & Drinks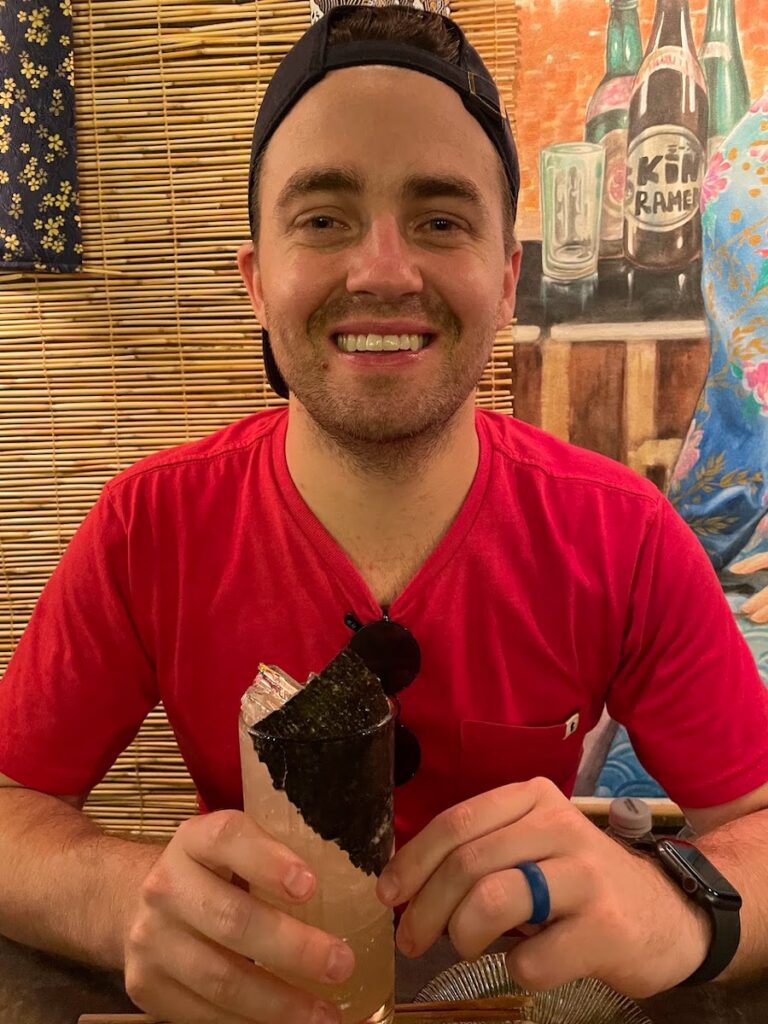 First off, the drink menu is badass. It looks like a comic book and each cocktail has its own page.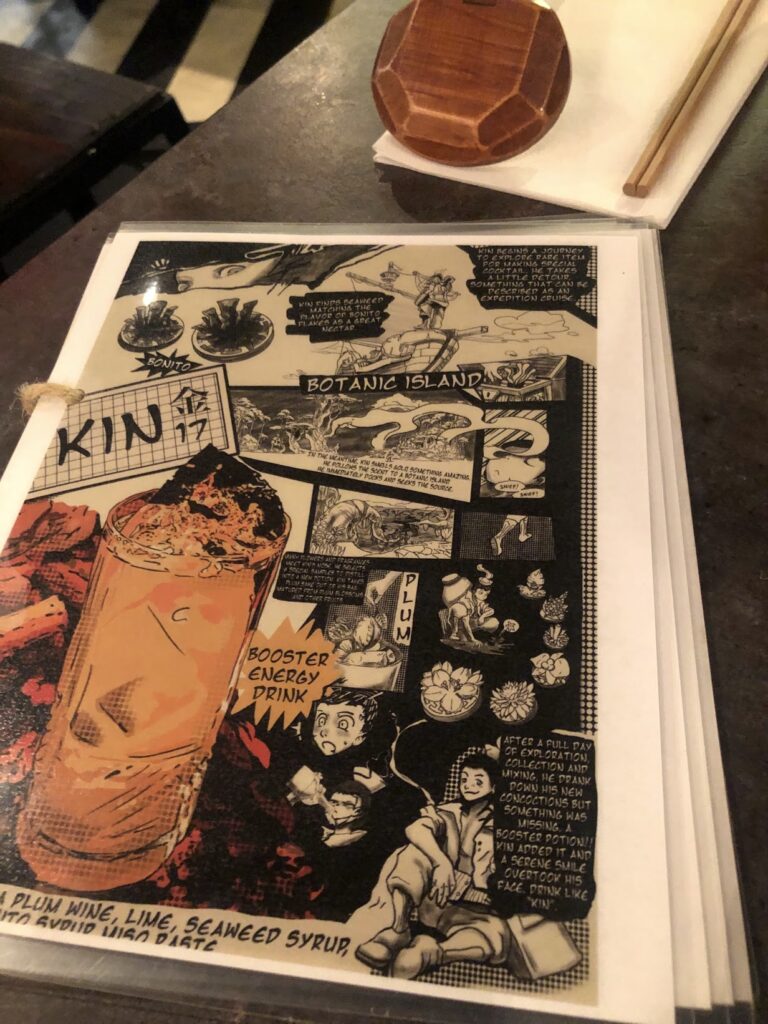 Again, they nail every detail here!
They carry all the essentials like Sapporo & Orion beer ($8-$12), tasty sake ($14-$80 depending), hot teas, and even Calpico (if you haven't tried it, do).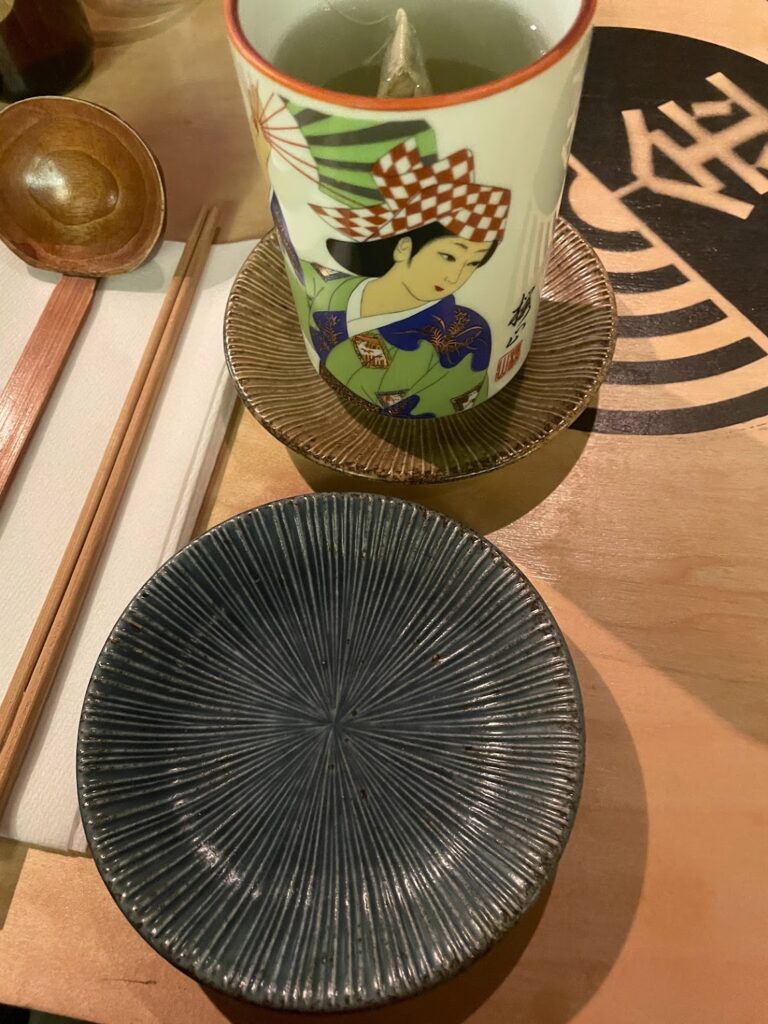 Their cocktails are strong, unique, and boast some beautiful presentation.
We've personally loved the Yarae Yarae and Kin Cocktail (pictured above: Roku Gin, Choya plum wine, Lime, Seaweed syrup, Bonito syrup, Miso paste), but you probably can't go wrong with any of them!
Most of the cocktails are $15-$18, so on the slightly higher side but relatively standard for an NYC restaurant.
Recap of Kin Ramen in Midtown NYC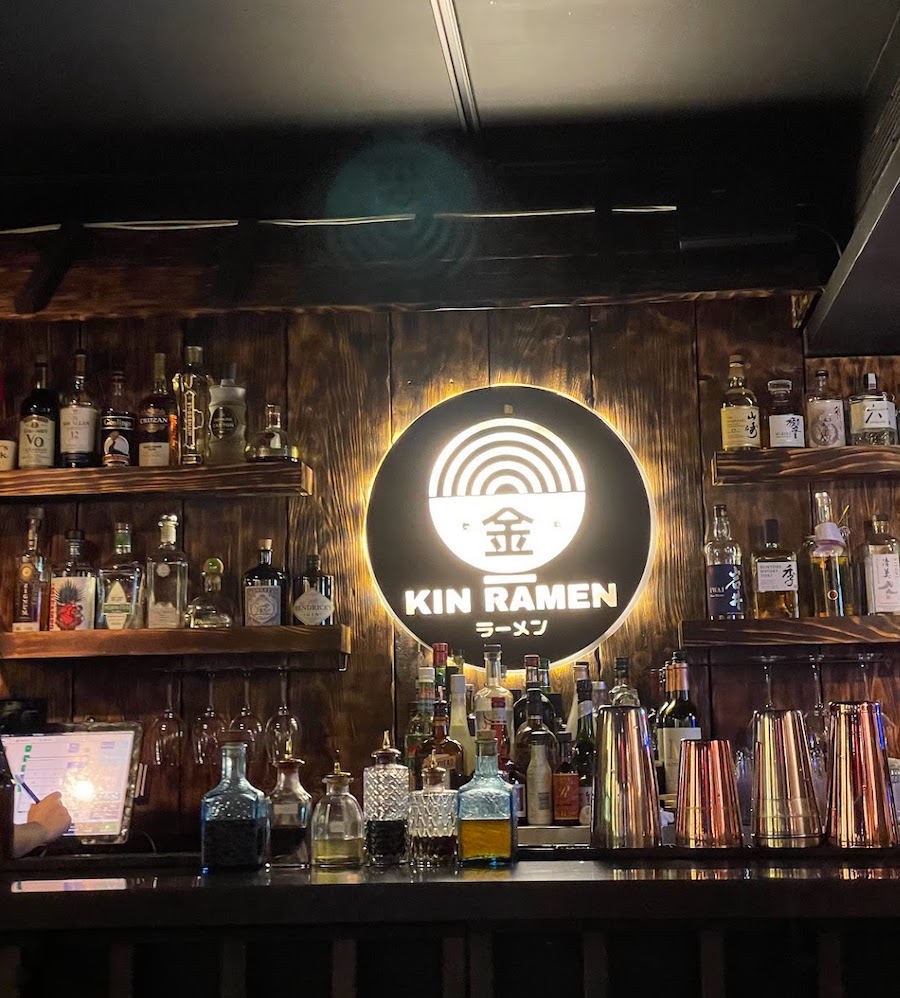 If there is one "bad" part of Kin Ramen it's that the restaurant is quite small and seating arrangements are tight… But hey, some people love that! I personally like the coziness of it. 👍
If you're in the Midtown area (or after heading to Central Park), head to Kin Ramen on 56th St between 6th and 7th avenue! It's super close to both the F, NQRW, E & 123 subway lines. Here's the Google Maps listing.
OR, if you're local in NYC order from Grubhub/Seamless (use that link for $10 off your first $15+ order)!
Tell me what you ordered and what you thought in the comments!
*This post may contain affiliate links, so we may earn a small commission when you make a purchase through links on our site at no additional cost to you.